Volcano Unveiled Tour
---
---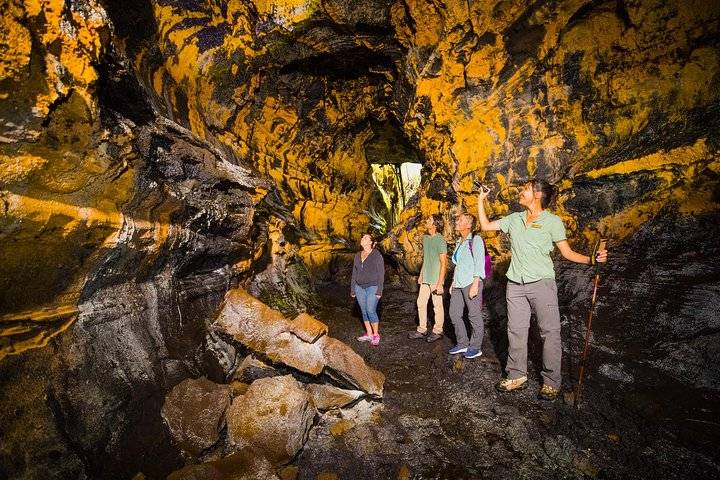 Volcano Unveiled Tour
Duration 12 Hours
Adults 13+ $225
Children Ages 12 and under $200
Easy to moderate ages 8+
---
---
An in-depth volcano experience on the Island of Hawaii
Your National Park Certified Guide will share a mix of natural and cultural history about the island's formation, illuminating the stories behind the ever-changing landscape of our island home.
Highlights include:
On this in-depth park experience, your interpretive guide will illuminate the historical events that changed the landscape of Hawaii Volcanoes National Park.
Enjoy 2-3 miles of hiking around the park's dynamic terrain.
We'll visit a large private lava tube known for its bright yellow and gold microbial mats living on the cave walls. This lava tube is only accessible to Hawaii Forest & Trail guests.
Enjoy a stop at world-famous Rainbow Falls in Hilo.
Time: Tour is approx. 10-12 hours. Travel time from most resorts is approx. 6 hrs round-trip.
Restrictions: Guests should be able to hike on uneven or rocky terrain and we may encounter cool, wet, or muddy conditions. Other tour restrictions may apply. Ages 8 +
What to Bring & Wear: Comfortable walking shoes, long pants, reusable water bottle, and a light jacket.
FAQ's
How much hiking do we do? We'll hike for 2-3 miles at a location determined by park conditions that day.
Will we get to see active lava? An eruption began the evening of December 20th 2020. While this is a very dynamic situation that is subject to change at any moment, the lava lake has crusted over and eruptiove avitivity ceased as of May 27th, 2021 Please contact our office staff for the most current volcano conditions, or visit the USGS Hawaiian Volcano Observatory's Eruption Update page. 
Schedule
Trips depart from Kona, with pickups in Waikoloa. Tour time is approx. 10-12 hours round trip. Traveling time is approx. 6 hrs from Waikoloa resorts.
  Included
Snacks, beverages, Deli style lunch prepared by Christine's Deli, Dinner, National Park entrance fees. Bring your own reusable water bottle.

Gear Provided
Walking sticks, flashlights, and rain ponchos.

The Health and safety of our staff and guests are a top priority at Hawaii Forest & Trail. Although the risk of COVID-19 can not be eliminated, we have taken the following steps to mitigate these risks:
Guest Protocols:
Hawaii Forest & Trail has implemented new Health and Safety Policies based on guidance and requirements by the State of Hawaii and CDC. The following requirements will need to be met in order to join us:
Proof of a negative COVID-19 test through the Hawaii Safe Travel Program or proof of 14 day quarantine (airline generated flight itinerary) Test results must be presented upon check-in.
Health Questionnaire and temperature check with contactless infrared thermometer completed prior to your participation
Face masks are required at all times in our vehicles. Guests agree to follow guide instructions.
Reduced Group Sizes.
Guest time in the van has been shrunk wherever possible. Pickups closer to tour destinations have been added and encouraged.
Additional options for private family experiences have been added at a reduced rate.
Staff Protocols
All vehicles and gear are sanitized following every tour using commercial sanitizing equipment with CDC approved sanitizers.
All staff are required to complete a daily health screening and temperature check before starting their shift.
Protocols to reduce contact between employees have been put in place.
Access to free COVID-19 testing is made available through the state of Hawaii.
UPGRADE to an affordable Private Ohana Tour and experience Volcano Unveiled exclusively with your family or small group. Priced at $1,500 for up to 4 people and $178 for additional guests.
---
---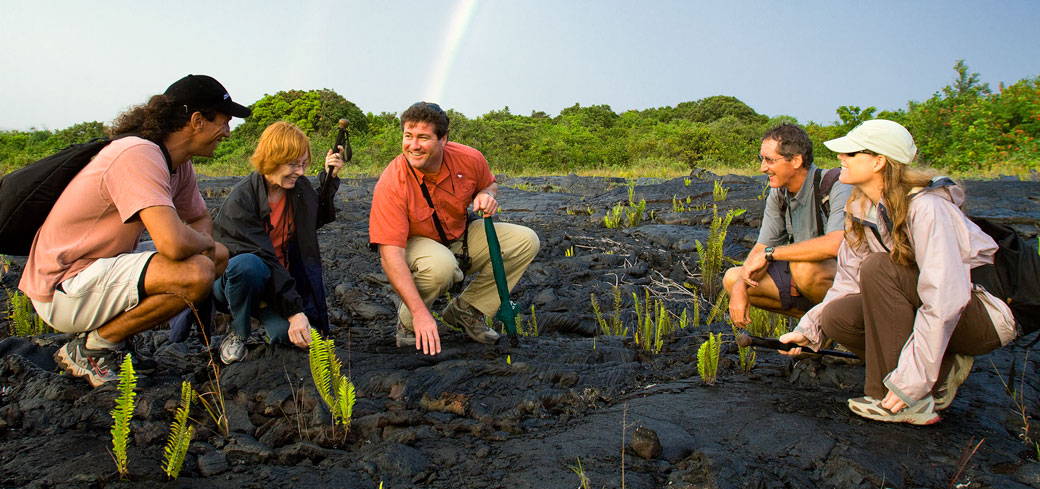 ---
A great way to see Volcanos National Park!
What an incredible experience! Beautiful day and efficient use of time! Taj was a great guide and planned for everything including sunblock and snacks! His historical knowledge of the island and its geology made it more interesting and fun that we had expected. Would definitely recommend to anything visiting with a family that is looking for a personalized experience and make the most use of time.
---
Awesome Adam Unveiled the Volcano!
Awesome - an overused word - but this time, really awesome! Adam knows everything about the natural environment on the island of Hawaii. He answered every question and offered more insight into what we were seeing, which was a lot: lava tube, lava field, crater rim hike with steam vents. Adam led a group of diverse people: honeymooners, a family of teenagers on the parents' 25th anniversary, and a young couple on their 50th anniversary. He met everyone's needs and kept a watch over who was keeping up and who needed extra time. Really, it was a jam packed day full of the natural and unusual beauty that is Hawaii. Thank you, Adam!
---