Umauma Falls Zipline Tour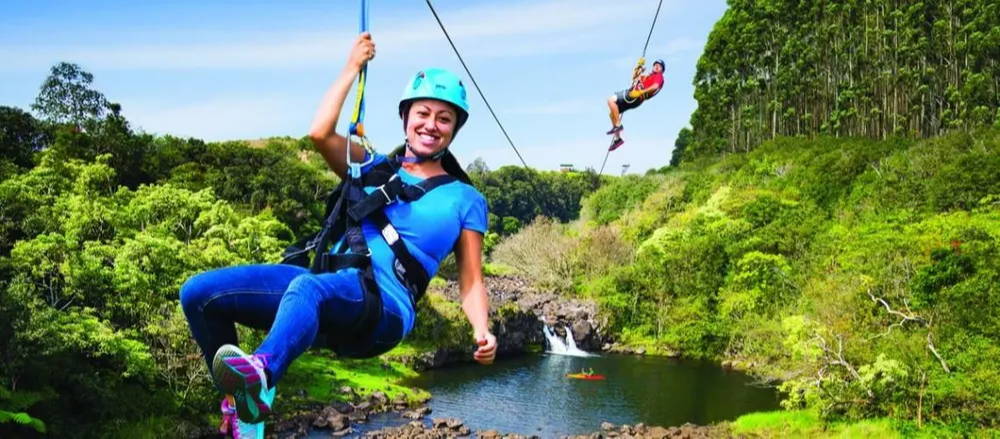 Umauma Falls 9 Line Zipline Tour
Adults

Ages 11 and older

$219

Children

Ages 4 to 10

$209

 
Hawai'i Island's Umauma Falls zipline has nine (9) long lines with 2 MILES of spectacular zipping, over 14 waterfalls and great ocean views.
 The first four lines are exciting long dual lines. If you love waterfalls like we do, this Big Island zipline is what you're looking for! It has been said by many people who have toured other ziplines that "this is the best zipline on all the Hawaiian Islands." The Umauma Falls zipline is probably why you came to the Big Island of Hawaii, even if you don't know it yet.
At line #2, you will have time to view the beautiful scenery which includes a view of a 100 foot waterfall as you look toward the top of Mauna Kea. Most people who live on the Big Island of Hawaii have never seen this beautiful waterfall. You also visit a shelter that overlooks the river as another river joins the mighty UMAUMA. Keep an eye out for the native Hawaiian hawk (I'o) that lives in this area. On line #4 you will zip over 2000 feet of river water and many falls. This is so amazing you will pinch yourself that you are actually here.
Cross a 200′ suspension bridge that takes you 100′ over a water filled lava tube and fern grotto to get to line #5. You will get a close up view of the dual waterfall part of the famous UMAUMA FALLS at the end of line #7. You also get to view the FAMOUS FALLS from a special shelter for zipline guests only. Line #9 sends you back to where you started at the Visitors Center.
Check in is 45 minutes prior to scheduled tour time.
Tour group is brought together approximately 20 minutes prior to tour time to be escorted to gear area. Vans will depart on the hour.
Highlights
14 Beautiful Waterfalls

2-Miles of exhilarating Ziplining Fun!

Speeds up to 65 miles per hour

9 Spectacular Ziplines

4 dual lines!
Cross a Suspension Bridge over a river gorge, lava tube and fern grotto
Great for the whole family!
Ages 4 & up!

 

Requirements & Restrictions

Duration: Our Zipline tours generally last somewhere between 1.5 – 3 hours. The tour length varies for each tour. Instruction and travel time can add some additional time for each tour.

No experience necessary

Ages 4 yrs. and up. Weight: 35 lbs. min – 275 lbs. max

Children under 18 must be accompanied by an adult.

Tours run rain or shine. Rain-wear will be provided in the event of wet weather.

Closed-toe footwear, such as sneakers of hiking boots required. Be sure to tie back long hair. Glasses should be secured with a strap. Make sure you remove any sharp objects from your pockets.

Moderate – advanced physical activity – must be able to climb 3 flights of stairs and walk for short distances.

Pregnant women and those with serious medical conditions as well as persons with prior back and neck injuries are not permitted to participate.

Please take note of the location
Frequently Asked Questions
The Umauma Experience is committed to your safety both on and off the course. Below is a list of guidelines we are following to help keep you safe in the fight against COVID.
Face masks are required indoors and when social distancing is not possible.
Hand sanitization stations have been placed throughout the property for guests to disinfect their hands.
Vans and helmets are cleaned with CDC approved disinfectants between each tour.
Equipment is cleaned and disinfected according to manufacturer's recommended guidelines.
A simple health screen consisting of a few questions and a temperature check is conducted upon entering the Visitor Center and checking in.
Staff are encouraged to stay home if they are not feeling well or have a mild temperature.
We utilize digital waivers to help reduce touchpoints during the check-in process.
What is your cancellation policy?
24 hour cancellation policy: Bookings cancelled less than 24 hours before tour time will be charged in full
We are located at

31-313 Old Mamalahoa Hwy

Hakalau, Hawaii. This is an approximately 1hour and 45 min from Kona, 1 1/2 hours from Waikoloa Village and 25 min from Hilo.
Zip lining is an exhilarating way to see the beauty of the Umauma River from a truly unique aerial perspective. Originally developed to allow biologists to observe the natural world high in the formerly inaccessible treetops, zip lines are steel wire cables that extend between tree trunks or cliff faces. Participants are securely strapped into a harness, which is utilized to slide down one of these cables at an angle of descent that allows riders to reach speeds upwards of thirty miles per hour. The longest cables at The Umauma Experience extend to more than Twenty Two Hundred feet.
How long does the zipline tour take?
Our Zipline tours generally last somewhere between One -and-a-half hours to Three Hours. The tour length varies for each tour. Combination adventures can of course last longer. Instruction and travel time can add some additional time for each tour.
We put every effort into your experience to make it as safe as possible. Our extensively trained safety experts ensure that all participants are properly outfitted with the latest safety gear, including helmets and harnesses. Our top-of-the-line equipment is meticulously inspected and maintained. Our first-aid-certified guides have hundreds of hours of safety training under their belt.
Are instructions provided?
Our professional English-fluent guides instruct guests in all proper safety procedures and provide tips for effectively gliding down the zip line.
Can anyone go on zip lines?
Most everyone will enjoy the once-in-a-lifetime thrills of ziplining, but some weight, minimum 35 pounds maximum 275, age minimum 4 years old, do apply – remember to inquire about these restrictions when booking your reservation. People who have a history of a neck or back injury, or women who are pregnant may not participate. Ages 4-12 must be accompanied by a guardian, 13-17 the guardian must be present on property. All tours are conducted by our trained guides.
Closed-toe footwear, such as sneakers of hiking boots should be worn. Be sure to tie back long hair. Glasses should be secured with a strap. Make sure you remove any sharp objects from your pockets.
Does the tour run rain or shine?
Yes. Our tour runs rain or shine. We have rain shelters at each platform for the comfort of each guest.
What's your availability? How far in advance do we need to book a reservation?
Space on our tours is based on availability. During our busy seasons, we recommend making a reservation at least a week in advance. Our website will show you an updated calendar of what tours we have available and the time slots. During our slower season, depending on when you want to join us, 48 hours in advance is perfectly fine. Keep in mind, we do have a strict 24-hour cancellation policy to cancel and receive a full refund.
What's the difference between the morning tours vs. the afternoon tours? Which is better?
It all depends on your preference. Both the morning tours and the afternoon tours are equally great! You will be doing the same course no matter the time you choose. Each of our tours have a 45-minute prior check-in time, so if you are on the west side (Kona/Waikoloa), it will take about 1hr 45 minutes to 2 hours to get to our location. Coming from the East (Hilo) side of the island will take at least 30 minutes. So, when planning your experience and choosing a tour time, be sure to factor in the drive time as well.
Can we do both the Zipline and ATV Tours on the same day?
Of course! Each of our tours are 2 to 2.5 hours long. We have a 9:30 am ATV tour that finishes at 11:30am, giving you the opportunity to jump on our 1 pm Zipline Tour. If you would like to start the morning off ziplining, you can reserve our 10 am Zipline Tour ending at about 12 pm or 12:30 pm, then end the day on our 1 pm ATV Tour. Either way, you can enjoy a fun-filled family day with us.
Is there any exception to the weight limit? Why is there a weight limit?
Safety is our #1 priority, for both our guides and all our guests. To ensure a safe but fun experience we have our weight limits of 35 pounds to 275 pounds, no more or no less.
How long is the ATV Tour? How long is the Zipline Tour? How long is the Zip & Dip Tour?
Our ATV tours are 1.5 hours. Our 9 Line Zipline tours are 2 to 2.5 hours, the 4 Line Zipline tour is 1.5 to 2 hours. The Zip & Dip combo tour is 3.5 to 4 hours. (10am - 12pm Zipline/ 12:30pm - 2:30pm Dip)
Do you provide transportation? (From Hilo or Kona)
Unfortunately, not currently. Transportation is in the works, and we hope we can get something going soon.
Can we pick and choose what lines we want to do?
Is the ATV Tour guided? Why can't my (unlicensed) 16-year-old drive? Why can't my (licensed) 16-year-old pack us (family members) in a side-by-side?
Yes, all our tours are guided. There are two guides on the ATV Tour: one will lead the tour and set the pace for the adventure; the second guide will be at the end of the fleet, making sure everyone stays on course and is having a good time. Our insurance requires all our drivers to have a valid driver's license. Being that a 16-year-old is not legally an adult yet, we cannot have a minor pack any other members in our vehicles, but they are more than welcome to drive their own ATV (if they have a valid license).
How old does my child need to be to participate on the tour without me (a parent)? Can my child ride tandem with a parent?
Children 13 years and older can go on the Zipline tour on their own, if a parent or guardian remains on the property until that tour is complete. If a child gets nervous or scared and wants to ride with an adult, they have the option to ride tandem with one of our trained tour guides.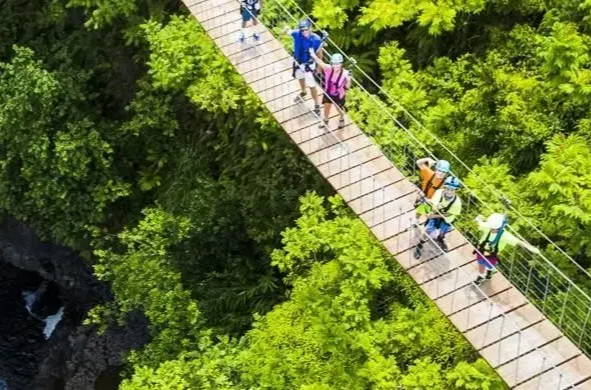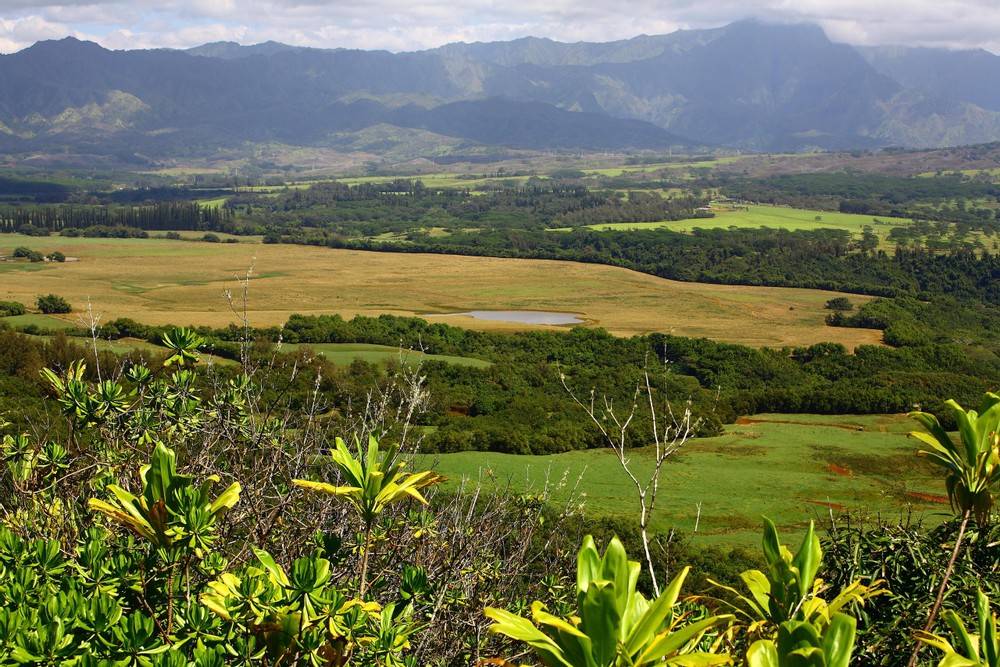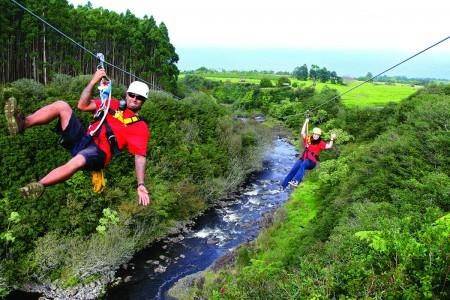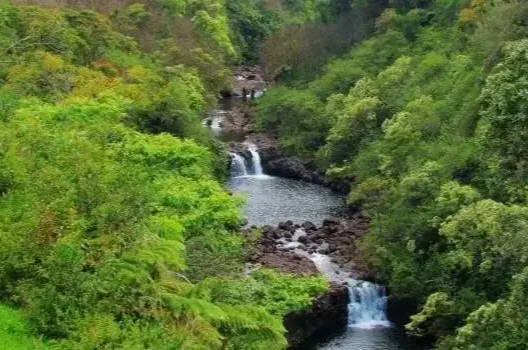 We had the most amazing time ziplining over Umauma. We have ziplined in many countries and this was by far the BEST!. Not only because of the location but due to the ability to be totally free handed and to zipline upside down. We also enjoyed picking and eating the fruit on the property as we moved from one line to another.
We will definitely be returning to zipline and to try out the other activities on the property.
Our guides were truly amazing as well
I took my aunt. She is in her 70s and never did anything like this before. We are both scared of heights but even so this was an amazing experience. Safety was definitely a priority for the company which helps calm your fears. We loved it. The staff was very knowledgeable, helpful and extremely witty. They made us laugh the entire time. The scenery was breathtaking. It was a great experience and I would recommend it to anyone, young or old.