Ultimate Adventure Package
---
---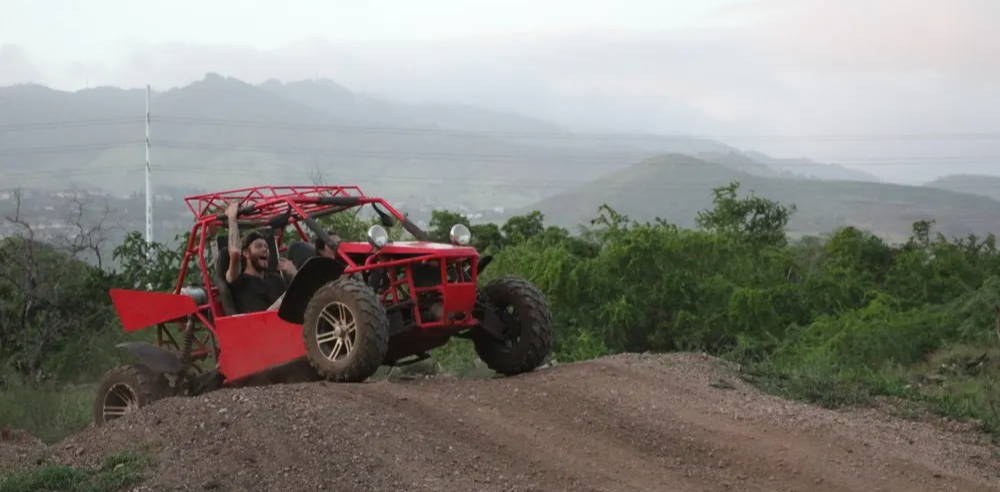 ---
Most of our adventurers want to do it all, and with the Ultimate Adventure package, you can!
If you can't decide between our other packages, why not go all in? Some of the most exciting new Oahu activities can be found at Coral Crater, and this is your chance to experience them all with us.
Enjoy all six of our ziplines, off-road in a side-by-side ATV, jump off of our 50′ Freefall, and play out on our state-of-the art Adventure Tower with 18 obstacles or high ropes course, climbing wall, and climbing ladder. This package will satisfy those who are thirsty for adventure and looking to spend their day participating in exciting new experiences. Our professionally-trained guides will accompany you throughout the day and make sure you're having maximum fun and staying safe!
Since you'll be participating in all of the activities we have to offer, there's a pretty good chance of getting a little dirty, so come dressed for adventure! Wear comfortable clothing and closed-toe shoes so you can enjoy each element of this tour. Leave your favorite shirt at home!
Minimum – Maximum Weight: 40 – 275 lbs. (children 40-60 lbs. may go tandem with guide)
Minimum Height: Participants must be 4'6″ to independently navigate the Adventure Tower course. Those who do not reach this height requirement (and are at least 6 years old) are still encouraged to participate but will require an adult participant to lead them through the course.
Maximum height: 6'4″ for ATV's. Those over this height will not be very cramped and uncomfortable in the buggies.
Minimum Age: 6 years old. Must be 18 or older with a valid Driver's License to drive the ATV. ANYONE UNDER 18 MUST BE ACCOMPANIED BY A PAID ADULT. Children under 18 or those without a drivers license will ride as a passenger on ATV portion.
Maximum Group Size : 6 People
Please Remember:
Dress comfortably for this adventure
Closed-toe shoes are a must
All participants must sign a waiver prior to participation. Save yourself some time and fill it out online!
Important Information
• Minimum age: 6 years old. Minimum age to drive ATV: 18 years old. Participants under 18 must be accompanied by an adult driver.
• Securable, close-toed shoes are required. Athletic shoes are recommended. (We do offer a limited number of shoes to purchase)
• No participant on the tour is permitted to use any other gear (helmet, harness, trolley, etc.) beside that which is provided by Coral Crater.
• We do not recommend participation with preexisting injuries, back, neck, or heart issues. Please consult your doctor if you are unsure whether this activity is suitable for you.
• Pregnant women are not allowed to participate in adventure activities.
• This is an outdoor adventure activity and operates in all weather conditions.
• Order of activities may vary. Tour duration's are averages and vary due to group size and individual speeds.
Important ATV Information
You will be in a two seater ATV which means you share the ATV with another person. If you both over 18 with a drivers license you will both have the opportunity to drive half the tour. You will not have an ATV to yourself. This is not an option on this tour. If you want to have an ATV all to yourself you will need to sign up for the ATV tour a la carte.
Participants must be a minimum of six years old and weigh between 40 lbs – 275 lbs. All participants will be weighed in, fully clothed, during the check-in process before each tour. Those unable to meet the requirement will not be permitted to participate and will not be offered a refund or rescheduled.
Each passenger must have a paid driver with them in their group. For example kids cannot sign up for this tour by themselves. Anyone under 18 or without a drivers license can go as passengers but will need an adult paid driver with them.
A $100 per driver credit card hold is put on reservations at check in and returned when the tour completes without damage. Drivers are responsible for damages or injuries so please drive carefully.
You will be having short breaks in between all activities. If you would like to take a longer lunch or break you must let us know ahead of time by calling our office at 808-626-5773. We do allow outside food and drinks. We also have food trucks on site.
Check in time is 15 minutes before the tour time. Please arrive for this tour on time. Late arrivals will miss the tour. No refunds will be issued. We do not offer transportation to and from the park for this tour.
Safety is our number one priority. You will always be accompanied by a guide on the ATV tours. Our ziplines feature the most modern braking system, which means that zipliners do not need to control their speed or stop themselves, allowing for all ages (within weight restrictions) and abilities to take part in this activity. These systems are tried and true to life-safe standards. On the Adventure Tower, you will be outfitted with a full body harness and state of the art Clic-it system which synchronizes the open/locked positions of the two carabiners that ensures you are always connected to the line at all times. The Freefall utilizes foolproof magnetic braking technology that slowly lowers you the rest of the way to the ground after a few seconds of pure gravity. Our expert guides are with you throughout the adventure, so leave your worries at home and come on out for an experience you'll never forget!
Safety is our number one priority. Our harnesses, helmets, and double-locking clips are state of the art equipment that guarantees complete safety. When you are not on the zipline, you will be clipped into the static line at all times. Our ziplines feature the most modern braking system, which means that zipliners do not need to control their speed or stop themselves, allowing for all ages (within weight restrictions) and abilities to take part in this activity. These systems are tried and true to life-safe standards. Our expert guides are with you throughout the adventure, so leave your worries at home and come on out for an experience you'll never forget!
We are about a 40 minute drive from Waikiki with no traffic. Afternoon weekday traffic may take over an hour so please check conditions well in advance. We are about a 15 minute drive from Ko Olina. Please do not be late for the check in time for your tour. We cannot issue refunds if you are late or miss your tour.
If you do not have a rental car we recommend Uber or Lyft to bring you to the park. There is also a city bus stop outside of the park gates. Please do not use rental car GPS to find Coral Crater. It will get you lost. Please use Google Maps or Apple Maps.
Frequently Asked Questions
We provide water on all cruises. You are also welcome to bring your own food and drinks (including adult beverages) on any of our cruises. We even have coolers with ice that you can use.
Expect to see local reef fish, turtles, eels, beautiful living reef formations, and the famous South Shore of Oahu. You get spectacular views of Waikiki, Diamond Head, and the cityscape of downtown Honolulu. Sharks, dolphins, and whales may also be seen depending on the season.
Passengers with mobility issues need to be able to take a step across from the dock to the boat in order to board, and then guests can then be immediately seated. Our crew can assist if needed — just make sure to arrive a little bit early! Once on board, there is plenty of space for all our guests. Walkers and collapsible wheelchairs can be brought on board. Motorized chairs or scooters are not allowed.
What if I am late for my tour?
Check in time is 15 minutes before the start of the tour. Please be on time. If you are late no refunds will be issued.
What is the minimum age to participate in activities?
The minimum age is 6 to do Ziplining, Adventure Tower, Freefall and ATV's in addition to the minimum weight of 40 lbs.
What is the maximum weight to participate?
275lbs per person for any activity. All guests are weighed at check-in. If you are over 275lbs you will not be able to participate and we will not be able to refund you.
Do all participants need to have a waiver signed prior to enjoying activities?
Yes, all participants and observers must have a waiver signed. Participants under 18 years old must have a waiver signed by their parent/guardian. To sign the waiver go to the homepage and you will see it in red.
We are an outdoor facility so dress for the weather. We operate rain or shine. Please wear closed toed shoes for all activities. We include all the essential gear (helmets, harnesses, etc.) for each activity in the activity cost. Chances of getting dirty on ATV are high so bring a change of clothes, towels and ponchos if you're heading out to dinner afterwards!
Do you have food and drinks available?
We have food trucks in our parking lot that operate daily except Sundays. We also sell snacks in our gift shop.
How safe are the Zipline and Adventure Tower tours?
As with all activities, there are inherent risks associated with Zipling and the Adventure Tower. Our course surpasses the Association for Challenge Course (ACCT) standards and pre-use inspections on both the safety equipment and course occur daily. Extensive training for our guides are provided by Synergo, a Professional Vendor Member (PVM) of the ACCT. Synergo also completes our periodic course inspections.
What is your cancellation policy?
Individuals and groups can cancel 24 hours or more before the start of their tour for a full refund. Tours cancelled within 24 hours of the tour will not be refunded.
I've never been zipling before, do I need experience?
The beauty of our tours are that you do not require any previous experience or skills. Our friendly and professional guides will help you through your entire experience, from providing you with well fitting safety equipment, to leading you through the course.
I am pregnant. Can I go on your tour?
Congratulations! However, for safety reasons, we don't recommend pregnant women participate in any of our tours. Please come join us in the future.
How physically fit do I need to be?
You need to be reasonably fit to enjoy our tours. There is some walking involved between some of the zip lines as well as a stretch which includes a short incline. Some of the walking paths may have loose footing and roots/rocks. Our tours are not recommended for people with back or neck injuries or for those with difficulty walking. You will need to be capable of carrying 15 pounds for the duration of your tour. Coral Crater reserves the right to cancel your tour if we are concerned about your physical well being.
My children are under 60 lbs., is there any way they can go ziplining?
Yes, it is possible for children 40-60 lbs. to tandem with a guide. Due to safety reasons they cannot tandem with anyone other than our guides. Generally if a child is under 50lbs they will have to go tandem with a guide. Those over 50lbs we encourage to go alone.
I see that the minimum height is 4'6″ for the Adventure Tower, what if my child is under 4'6″?
Our safety equipment requires participants to be 4'6″ or taller to independently navigate the Adventure Tower. Participants who are under 4'6″ are still welcome to participate but need to be accompanied by an adult participant who can perform necessary safety tasks.
My child wants to do the Adventure Tower but I do not want to accompany him/her. Is there still a way to participate in this tour?
A trained guide can be arranged to accompany those under 4'6″ by selecting the add-on option at check-out.
What if some of my family do not want to participate?
We understand that sometimes a few members of your party prefer to play the role of spectator or are not big enough to participate. For those people, we have a beautiful turfed area with picnic tables they are welcome to relax on while other members of the group are out getting their thrills.
We run all tours, rain or shine. Conditions such as high winds and lightning may require us to suspend and reschedule your tour.
As with any tours/service, it is customary to tip your guides if you are pleased with your service. We now accept cash, credit cards, venmo or cashapp for gratuity.
Do I get a refund if I crash an ATV?
No. Most definitely not. If you drive responsibly, you will not crash an ATV. If you drive recklessly, you will be removed from the tour. If you crash before your guide can remove you from the tour, you will be responsible for all damage to the vehicle and will not be refunded the cost of your touer.
---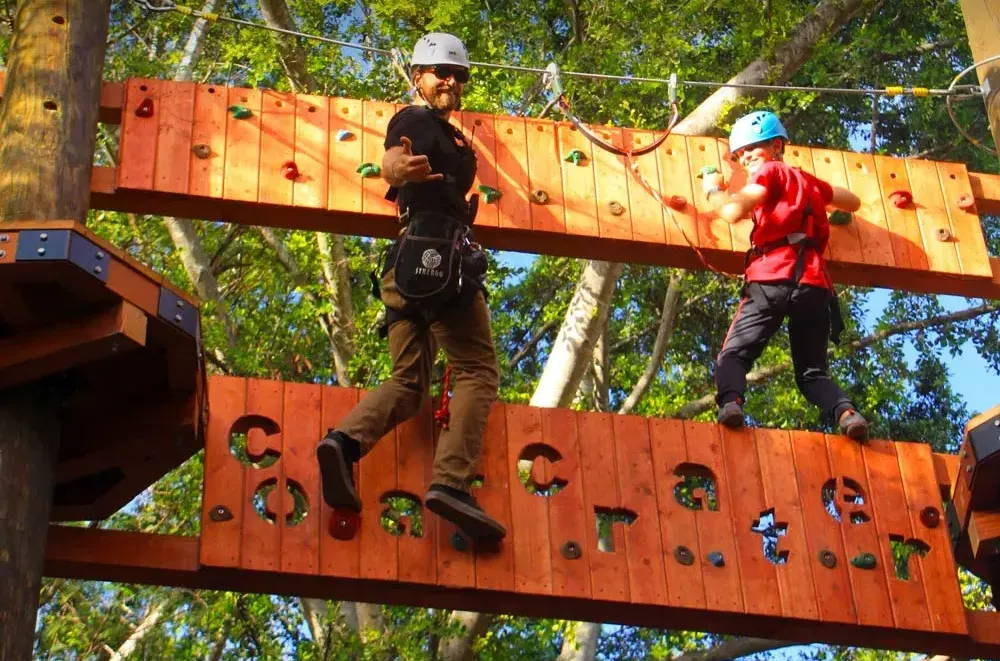 ---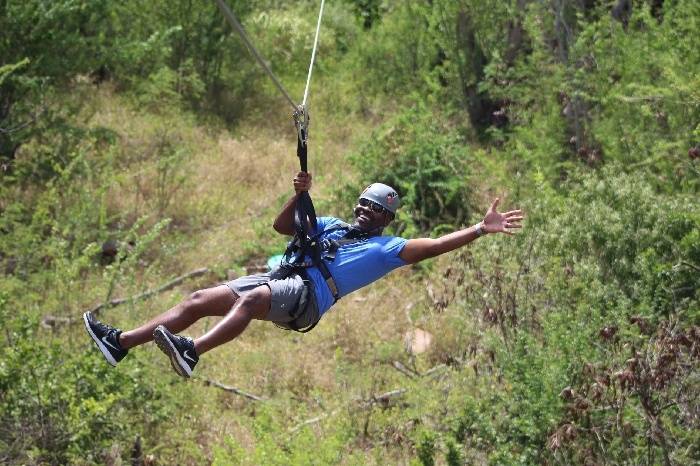 ---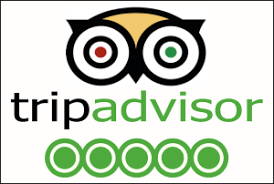 Excellent Zipline experience
My daughter asked if we could zipline while on vacation and we ended up going to Coral Crater because they also had the adventure tower which she was excited about. Jordan and Michelle were our guides and they were super fantastic! They were very personable and we had some great conversations throughout the program. They were very clear with instructions and safety rules, and made sure everyone was comfortable with how the equipment worked. The ziplines were lots of fun, as was the tower. There were some tough spots on the tower, but Jordan and Michelle were very encouraging and helpful with tips on how to best approach the challenges. We utilized the full time and got to do everything we wanted, including the tower jump. The rest of the staff we encountered were also super nice and friendly. We even met one from our neck of the woods back in the Midwest! Even Matt, our shuttle driver, was extremely friendly and easy going. We talked a lot about the history of the islands, as well as his family history. Made the drive seem very short. Overall just a really fun time and we are very glad we went! Thanks again, Michelle and Jordan, for an awesome day! You guys made a great team!
---
What an awesome day we had here! Lilli (I probably didn't spell this right) and Michelle were our guides and were fabulous. They were great and just made the entire experience so much fun that we will for sure be going back!! The zip lining was our favorite but the adventure tower was fun but challenging.