Sunset Whale Watch
---
---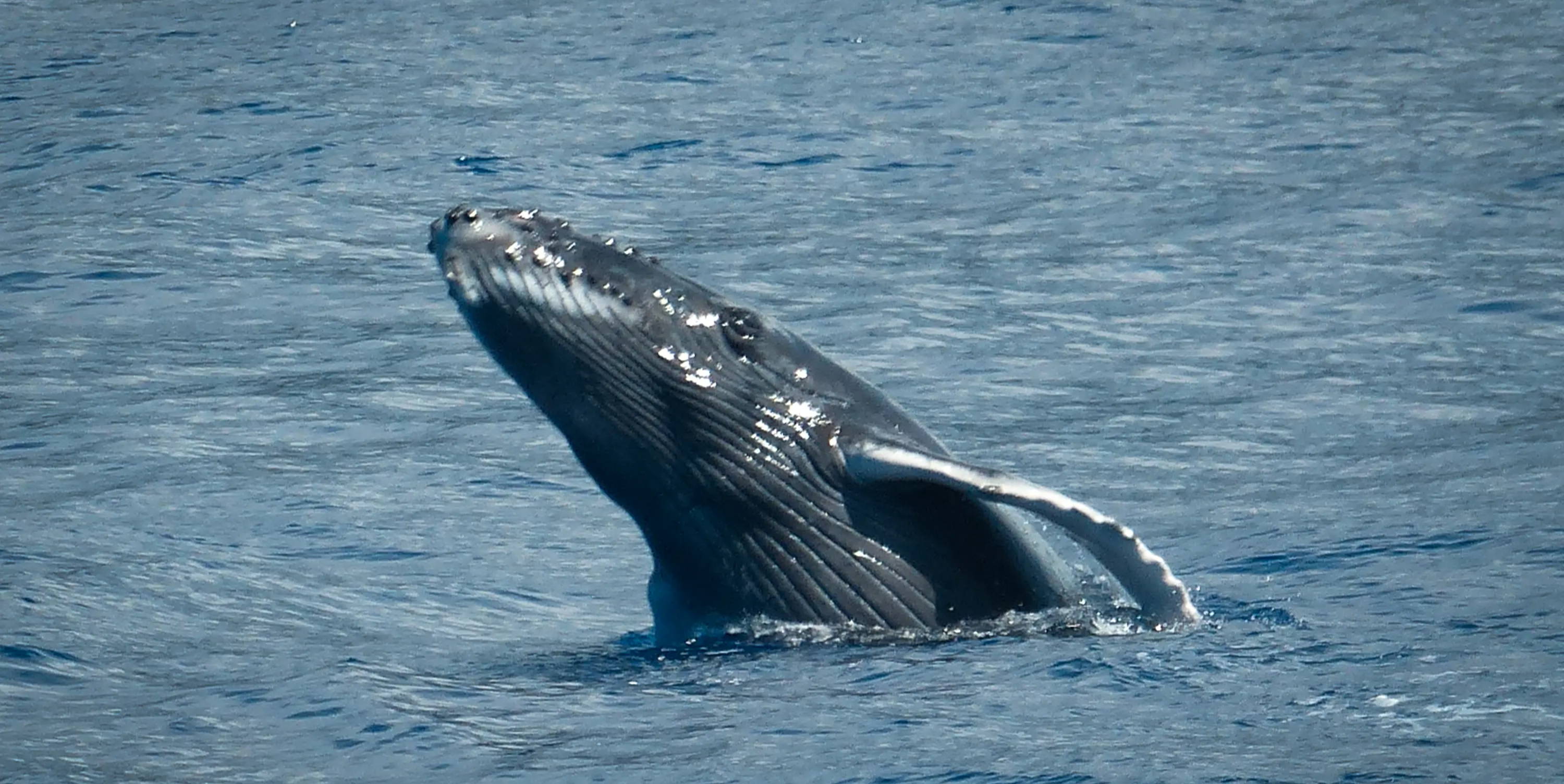 ---
Duration 1.5 hours
Adult Ages 13+ $125
Child Ages 3 to 12 $125
Departs from Puakō Boat Ramp
Mauna Kea Area
---
---
Encounter Whales in Their Natural Habitat!
There is something about a Hawaiian sunset, add humpback whales, this trip will be an absolute delight to anyone on board. Join us on our NEW Sunset Whale Watch this winter from 5pm-6:30pm. Photographers looking for the silhouette humpback whale breach? Well this is their trip. Maybe a humpback whale tail with a sunlit and sunset snow-capped Mauna Kea in the background. We guarantee this will be one of our most popular trips of the season, so guests will want to book early to assure availability. Pineapple and drinks will be served. Light jacket is recommended, and photography equipment is ALWAYS welcome!
If you've always wanted to go whale watching on the Big Island, you're in luck! Humpback whales travel to the Hawaiian waters every winter (and not just because Hawaii is the number one vacation destination in the world).
From baby whales curiously scouting out the boat to witnessing a triple breach, Adventure X Boat Tours has seen it all on our Big Island whale watching tours.
Leaving out of Puako, we immediately enter the nursing grounds of mother humpback whales and their babies. Go out a little further and you may witness a competition pod, a battle between males over the female. The captains and crew are very knowledgeable about these animal's behavior and will share insightful facts throughout the entire trip.
You definitely don't want to miss out on this once-in-a-lifetime Hawaii Big Island whale watching experience. Don't delay. We even guarantee whale sightings, or come again…FREE!
Late December is the very beginning of our Whale Season here on the Big Island and this is when they are just starting to make an appearance. Sometimes they show up early and stay late but every year is different and we usually wait until we actually see the whales before opening our bookings. But due to Covid, and a high tourism forecast for the year, and the eager demand of whale lovers out there, we have decided to open our bookings early.
There is a bathroom on the boat.
We Stand Out Above the Rest

The Malaialena is a 30 ft Rigid Inflatable Boat, the type of boat that is considered one of the safest (hence why the coast guard uses them).
She is a fun and comfortable ride with padded seats, shade, an upper viewing deck that seats 4, AND a bathroom on board!
She has an 8 speaker sound system which is wonderful for playing the Hawaiian tunes and listening to humpback whale song during the whale season (note we have a great hydrophone on board).
We look forward to taking you out on an adventure of a lifetime!
Meet A HUI HOU, a RIB boat that operates from Puako Boat Ramp. In COVID season, she operates with no more than 10 pax, unless it's a private charter all from the same accommodations.
She is a 30 ft vessel with twin yamaha 250s. She is Coast Guard inspected annually, which means she is very very safe. She also will get to where the whale action is happening the quickest! She will operate morning whale watching (when available), afternoon whale watching and manta night snorkels and dives.
Location
Puakō Boat Ramp, Puako Beach Drive, Puako, Hawaii 96743, United States
Cancellation Policy
48 hours prior to your tour time
---
---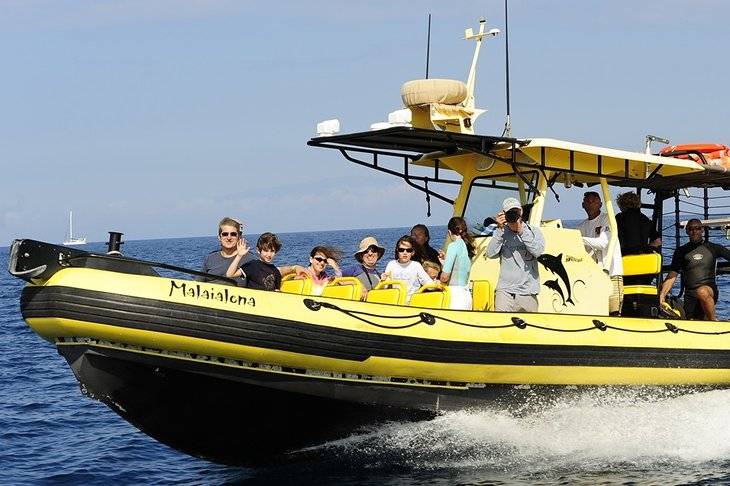 ---
We use this tour company every year to

whale

 

watch

. All the staff on the boat are dear. The captains Casey and Kelsey are so respectful of the

whales

and knowledgeable. Worth every cent to go out

whale

watching with them!
---
My partner and I did the morning

whale

 

watch

and were super happy with it. Our Captain, Tess, and her all-female crew (another Tess and a Lindsay) were awesome. We really enjoyed their commentary and stories. Great snacks and drinks, too. And even a good restaurant recommendation (Seafood Bar, which we ended up hitting later that day).
As for the

whales

....we had quite a few sightings - mom an calf resting in the bay right off the bat, and then quite a bit of competition pod activity. We were of course hoping for a breach, but sometimes

whales

just don't cooperate! ;)
Regardless, our crew definitely did a great job in trying to find us activity. And we got lots of fin waves, which made us very happy. Highlight of the trip: Griffin! The sweetest grey yearling, trying his best to keep up with the competition pod.
We wouldn't hesitate to book with Adventure X again and definitely would've taken a second tour if we had more time. Another reason to return to the Big Island!
---