Sunrise Deluxe Snorkel-Molokini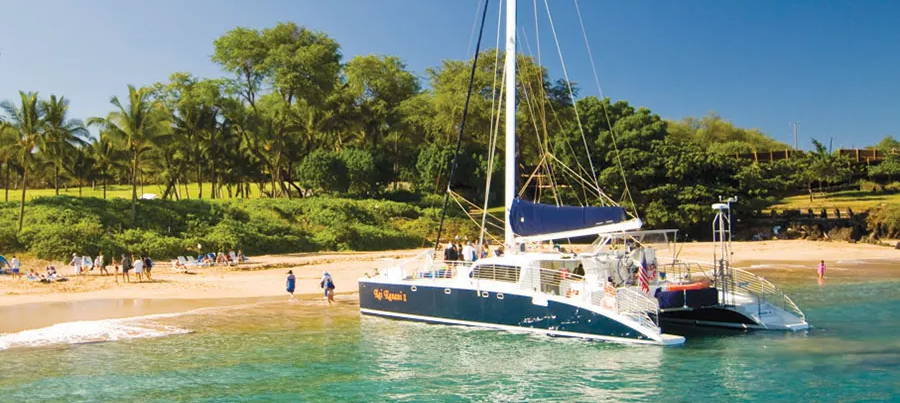 Sunrise Deluxe Snorkel-Molokini
3.5 Hours Departing from Makena
Adult 13+- $279.57   Child 2-12 $229.03
Infant Free
    Transportation Available
Departing from Makena in South Maui, perfect for Wailea and Kihei visitors!
Congratulations, Early Riser! Molokini Crater is yours alone! Sunrise Deluxe Snorkel is truly the most exclusive and beautiful snorkeling tour on Maui.
It begins with Maui Coffee Roasters Coffee, Ghiradelli Hot Chocolate, fresh warm cinnamon rolls from Maui's famous Cinnamon Roll Place and an epic sunrise. Look for stunning views of Haleakala and the Big Island of Hawaii as the sun rises.
Due to our South Maui location, loading at Maluaka Beach in Makena, we are the first snorkel boat into Molokini in the morning, enjoying 45 minutes of pristine solitude in the clearest water in Hawaii, with up to 200 feet of visibility. Then we head back to Maui and snorkel with the Hawaiian Green Sea Turtle at the world-famous Turtle Town.*
The menu is varied with several courses coming out throughout the day. After cinnamon rolls, enjoy yogurt parfait and fresh strawberries. After snorkeling, we bring out the big spread with egg frittatas, ham and cheese breakfast sliders and an open bar with mimosas and bloody marys.
We finish the tour with a leisurely cruise down the Makena Coast, bringing you back to Maluaka Beach by 9:45 am with your whole day still ahead of you. It's the ultimate start to your day in paradise.
The best way to enjoy a snorkeling trip in Maui is on a tour with Kai Kanani, with delicious snacks and refreshing beverages conveniently available aboard.
We offer shuttle service from Wailea Resorts to and from our check-in location at Maluaka Beach. Space is limited so contact us to reserve your spot. We look forward to seeing you aboard!
* All tours are subject to weather at the captain's discretion. Safety is our top concern and we apologize if there is any inconvenience due to weather-related cancellations.
Food Menu
All Courses are plated and served to our guests. First Course: Hot cinnamon rolls from The Cinnamon Roll place with fresh Maui fruit
Second Course: Greek yogurt parfait with freshly made granola, Kula strawberries, and local honey
Third Course: Scrambled Eggs or Egg Muffins, sausage, breakfast potatoes, and pico de gallo
Bar:
Freshly brewed Maui Coffee Roasters Coffee, Twinings Green and English Breakfast tea, Ghirardelli hot chocolate, and a variety of juices and soft drinks
Bloody Mary's & POGmosas (passion fruit, orange, guava juice with champagne)
Offered daily!
Check-in in at 6 a.m. Tour begins at 6:15 a.m.
3.5 hours
Beach load at Maluaka Beach in Makena
Currently running at limited capacity due to Covid-19 safety precautions
Cancellation Policy
You will receive a full refund depending on the following timeframes per booking party:
1- 5 pax - 48 hrs
6-9 pax - 7 days
10 + pax - 14 days
Customers will also receive a full refund in case of operator cancellation due to weather or other unforeseen circumstances. Contact us by phone to cancel or inquire about a cancellation. No-shows will be charged the full price.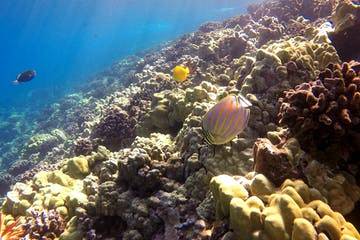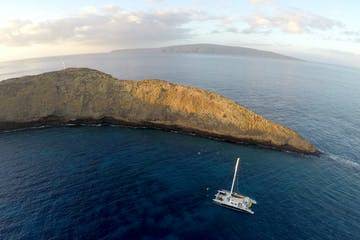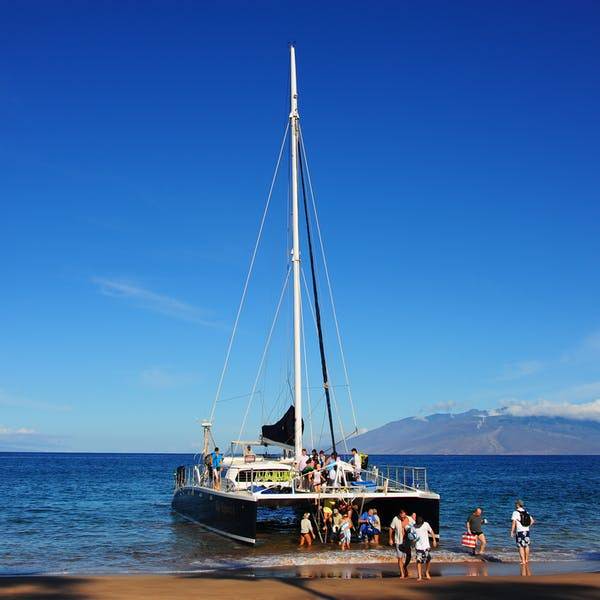 We went on the

sunrise

cruise in early Feb 2021...the

sunrise

, snorkeling,staff and turtle te was amazing!!! I highly recommend Kai Kanani for their amazing tours! Prescription snorkel lenses, great island knowledge and high attention to safety makes this tour anA+++! ( 7 adults age 24-63)
Team Kai Kanani went out of their way to make sure we had a great time on our Molokini Crater

Sunrise

Snorkeling outing. We were the first boat in the crater and had it to ourselves for the first hour. The 65 ft. catamaran was clean and well equipped, the crew was knowledgeable and super friendly, and the trip-provided snorkeling equipment was in like-new condition. They made us feel at ease even though it was our first snorkeling experience. After snorkeling at two locations on the crater, we saw plenty of whale activity including two spectacular breaches. Everything was socially distanced and sanitizers were omnipresent. The crew stayed masked up throughout. Highly recommended!!