Scooter Dive Experience
---
---
---
Scooter Dive Experience
For experienced, certified divers $149
Recent dive experience required
Rental equipment included
$79 for 2nd tank guided dive
---
---
Upgrade your Maui scuba diving experience to a guided Scooter Dive in Lahaina!
Offering the newest and lightest sea scooter on the market, so you no longer need to lug around a 40-pound scooter. Instead, you can use a ScubaJet, which weighs only 10 pounds! The eco-friendly ScubaJet engine is based on an emission-free motor, using impeller technology to help you reach up to 7 miles per hour (MPH). This impressive Diver Propulsion Vehicle (DPV) showcases the next generation in scooter diving.
Get ready to take your scuba diving to the next level with this unforgettable Maui diving experience. Our Scooter Dive in Maui helps you explore a large dive site, providing the opportunity to see more sea life! Shore diving sites in Lahaina can extend vast distances along the coastline. You will feel like James Bond with your ScubaJet, gliding through the water, looking for turtles and spotted eagle rays. There is no better way to see Maui underwater with minimal effort!
You can share your Scooter Dive in Maui with friends and family. Photos and videos of your dives with us are available for purchase on your reservation form during checkout.
What to Expect for Your Scooter Dive
We guarantee you the best Maui scuba diving experience by monitoring local weather conditions to choose a specific dive site. The day before our scheduled Scooter Dive, we will email you by 5 pm to confirm meetup instructions.
Our mobile Maui dive shop organizes every morning dive tour to offer you maximum convenience during your vacation. Mornings are the best time for excellent visibility underwater, so we meet at 8:30 am. We begin at our headquarters in Lahaina for a safety briefing, get you fitted for gear, and drive to the nearby pre-selected dive site. Please inform us if you will not have a rental car.
We like to provide two dives per trip, so if you book a second dive, expect to finish at 1:30 pm. While battery life does not allow us to offer two consecutive scooter trips, you can visit a new spot in Lahaina or Kaanapali by adding a guided shore dive for $79. During checkout, make sure to select this option on your reservation form.
A high-quality photography package is available for $60 when booking online through our dive shop. Maui scuba diving photos and videos are a trendy add-on, so we use an excellent underwater camera to capture your best moments underwater. As a bonus, your second guided dive also gets included in this photography package.
Scooter Dive Safety Tips
Cautiously Descend and Ascend – It takes time for scuba divers to become familiar with the addition of a negatively buoyant device. So for safety, use a little less weight than expected, make slow adjustments to your buoyancy, and avoid rapid descents and ascents by always anticipating your next steps.
Stay With Your Guide – It is crucial to maintain visual contact with your professional dive guide. Your Maui Scooter Dive can be distracting because the ScubaJet sounds loud underwater, and you travel much faster. Stay extra aware of your surroundings, and never let anything separate you from your dive guide.
Avoid Touching the Ocean Floor – Maneuvering your scooter too close to the ocean floor will stir up sand, disturb marine life and cloud visibility. So practice proper buoyancy control to protect both the underwater environment and your ScubaJet.
---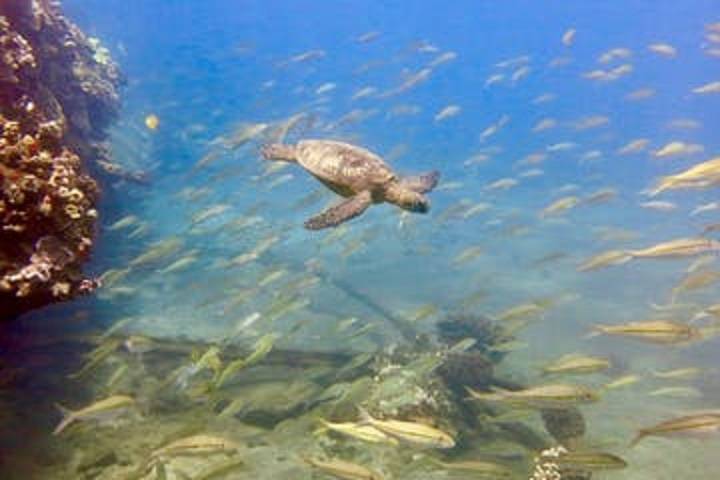 ---
---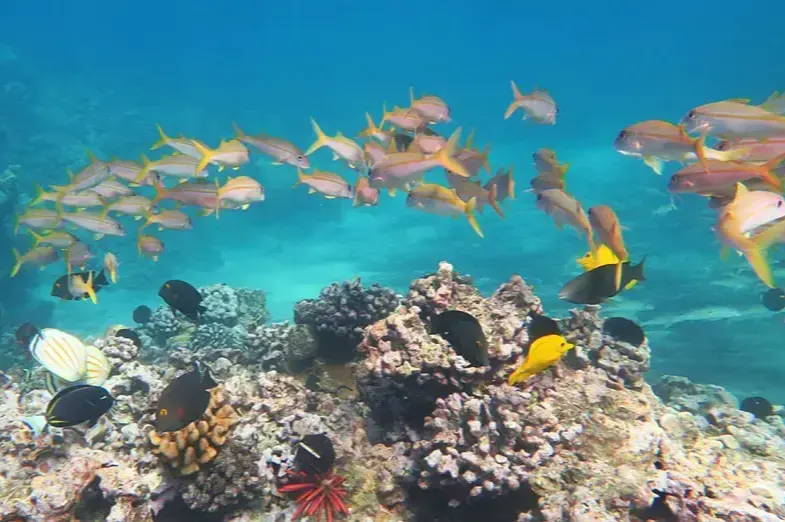 ---
The diving was amazing, but the guides even better!!!! I have always been partial to small family-operated businesses because of the personal and authentic feeling offered. Caitlin and Kevin are without a doubt the real deal, genuine, enthusiastic, helpful, and reassuring. I am a newer diver and having all the helpful and encouraging confidence that Caitlin and Kevin brought to the entire experience was completely worth it.
We lucked out on our dive day with epic visibility and no current. Not that it would have mattered. We signed up and were able to use the new self-propelled underwater scooters. I know what you are thinking and yes IT WAS AS COOL AS IT SOUNDS. I felt like I was in this amazing under what spy movie and if I wasn't holding onto the scooter the entire time I would have pinched myself to make sure it was real. 10 out of 10 would definitely recommend to any experienced diver who wants to have a unique and magical underwater experience.
---