Private Scenic Helicopter Tour
---
---

---
Scenic Helicopter Tour
$ 359 Per Person   *Weight & Age Restrictions
---
---
Private Doors Off or On with no middle seats

On this incredible tour of Kauai, you'll experience views so beautiful they will take your breath away. Explore the stunning Manawaiopuna Falls, also known as "Jurassic Park" falls, wedged in between the emerald green mountain top of the Hanapepe Valley. Soar over the amazing views of the Olokele Canyon and majestic Waimea Canyon. Waimea canyon is also know as the the "Grand Canyon of the Pacific," where you'll catch sight of dozens of cascading waterfalls including the 2000-foot Waipo'o falls. Then on to the sacred Napali Coast with its 3500-foot seacliffs plummetting into the vast Pacific ocean. Along the Napali coast you will fly into the secret valleys of Nualolo and Kalalau valley with there amazing landscape. On to Kauai's magical North Shore which reveals the sculpted green Hanalei Valley with more waterfalls than you can count. The pilot will then guide you over the turquoise-blue waters of Hanalei Bay and the Princeville Resort area.
Last but not least we will fly you into Mt Wai'ale'ale crater, a dormant shield volcano with over 450 inches of rainfall each year, making it one of the wettest places on earth. Here you'll witness the most beautiful emerald green vegetation draped over the mist-covered mountain, with 3,000-foot cascading waterfalls filling each crevice—a truly awe-inspiring finish to your Doors Off Helicopter Adventure over the Garden Island of Kauai.
Some of the stunning sites you will experience on your 1 hour Helicopter tour.
Napali Coastline: with its towering 3500′ seacliffs.
Waimea Canyon: known as the Grand Canyon of the Pacific.
Wai'ale'ale Crater: one of the wettest spots on earth.
Hanalei Valley: with its numerous waterfalls.
Alakai Swamp: the highest swamp in North America.
Hanalei Bay: with its famous surfing locations.
Kauai Coffee Plantation: the largest coffee plantation in North America.
Ke'e Beach: The final stop on the North Shore.
Lumahai Beach: were the movie "South Pacific" was filmed.
Manawaiopuna Falls: also known as the "Jurassic Falls".
Olokele Canyon: which can be only seen by air.
and Much More Mind-Blowing Scenic Views!
Weight & Age Restrictions Passengers must be at least 7 years of age and weigh 40 pounds or more. Total weight per seat shall not exceed 275 lbs. For groups of 3 passengers, no more than one person can be 200+ lbs. Per FAA regulations, ALL passengers will be weighed at check-in. (NOTE: Seat assignment may be subject to weight and balance restrictions of the aircraft.)
Frequently Asked Questions
What is your cancellation policy?
A 48-hour cancellation or change of tour notice is required for all airplane tours. If for any reason you decide to cancel or change your reservation, you must notify us 48-hours prior to the tour date/time. Cancellations, changes, or no-shows within 48-hours of the tour are not refundable and will be charged in full. Routes and flight patterns subject to change due to weather conditions.
Do you offer transportation?
Yes, we provide complimentary transportation for cruise ship passengers, to and from the ABC Store at Anchor Cove Mall, Harbor Mall and Lihue area upon request.
What if the weather is bad? Do we get a refund?
Should your flight be delayed or canceled due to inclement weather, we will make every effort to reschedule. In the event that rescheduling is not possible, you will receive a full refund.
Will I see everything in your tour desription?
Every attempt will be made by our pilots to cover each site described, weather permitting. Pilots will adjust their flight path for wind and weather and may include alternate sites. You will have the very best air tour of Kauai possible! However, your safety and comfort come first!
What is your safety record?
We have a perfect safety record with no accidents or incidents.
We recommend you wear comfortable clothing. If you are comfortable on the ground you will be equally comfortable in the helicopter or airplane.
Should we bring a camera?
Yes, we encourage passengers to bring their cameras. We can also mount your Go-Pro on the exterior of our helicopters or airplane for a fee of $25.00, should you desire it. We also provide phone lanyards for passengers flying in our helicopters.
How many people does our helicopter and airplane hold?
Our Helicopters holds 3 passengers and our airplane holds 4 passengers, everyone gets a window seat.
When should I do my tour?
We recommend doing your tour in the beginning of your stay. Reason being that if the weather is marginal we can reschedule your tour to another day, also your pilot will be giving you many unique and special places to visit during your stay which you will not want to miss out on.
---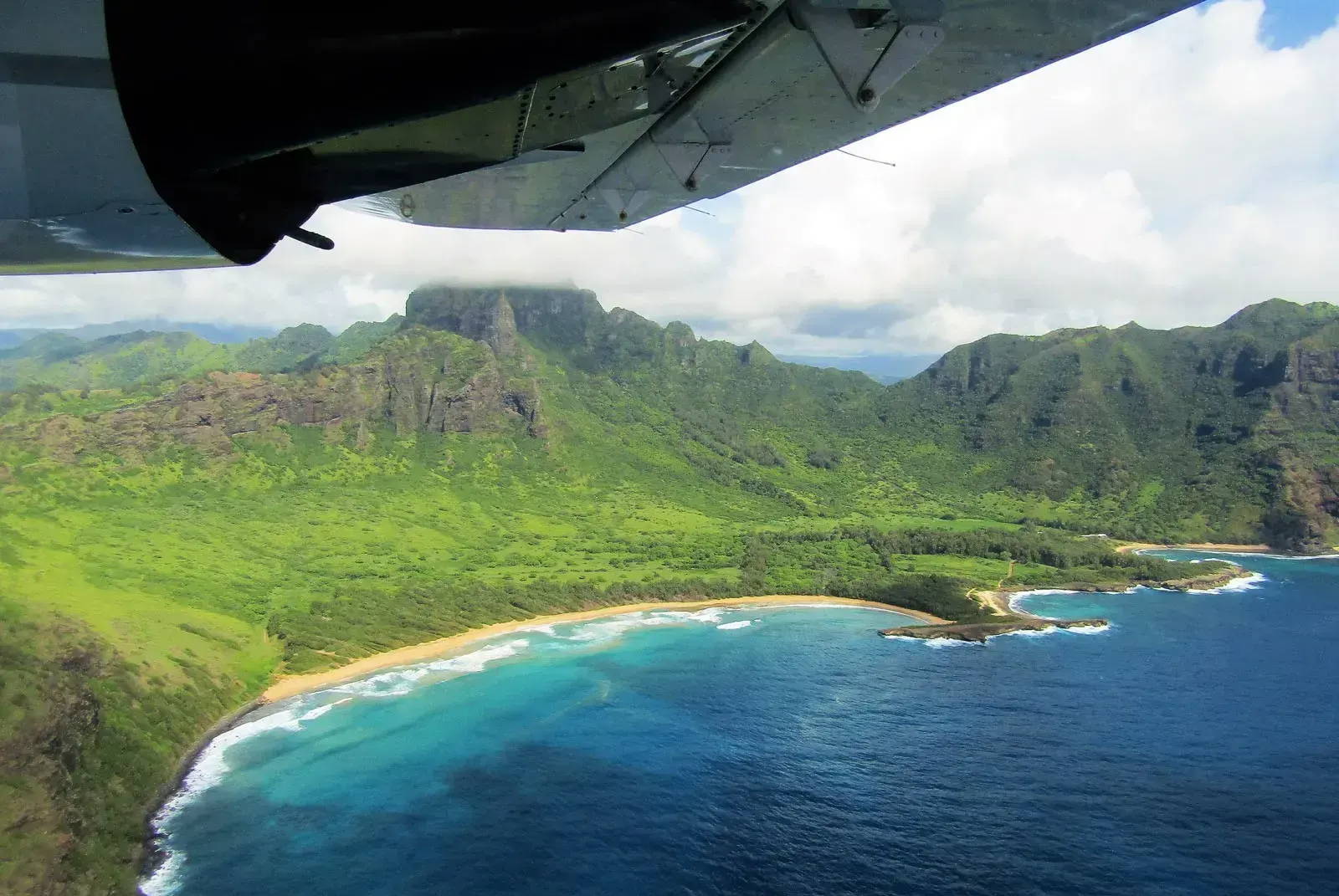 ---
---
Somewhere over the rainbow is Kauai!
Absolutely take this tour with Pilot, Guy. He is great and you will feel safe if it's your first time in a helicopter, as it was for me and my partner on April 17th. This was the first event we did as it was our first time in Kauai. And Ingrid was very responsive and helpful. Ingrid called me back right away and explained everything to me and responded immediately to my emails. Best customer service. Cannot recommend this experience enough. Book em danno! :)
Wow! What an amazing experience. You get to see untouched virgin land that is beaming with trees and waterfalls. Just breathtakingly beautiful! It's definitely one thing I'm so glad we did on our vacation! Our pilot Guy was very knowledgeable and has over 40 years of flying experience under his belt. It's a fun mix of his informative descriptions of the area as you take in the amazing views! Ingrid was also so helpful and made sure we had everything we needed.
It is a bit chilly so dress accordingly for the wind, hair in a bun, no hats and I would wear sunglasses to help with the wind blowing in your eyes.
---