Oahu South Shore Experience
---
---

---
Stunning views of the city of Honolulu and Magic Island
Enjoy a private, guaranteed window seat adventuring the south shore of Oahu. Enjoy shoreline views of the city of Honolulu and Magic Island. Keep an eye out for sea turtles and surfers along the iconic white sand beaches of Waikiki.
We then begin the climb to see Diamond head crater while overlooking the most populous island in Hawaii. From there, following the south shore to Koko Head and Hanauma Bay, an underwater crater popular for snorkeling. Continuing along sandy beaches as they turn into rocky cliffs leading to the Makapuu Lighthouse.
COVID-19 Information
Please provide your vaccination card or a negative test that was taken no more than 48 hours prior to your tour.
We have taken enhanced health and safety measures—for you, our other guests, and our staff. You must follow all posted instructions while visiting Mauna Loa Helicopter Tours which includes the mandatory use of PPE equipment.
Tour Departure location Honolulu Airport
Common Questions
We provide water on all cruises. You are also welcome to bring your own food and drinks (including adult beverages) on any of our cruises. We even have coolers with ice that you can use.
Expect to see local reef fish, turtles, eels, beautiful living reef formations, and the famous South Shore of Oahu. You get spectacular views of Waikiki, Diamond Head, and the cityscape of downtown Honolulu. Sharks, dolphins, and whales may also be seen depending on the season.
Passengers with mobility issues need to be able to take a step across from the dock to the boat in order to board, and then guests can then be immediately seated. Our crew can assist if needed — just make sure to arrive a little bit early! Once on board, there is plenty of space for all our guests. Walkers and collapsible wheelchairs can be brought on board. Motorized chairs or scooters are not allowed.
Mauna Loa Helicopters is closely monitoring the information provided by the WHO and CDC regarding the COVID-19 virus and guidelines from these agencies.
The safety and wellbeing of all of our guests, pilots and employees is always our #1 priority.
Mauna Loa Helicopters has always shut down the helicopter after each tour for a safety & maintenance inspection and cleaning of all headsets, mouthpieces and areas touched by customers – even before this recent virus outbreak.
We have also implemented the following procedures to further keep our customers safe when we return to daily tour operations:
-Additional sanitizing of all communal areas shared by guests
-Minimized physical contact between pilots , staff and customers
-Additional sanitizing of headsets and common areas
When is the best time to go on a helicopter tour?
There is no short answer. Although Hawai'i enjoys plentiful sunshine year-round, we do experience summer and winter seasons. Precise flying weather conditions are often impossible to predict, especially in winter, because of the interplay of dynamic weather patterns and the island's unique topography. Due to the combination of high mountainous peaks and shoreline throughout the islands, each hour of the day shows each island, literally, in a different light. Wind speeds and cloud formation also change throughout the day, resulting from variations in temperature. Ultimately, the time of day you book depends on your preference and itinerary, but we recommend choosing a tour date early on in your stay. This allows you more opportunities to find a different tour time with us should the weather not cooperate for the original flight.
I am traveling by myself. Can I take your tour?
Yes, the requirement is to pay for the minimum seat requirement of the specific tour looking to book. You would have the entire aircraft to yourself as all tours are private and different parties are not combined.
What is better for me, a doors-on or doors-off helicopter tour?
Both options allow for optimal viewing, as each window seat has wide windows extending from the top of your head to your waist. The choice to fly with or without doors depends on your priorities and comfort level. In a closed aircraft, you are shielded from wind exposure and you will hear music and narration clearly. It is a very serene way of taking in the scenery through the large windows. If you are game for a more visceral experience or photography is important to you, our doors-off adventure is for you. Floor-to-ceiling openings allow you to look straight down into waterfalls and sea caves, and glare from windows in your photos is no factor. Because the helicopter is open to the elements, you will be exposed to wind and cooler temperatures caused by airspeed and altitude. For your comfort, please follow our recommendations on how to dress appropriately for your doors-off helicopter flight. The airframe does protect you and your camera equipment well during light showers or mist. If some members of your party would like the extra comfort of a door, we can remove some doors and leave others on. However, all seating arrangements are subject to weight and balance calculations. For doors-on and doors-off tours, please abide by our recommendations on how to prepare for your flight so you can make the most of it. We don't charge any more either way you choose.
What will we see on our private helicopter tour?
On these magnificent islands, there is much to be discovered by air. Certain of the countless remarkable features have, deservedly, garnered special interest and are most popular for aerial viewing. Weather permitting, our pilots will explore with you all of each island's most famous geological features as outlined in our tour descriptions. Sometimes, wind and weather conditions necessitate a deviation from the usual tour route. In these instances, our pilots will attempt to show off other spectacular scenery not normally included on the tours, as all islands offer more hidden wonders to please the eye than can possibly be covered on a single flight. We guarantee to showcase spectacular scenery and breathtaking views that are not obtainable by car or trail.
What happens if it is cloudy or rainy on the day of our tour?
Along with ample sunshine, the islands are also blessed with abundant daily rainfall, which nourishes the lushness and creates the erosive force that continues to shape all the fascinating geology. Most of the island's waterfalls are sustained only by rainfall, and misty showers often delight passengers with rainbows along the tour. Usually, our typical high cumulus clouds and precipitation do not diminish the quality of your tour, but instead give it dimension and add other exciting facets to your experience. However, if the pilot determines that prevailing visibility, cloud cover, or wind speeds do not allow for a good air tour, or if it is not safe to fly, we will of course cancel the flight. Because weather conditions can change dramatically day to day and hour by hour, we often cannot make a determination about your flight prior to your check‐in time.
What if our flight gets canceled due to weather?
If you purchase your reservation online, full payment is collected at the time of the booking. If we cancel a flight due to weather, there is naturally no fee for you whatsoever, your payment will be returned, and you are not required to rebook your tour. We are happy to reschedule your flight based on availability.
What is your cancellation policy?
Tours may be canceled or changed up to 24 hours prior to the scheduled flight time without incurring a fee. Tours canceled less than 24 hours before the scheduled time, or passengers who fail to show up or are 15 minutes late for check in, will be billed the full price for the tour.
What is the passenger weight limitation?
Total weight per seat is restricted to 275 pounds. We do not impose any weight surcharges for individual or combined passenger weights. Per FAA regulations, all passengers plus carry-on items will be weighed at check-in.
I am pregnant. Can I go on your tour?
You are most welcome to fly with us through the seventh month of your pregnancy, providing you feel comfortable with the motion of the helicopter in the air, as well as wearing a regular (three-point) seatbelt across your body.
In terms of seating arrangements, our first priority is safety, meaning we seat people in the best spot for the weight and balance of the aircraft. Our next consideration is where passengers would like to sit and what seat will be the best for their experience. We will be happy to accommodate your individual preferences, weight and balance permitting. Most couples like to sit together in the back of the helicopter so they can better share the experience, lean over and see out both sides, and point things out to one another. There is emotional value to sitting together, which for most people is higher than any added viewing value obtained from the front left seat. The open cabin design also allows rear passengers viewing ahead through the cockpit window.
How do we prepare for our flight?
Your check-in time is 35 minutes prior to your flight time. Per FAA regulations, we need to determine each passenger's exact weight including shoes, all clothing, and personal belongings such as camera equipment and purses. It is therefore necessary that you bring to your check-in everything that you would like to wear and have with you on your tour. You do not need to actually wear your warm layers at check-in, but you do need to hold them when stepping onto our scale. On a doors-on flight, we recommend that you wear dark outer layers to minimize reflection in the windows during photography. Because you are not exposed to the elements, whatever clothing you are comfortable with at sea level is adequate for your flight. An open-door experience is exciting and fun and we want you to enjoy your flight without being distracted by wind or chill. A warm outer layer that you can zip up, such as a windproof jacket, is ideal. We strongly advise against wind-susceptible clothing such as dresses and hooded items. In winter, long pants are highly recommended. To keep you and your belongings safe, we cannot permit any loose objects on your doors-off flight. This includes hats, visors, scarves, hair clips, and strapless sandals. Eyeglasses are permissible. Hair that is long enough should be tied tightly with an elastic band. Any equipment must be secured to you via a strap.
What is your safety record?
Flight safety is our principal concern, and we are proud of our impeccable safety record. We have a zero-tolerance maintenance policy, meaning any issue, regardless of its effect on airworthiness of the aircraft, is checked out promptly and thoroughly. With extensive training and flying experience, each of our pilots has acquired expert knowledge on the island's unique weather and terrain considerations, and this knowledge is a key factor in making sound decisions and navigating the skies safely. For your added safety, we do not practice "hot-loading." We shut down our aircraft in between all tours to allow for a thorough pre-flight inspection prior to each and every tour.
What is the best seat for photographs?
On our aircraft, other than the R66 on the Big Island and O'ahu, there are no middle seats, so each passenger can enjoy the scenery to the fullest from his or her guaranteed window seat. Your pilot sits in the front right seat, which leaves the front left and a rear left and right seat for passengers.
Our pilots are skillful in selecting a flight path that affords passengers on both sides of the aircraft the same amazing views.
---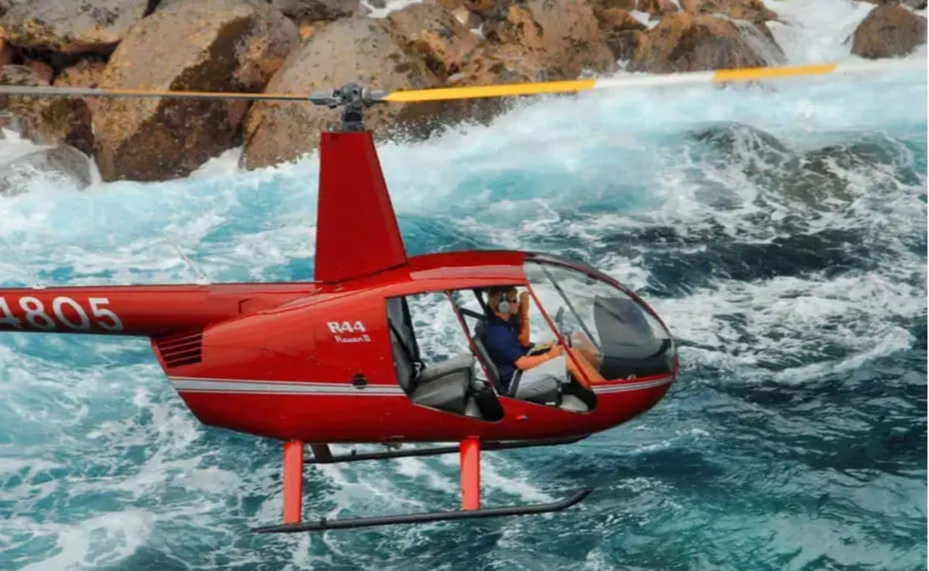 ---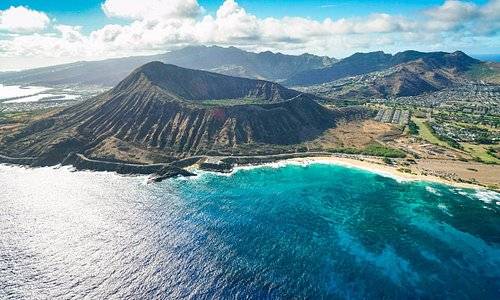 ---
We won the Father's Day Giveaway and received 3 free rides! It was really exciting to win the contest and the tour was even better than our expectations!! The pilot was super friendly and the ride was very smooth:) My parents are talking about the tour all day long and wish to go again when family and friends visit Hawaii! Thank you for giving us a wonderful time!
---
I flew on their The Oahu

Magnum

P.I. Experience tour on Oahu. The tour starts with a weigh-in and a safety briefing. The person in charge of the office was great - funny and very helpful. We then proceeded to the helicopter. On the flight, you have the option of having your door on or off. I flew with the door off in order to get better photos. There was a slight wait to get clearance, then the tour started. This is not a quickie up and down tour. It flies over Honolulu, then proceeds all the way up the east coast of the island. The flight then cuts back down through the middle of the island and finishes by flying over Pearl Harbor. There are a number of great surprises on the tour, which I won't spoil by telling about them. The one piece of advice I have is that you save this tour until near the end of your visit to Oahu. It meant so much more to see places from the air which I had visited on the ground. I highly recommend both this company and this tour.
---