North Shore Sunset Cruise

Experience a magical Hawaii Sunset from the water
North Shore sunsets are the best, and there is no better place to watch them than from the deck of the Ho'o Nanea. The sunset hours are a magical time.
With the winds calm, the sun turns golden and paints the sky in a palette of hues and colors that seem almost unreal. There is no way you cannot be taken by it. The clean ocean air, vast sky, and unbelievable sunset colors connect you with nature and give you a feeling of relaxation and happiness that most people don't get to experience anymore. A sunset sail is sure to calm your mind and let you breathe again. So come join us and reset your senses.
Even tied to the dock our 40 foot catamaran the Ho'o Nanea looks sleek and fast. Ho'o Nanea means "to pass the time in ease and comfort." This is a perfect name for our vessel as she is a dream to sail. The ancient Hawaiians sailed to Hawaii from Tahiti on catamarans and ever since these multihulled boats have proven to be perfect for Hawaiian waters.
Our brisk Hawaiian tradewinds keep the sailing exciting! Just because our boat is comfortable doesn't mean she is boring. Depending on how much fun you want to have, you can either ride up forward on the net for a wet and wild time, or move back to the deck, where you can stay dry but still feel the wind in your hair as we ride the waves.
On the days when the wind doesn't blow we use our very quiet and efficient motors to propel us across the ocean. It is not the same thrill of being driven by the wind but it gets the job done and there is no such thing as a bad day on the water with us!
Where do you sail from and where do you go?
We operate out of Haleiwa Harbor, on the North Shore of Oahu. We sail along the North Shore and out into the deeper waters. We do not circumnavigate Oahu or sail around to the West Side. This would be a very long sail with rough upwind sailing on the way home.
How far is Haleiwa from Waikiki?
It's about 1 hour driving time from Waikiki, via H1 and H2. Please see our Contact page for more information.
Is Hawaii sailing on a catamaran different than traditional sailing?
Catamarans are smoother riding than single hulled vessels. Our 40′ catamaran, the Ho'o Nanea, is the perfect size for a Hawaii sailing adventure. The sailing catamaran is Coast Guard certified for 21 passengers, and all of our tours are a max passenger count of 19. With this intimate group, we are able to give all of our passengers customized service.
Directions
FROM HONOLULU:
Take the H1 freeway west from Honolulu to the H2 freeway north. Stay on H2 until freeway ends (8 miles) and becomes Route 99. After freeway ends, go straight through 4 stoplights then turn right at the sign indicating "North Shore".
Follow the signs towards North Shore / Haleiwa, staying on Route 99. As you come down the hill with the ocean in view, you will reach a traffic signal where you will turn left to enter Haleiwa Town.
Go through "Historic" Haleiwa Town (1 mile) then turn left immediately after the 76 gas station on left side of road. (If you pass through a narrow bridge you missed your turn at the Gas Station).
On your right is the Haleiwa Boat Harbor. Turn right at the sign into the harbor. Stay to the right and follow the road as it curves out to the big two story building in the middle of the harbor. Park next to our sign. The catamaran will be moored at the loading dock or on her way!
FROM TURTLE BAY:
When you leave Turtle Bay Hotel, turn right (north) on 83 to the North Shore and Haleiwa town. It's about a half hour drive (can take longer if there is a surf contest going on on the North Shore!).
There will be a traffic signal and a sign pointing you into "Historic" Haleiwa Town. Turn right and follow the road over the white, narrow bridge.
On your right will be the Haleiwa Boat Harbor. Turn right at the sign into the harbor. Stay to the right and follow the road as it curves around and out to the big two story building in the middle of the harbor. Park next to our sign. The catamaran will be moored at the loading dock or on her way!
We provide water on all cruises. You are also welcome to bring your own food and drinks (including adult beverages) on any of our cruises. We even have coolers with ice that you can use.
Expect to see local reef fish, turtles, eels, beautiful living reef formations, and the famous South Shore of Oahu. You get spectacular views of Waikiki, Diamond Head, and the cityscape of downtown Honolulu. Sharks, dolphins, and whales may also be seen depending on the season.
Passengers with mobility issues need to be able to take a step across from the dock to the boat in order to board, and then guests can then be immediately seated. Our crew can assist if needed — just make sure to arrive a little bit early! Once on board, there is plenty of space for all our guests. Walkers and collapsible wheelchairs can be brought on board. Motorized chairs or scooters are not allowed.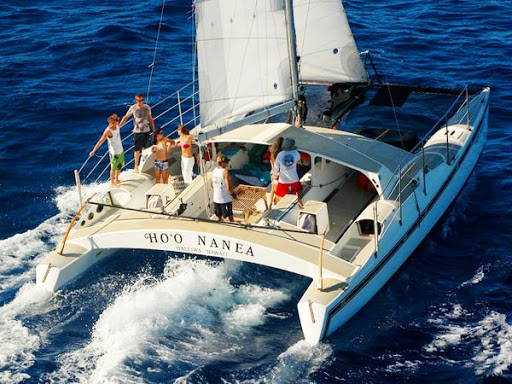 Sunset Sail - SO many whales!
We had a wonderful time, and were so lucky to see whales so much of the time just playing around our boat. The meeting place on the emailed map was 100% accurate and we left right on time at 5pm. Crew was friendly and making jokes. There was a cooler with soft drinks.
This was a very safe trip for families, we have a 7 and a 9 year old and the highlight of the trip wasn't the whales 10 feet away from the boat, but the lovely crew member woman (didn't get her name) and she played so many games with them, they thought it was the BEST time ever, giggling and laughing for over an hour. :)
As for the whales, we first saw them in the distance about 30 min in. Saw their tales out of the water and thought it was cool. Had no idea what we were in for. About an hour in, we were close to two maybe more and saw them breaching, blowholes and waving tails. The Captain expertly navigated the catamaran right over the area we saw them and they came up many times only yards from our boat. Just awesome to see them and hear them up so close. The epic photos and videos didn't hurt either.
Oh and I want to mention the sunset - it was gorgeous and a perfect sight on our way back to the marina. Our family and the rest of the passengers had an incredible time, I wouldn't hesitate to recommend this place!
Great time and experience! 3 Adults, 2 children age 7 and 1 1/2. We all had a great time and loved 'talking story' with the captain and steward! Definitely recommend!