Myths of Maui Luau
---
---
GENERAL SEATING
Indulge in the all you care to eat Hawaiian-style buffet and open bar while you are treated to a feast for the eyes at this must-see celebration of the music and dances of Hawaii and Polynesia.
Only available when you book direct, general admission tickets will receive a complimentary fresh flower lei.
General Seating Adults Ages 13 and older $185
General Seating Children Ages 6 - 12 $115
 Children 5 and Under (Free)
---
VIP Seating
Visit like VIP. Our best value on show tickets. Enjoy exclusive perks, on top of general admission inclusions, that allow you to fully immerse yourself in the luau experience. Live it up with exclusive services.
Early Entry Access
Enter in Our Private VIP Entrance
Free Flower Leis / KuKui Leis
Preferential Seating
Early Access to Buffet
Free Premium Liquor Cocktails
VIP Adults Ages 13 and older. $235
Includes premium front section seating, orchid flower lei for ladies & kukui nut leis for gentlemen
VIP Children Ages 6-12. $165
Includes premium front section seating, orchid flower lei for ladies & kukui nut leis for gentlemen
VIP Children 5 and Under $50
Includes premium front section seating, orchid flower lei for ladies & kukui nut leis for gentlemen
---
Experience Hawaiian culture in an enchanted ocean front setting
The last rays of a spectacular sunset, beating drums and the call of the conch shell signal the start of Maui's most exciting and longest running Polynesian luau.
The Myths of Maui oceanfront luau features a sumptuous all-you-care-to-eat buffet, complimentary cocktails and a beautiful celebration of music, drums and dance that culminates with an amazing Samoan fire knife finale that will dazzle your entire family.
You will enjoy a breathtaking celebration of traditional Hawaiian, Tahitian, Samoan and Maori dance and music as performers weave the legends of the South Pacific into a spellbinding performance you are sure to treasure for years to come.
A celebration of Hawaiian food, music, dance and culture, the Myths of Maui Luau is the longest running oceanfront luau on Maui. Our traditional Hawaiian luau at the Royal Lahaina Resort began in the early 1970s, showcasing the cultural and culinary spirit of the island. A beautiful ocean backdrop showcases one of the most vibrant and exciting Polynesian shows on the island of Maui. Your adventure begins with a lei greeting, the unearthing of the pig, a bountiful Hawaiian feast and a keiki (kids) buffet. Sip tropical drinks as you enjoy live Hawaiian music and a captivating show. The longest running luau in Kaanapali takes you through a journey of Polynesian cultures - from Aotearoa to Tahiti, Hawaii and Tonga. Exploding with energy, colors, music and dance, the show features the most dazzling full cast fire knife finale.
Shell lei aloha greeting
Complimentary cocktails, beer, wine, and beverages
Imu ceremony to unearth Pua'a Kalua (roast pig) from in-ground oven
All-you-can-eat buffet with island cuisine
Island's only keiki (kids) buffet
Live Hawaiian music
Enchanting show with dances from Hawaii, Tahiti, Samoa, New Zealand
Awe inspiring full cast fire finale
Free shell lei
Oceanfront setting with stunning Maui sunsets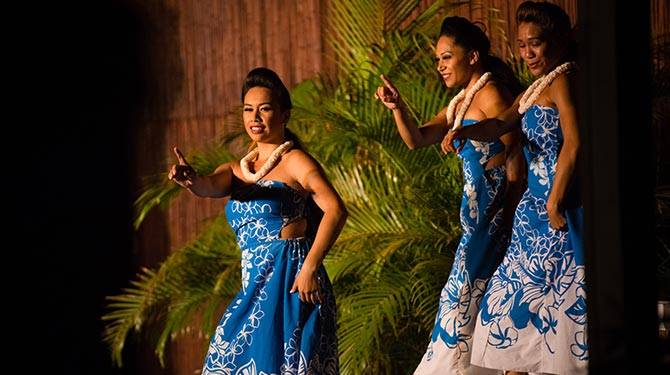 ---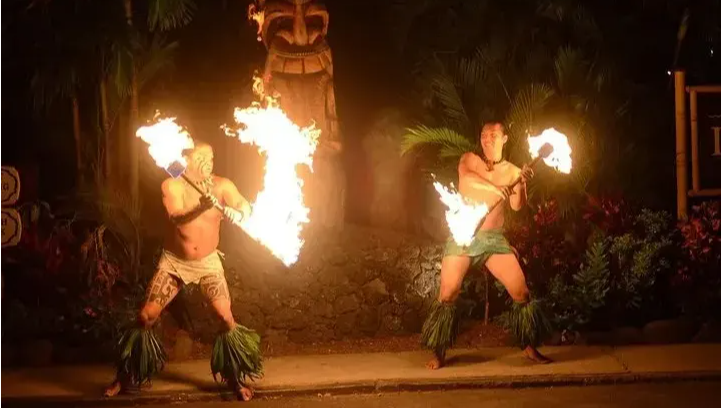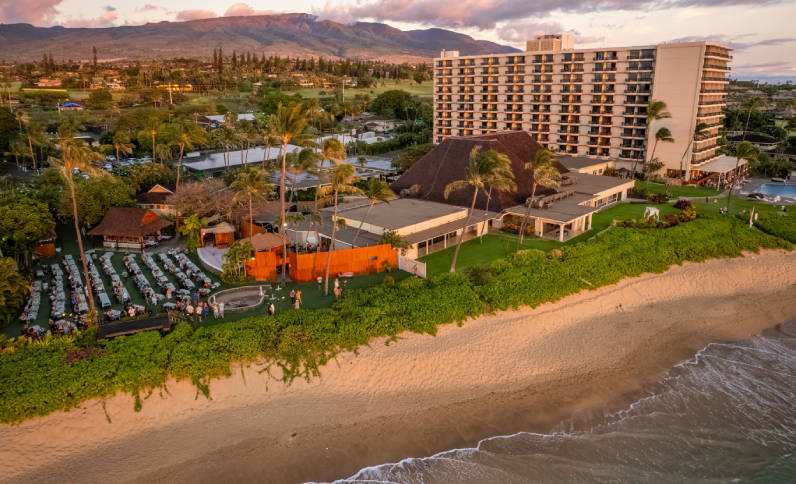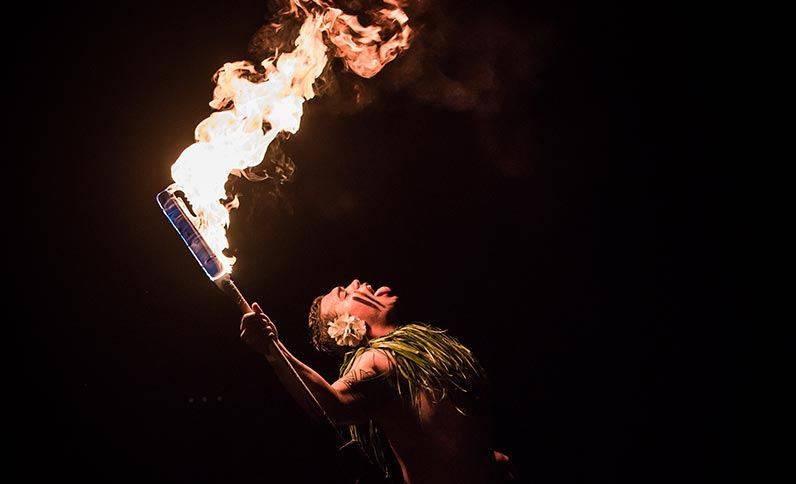 ---
Health & safety protocols
The health and safety of our guests, employees and residents is our number one priority. Myths of
Maui Luau will be following all Hawaii state and Maui county mandates outlined for safe operation and
has implemented additional sanitation procedures and recommended best practices to provide a safe
and healthy experience.
• Walk up transactions will be temporarily suspended. All payment transactions are to be
completed via contactless technology.
• Myths of Maui Luau is an outdoor event. State and county mandates still require social
distancing and face masks to be worn throughout the event while not seated at your table.
Gators, bandanas and face shields are not PPEs approved by the state.
• Family Style seating is currently being provided. Each Family/Traveling party will be seated
together at tables not exceeding 10 guests per table. Only members of the same group will be
allowed at the table.
• Guests will enjoy an assisted buffet, in which our culinary staff who are outfitted with proper
ppe and shielding assists in the plating of food items.
• Beverages will be ordered and served at each table. Walk up bar service is not available.
• All service staff is required to wear face masks and to follow the proper sanitation and safety
guidelines in line with CDC and the County of Maui. Luau performers are not required to wear
masks while on stage.
• Sanitizer stations are available throughout the luau grounds. All high contact areas are sanitized
prior to and after each show (including but not limited to seating area, restrooms, stage and
operational areas).
Please note that due to the adaption of new protocols and official mandates some
Live music, relaxing, great food
We had a wonderful time as a family at this luau. The wait to check in was only ten minutes long. We had great service with all you can eat and drink. Our kids enjoyed the food and show. We LOVED the LIVE MUSICIANS!! Having been to other luaus sometimes you have to wait a long time before the show but this was well planned out. Smooth transition, professional, great facilities. We had a fabulous time!
---
Wonderful meal and show! Covid social distancing and precautions in place. Wonderful food options! Foods were fresh, varried and abundant. No complaints here! Staff was exceptional! Worth the price! I would do it all over again!