Morning Calm Water Snorkel
---
---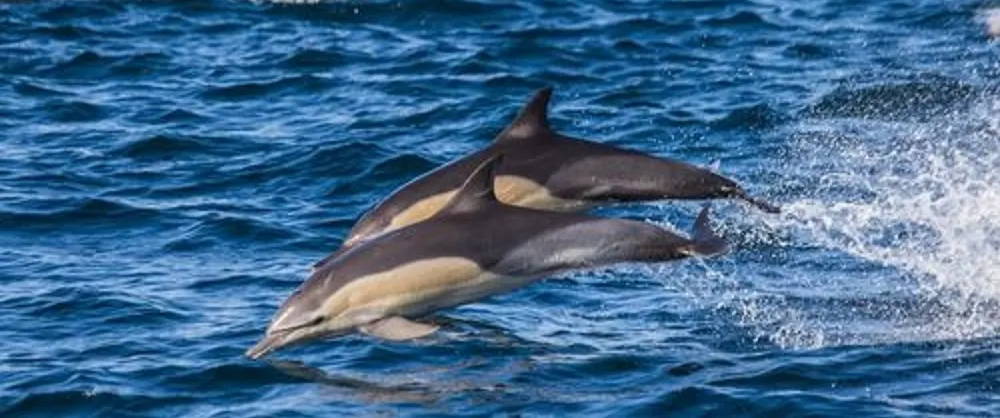 ---
See Hawaii as did the ancient Hawaiians and Captain Cook!
Come join the fun! We will take you to the unspoiled Wai'anae coastline on the island of Oahu where dolphins, turtles and other Hawaiian sea life play and flourish. Take a dive into one of Hawaii's most secluded snorkeling spots, watch dolphins as they glide through the cool waters of the Pacific, view the most stunning scenic vistas and perhaps, even watch the most romantic sunset on earth.
The northwestern coast is the most secluded part of Oahu, and is only accessible via hiking, helicopter or by boat. It's also the best place to see dolphins, whales and other marine life. Experience this wonderful place with our dolphin watching and snorkeling cruise.
Get your video and still cameras ready, because we'll see with Dolphins (Nai'a), Whales (Kohola) [in season], Green Sea Turtles (Honu), and Flying Fish (Malolo) along the way! When we do meet up with the dolphins and whales, we'll stop the boat, and sit with them as our knowledgeable crew will tell you everything you want to know about these amazing and beautiful creatures.
After an exciting ride up the coast, we'll enjoy an hour of snorkeling in the pristine waters off Oahu's western coastline. We provide the best of snorkeling equipment for you to enjoy as you swim in the sparkling blue water of Makua amongst unspoiled reef and sea life where no other tours take you.
While still tingling from your snorkeling and dolphin watching experience, enjoy our sumptuous lunch buffet, and sip on a tropical Mai Tai, an ice-cold beer or any of our other beverages to your heart's content. Let the cool Hawaiian breeze relax your soul as we make our way back down the coast to our luxurious Ko 'Olina Marina home.
OAHU CRUISE HIGHLIGHTS:
The only tour that takes you along the entire West Coast of O'ahu!
Fully
narrated in both English and Japanese
Super clean and very spacious change rooms/toilets
Six warm fresh-water showers
Spacious cabin with lots of padded seating, perfect for enjoying the view in comfort
High grade snorkel equipment with soft silicone seals, optical lenses and padded split-fins provided as well as instructional guidance for beginners
Personal attention with never more than 12 passengers to every crew member
Sumptuous buffet, alcoholic and non-alcoholic drinks included
Transportation is available from your Waikiki hotel
We provide water on all cruises. You are also welcome to bring your own food and drinks (including adult beverages) on any of our cruises. We even have coolers with ice that you can use.
Expect to see local reef fish, turtles, eels, beautiful living reef formations, and the famous South Shore of Oahu. You get spectacular views of Waikiki, Diamond Head, and the cityscape of downtown Honolulu. Sharks, dolphins, and whales may also be seen depending on the season.
Passengers with mobility issues need to be able to take a step across from the dock to the boat in order to board, and then guests can then be immediately seated. Our crew can assist if needed — just make sure to arrive a little bit early! Once on board, there is plenty of space for all our guests. Walkers and collapsible wheelchairs can be brought on board. Motorized chairs or scooters are not allowed.
---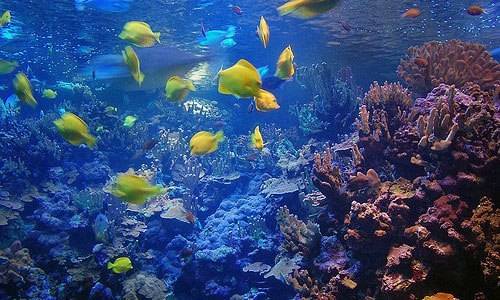 ---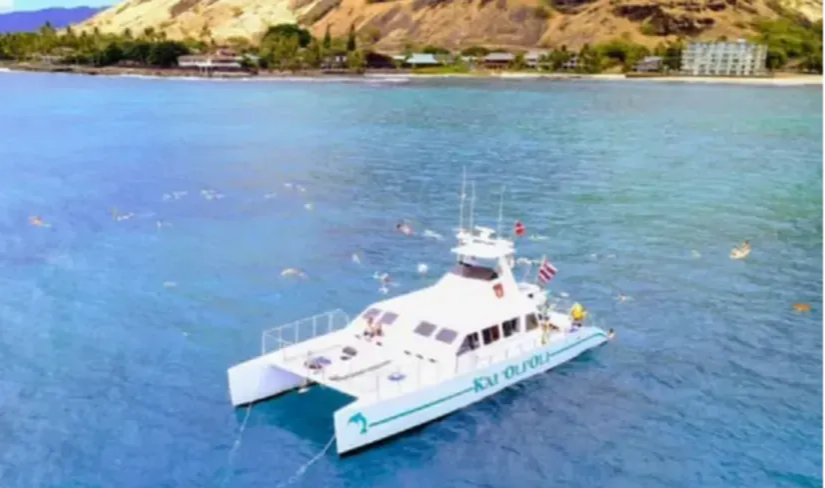 ---
We had a wonderful time. The first hour was spent looking for wildlife. We got very lucky and saw approximately 50 spinner dolphins and a humpback whale with it's baby! I understand that this doesn't always happen though. The captain, Mason, and crew were very interactive with the guests and made everyone feel comfortable and happy. The second hour was spent snorkeling in a quiet spot. Equipment was sanitized and the process was organized and efficient. The crew made us feel safe in the water as two actually got in with us. This was a comfort to me because I'm not a great swimmer. Lastly, the third hour is spent eating and enjoying the boat ride. The chicken breasts we ate on the boat were some of my husband's favorite and I want to say we were able to drink four beverages each for free (included in the cost of tickets). We stayed at Aulani and the marina was about a 25 minute walk along the lagoons for us, so super convenient! We would definitely do this again if we ever come back.
---
My daughters did the snorkel and catamaran cruise they were all nervous to go crew and capt took them under their wing and made sure they had a day to remember forever so many thanks to you guys really made my day also such great people
---