Koloa Zipline
---
---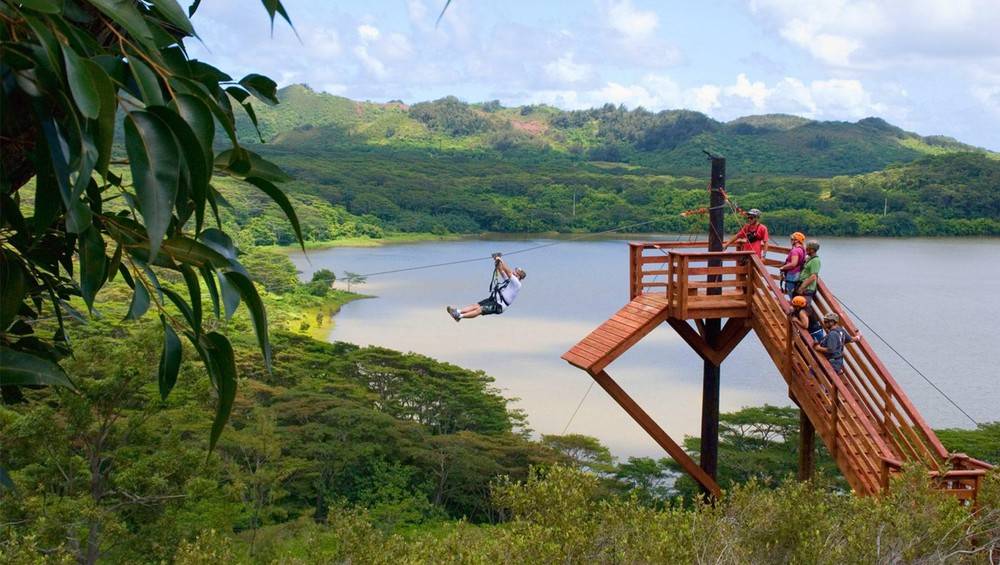 ---
Koloa Zipline
Duration 3.5 Hours
---
---
Koloa Zipline is Kauai's longest zipline course
Koloa Zipline is the premier zipline on Kauai. The course consists of 8 lines and lasts approximately 3.5 hours long. Koloa Zipline is Kauai's longest zipline course featuring 3 of the longest lines on island including the Waita zipline (1/2 mile). Each line was built with your education and thrill in mind, offering Tandem ziplining, your choice of harness, handlebar pulleys, sunset ziplining, Ground School, and Aerobatics. Explore the incredible beauty of Kauai's south shore as you glide across the water on 22,000 acres of Hawaii's first sugar plantation.
What to Expect
8 fun ziplines with 1/2 mile zip at the end
Light hiking between ziplines
Light snacks and water provided
So much fun you won't want to leave!
What Sets us Apart
Kauai's only Ground School teaches you the basics of ziplining before the tour
Fly'in Kaua'ian harness
Famous movie sites filmed on location
The only zip tour on Kauai to offer our custom full torso Flyin' Kaua'ian Harness which allows you to zip upside down, backward, head first, traditional or any other position you can imagine!
Tour Times range from 7:30 AM to 5:30 PM
Check-In Information
Please arrive 45 minutes before your scheduled tour. Meet at our check in office 3477 Weliweli Rd. Koloa, HI 96756, which is right outside of Poipu. Approximately a one hour drive from Princeville, or a 30 minute drive from Waimea.
Transportation
If you need transportation to Koloa Zipline, please call the number on your confirmation to arrange a pickup. Please note we only offer transportation for south side resorts. Transportation costs $5.00 per person.
Restrictions
Unfortunately, children under 7 are not allowed to ride with us. Our tour is also not suitable if you are pregnant, have had surgery within the last 3 months, or have back, neck, or knee injuries. The weight limit to ride is 280lbs. Riders must weight a minimum of 100lbs for our Flyin Kaua'ian harness. Masks must be worn during our tour by County and State mandate. No exceptions.
What to Wear
T-shirts or long sleeve shirts.
Pants or longer shorts.
Tank tops and short-shorts are NOT recommended.
What to Bring
Bug spray
Sunscreen
Cameras
Water
Closed toe water friendly footwear. No flip flops. No exceptions.
What NOT to Bring
Anything that could get broken or lost.
We are not responsible for lost or damaged items.
Cancellation Policy
Cancellations outside of 24 hours are free of charge.
Cancellations inside of 24 hours will be charged 50% of tour price.
No shows for tours are charged 100% of tour price.
No refunds will be given for adults or children who do not complete the tour.
Groups of 8 or more are subject to a 50% deposit and a 72 hour cancellation policy.
Rain or shine we still zipline!
Location
3477A Weliweli Rd.
Koloa, HI 96756
Frequently Asked Questions

Dress for Fun!
1. Helmet
We supply the Helmet to protect your noggin. Wearing a ballcap under the helmet helps keep the sun off your face too (you supply the ball cap)
2. Sunglasses
Sunglasses are approved just make sure they are strapped to your head for upside down hijinks.
3. T-shirt/Jacket
T-shirt and/or lightweight jacket. Be prepared for wind and occasional showers.
4. Sunscreen/Bug Spray
We highly recommend sunscreen when it's sunny and bug spray when its cloudy.
5. Long Shorts
Long shorts or light pants. Shorts should be long enough to go under the harness (mid-thigh and longer is best). Ladies: short shorts aren't the best idea...(chafing) Gentlemen, those athletic/basketball shorts can creep up...making it... awkward.
6. Closed Toe Shoes
Sturdy, comfortable closed-toe shoes you don't mind getting wet or dirty. Gotta love that Kauai red dirt! While Crocs and watersocks are technically "closed-toe shoes" they are not advisable, but acceptable.
It is a small plantation town, butted up against Kauai's south shore jungle, on the furthest northwesterly island in the Hawaiian island chain. It is our home, our history, our teacher, our friend, and our playground. Basking in the sun and shadow of the Hoary Head Mountain Range and majestic Mt. Haupu, we couldn't have asked for a better location to celebrate our love of adventure.
The Aloha we receive and deliver each day to visitors and locals alike is a direct reflection of the history, culture, beauty, and mana of Koloa town, the Waita Reservoir, of Mt. Haupu, and the island of Kauai itself.
"Flyin' Kaua'iian" Harness
Our custom made "flyin' Kaua'iian"harness is the most versatile harness in the industry. You get to zip while kicking back in the standard zip lining position, or we can clip you in from behind and you can fly through the air like your favorite superhero. This harness keeps you snug and secure even if you choose to zip upside down.

Custom Pulley
Our pulleys may look big, but that's because they are big. we needed a large pulley to handle our gift 5/8" steel zipline cable. We also added handles to our pulleys so you can hold on in comfort instead of spinning wildly out of control, but if spinning is your thing...we will show you how to do it right.
If you do not show up for your tour you forfeit your money and there are no refunds.
Cancellation within 24 hours is subject to a 50% charge. Reservations made through resellers are subject to reseller rules and regulations. Contact your booking agent for specific details.
Wanna try some fun stuff? Of course, you do!
Our guides will teach you how to zip different. upside down flying face first on your stomach spinning backwards hands free kicking back planked... what's your favorite position?
Minimum age to participate is 7 years old accompanied by an adult (parent or guardian) All minors must be accompanied by parent or guardian All bookings must be made by adults age 18 and over.
Max Weight: 280lbs. Lighter guests will be paired with another zipper when necessary
No people with back problems, recent surgeries, bone/joint problems, and or heart conditions No pregnancies This tour is not wheelchair accessible
---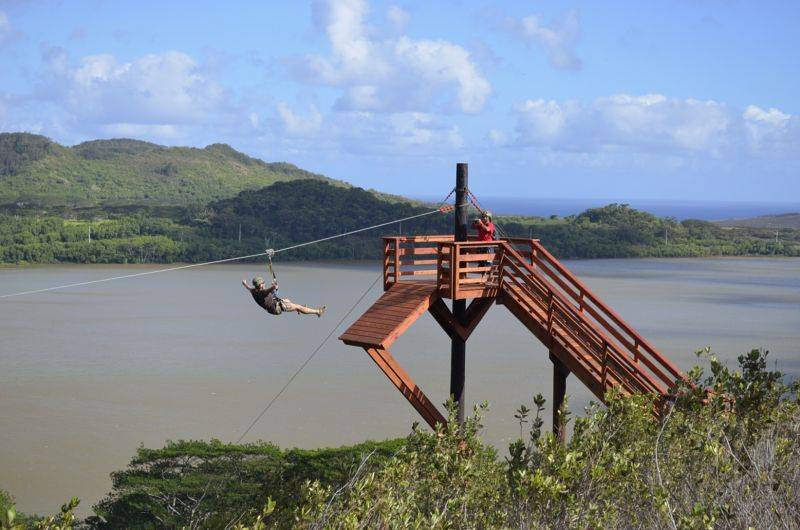 ---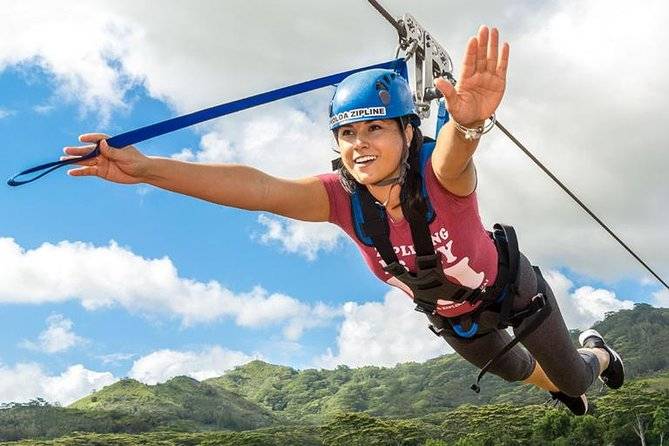 ---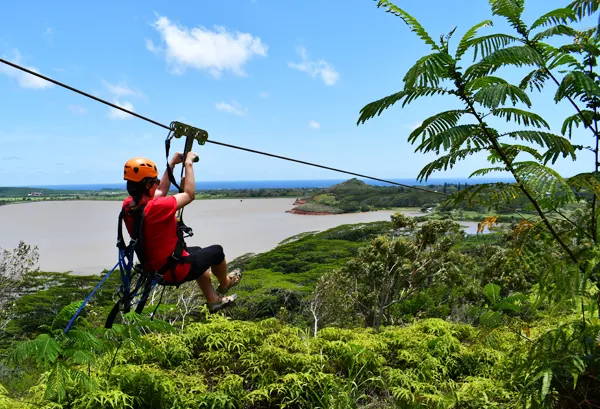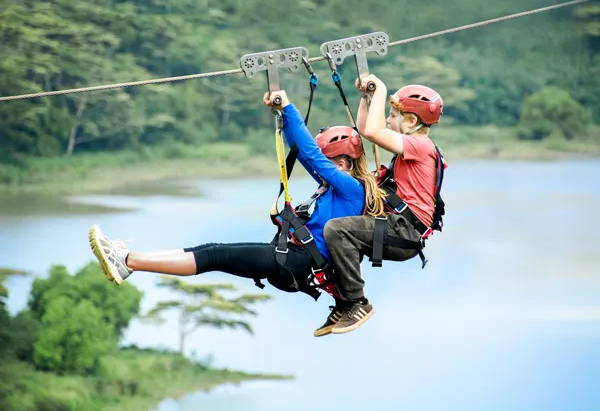 ---
We had a fabulous trip today with guides Donovan and C.J. So well prepared, informed and personable with everyone. We felt safe and encouraged to try different positions on the zip lines. A group of nine, ages 10 to 70. Fun for all! Worth the experience in an incredibly beautiful environment!
---
This was mine and my husband's first time zip lining and what a wonderful experience!! I was celebrating my 60th birthday and Janelle & Nick were great! I really knew very little about zip lining, but thanks to their encouragement and knowledge, I felt like I could do it! There was also another 1st timer in our group, she was 8! Watching how brave and unafraid she was helped me try a different position other than "cruising."
I highly recommend this company for zip lining while visiting Kauai!