Kohala Zip & Dip
---
---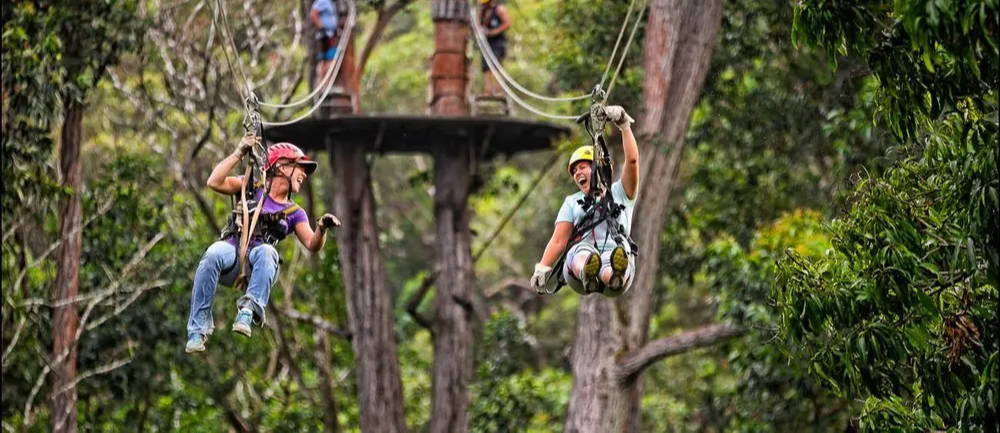 ---
Kohala Zip & Dip
Adults $270
Children Ages 8-12 $245
Children must be 8 years old or older
---
Experience the thrill of zipping from tree-to-tree, reaching speeds up to 45 MPH while taking in the beauty of the forest canopy.
Spend an exhilarating and inspiring day in North Kohala and experience a land of stunning beauty and profound cultural significance. Zipline well above the forest floor, picnic on the rim of Pololu Valley & swim under an exclusive waterfall fed by a cool mountain stream.
Kohala Zip & Dip Highlights:
Take a fun off-road drive through private lands
Stroll through a private nature reserve and see three secluded waterfalls.
Swim under a private waterfall.
Eat lunch at our private picnic spot overlooking Polulu Valley.
Fly through Kohala Zipline's full aerial canopy course, including 9 lines, 5 sky bridges, and a rappel.
Complimentary snacks and drinks are available throughout the tour.
Schedule: Approximately 6 hours round trip, departs from Kohala Zipline Headquarters in Hawi.
Included in the Tour: Snack, deli-style lunch with assorted soft drinks and juices.
Gear Provided: Walking sticks, warm wear, towels, day packs, and rain ponchos.
Group Size: Tours limited to a maximum of 6 guests until January of 2021.
What to Bring & Wear: Closed-toe shoes required. Bring a bathing suit (can be worn under clothes), hat, sunscreen, and a light jacket.
ZIPLINE FACTS
Approx, 6 hours round trip.
Snacks, deli-style lunch with assorted soft drinks/juices provided.
Walking sticks, warm wear, towels, day packs and rain ponchos provided.
Our low guide to guest ratio creates an intimate experience
Closed-toe shoes required. Bathing Suit (can be warn under clothes), hat, sunscreen and a light jacket.
ZIPLINE TOUR REQUIREMENTS
Participants must be at least 8 years old.
Weigh between 70 and 270 lbs. Participants will be weighed at check-in.
Must be able to walk over uneven terrain and handle one short walk up about 25 stairs. This tour is not for expectant mothers.
Guests must wear closed-toe walking shoes and Pants, capris, or knee length shorts. No Tank tops, Short-shorts, or any clothing that may allow direct skin contact with the harness.
Big Island Zipline Tour FAQs:
Is zipling difficult?
Kohala Zipline on the Big Island of Hawaii doesn't require intense physical exertion, although the course includes a short uphill trail hike. Our canopy tour guides will clip you securely into your harness, provide a detailed safety briefing, and give clear hands-on instructions throughout the tour.
What happens if I decide I don't want to zip anymore? How do I get down?
Zipline tours are adventures, by definition unusual, exciting, and somewhat daring. Kohala Zipline on the Big Island of Hawaii accommodates participants who want to try a canopy tour only to find out that it's not for them. You'll have a chance to explore your comfort zone during your first two short tree-based zips, after which you have an option to exit the course at Platform Three before our zips get bigger and faster. While it is technically possible to exit at any time during the Kohala Canopy Tour, doing so may delay fellow participants in your and even in subsequent groups. Keep in mind, your safety and comfort are top priority for our guides.
How safe are ziplines?
At Kohala Zipline on the Big Island of Hawaii, participant safety comes first. Our elevated platforms are engineered and tested to exceed twice the maximum limit on working loads. They are built into trees with strict structural integrity. The course incorporates redundant safety systems in design elements and daily operations. Kohala Zipline complies with or exceeds all standards of the Association for Challenge Course Technologies (ACCT).
---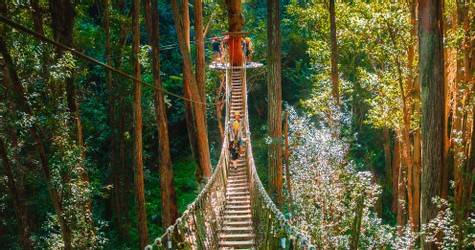 ---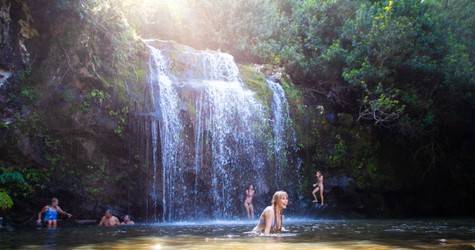 ---
I highly recommend the Kohala Zip and Dip! My daughter and I had never been ziplining and I was a bit nervous. But our two guides were AMAZING! They were very professional, safety conscious and a ton of fun! The swimming at the waterfall topped the day off perfectly. This is totally worth the money, and a MUST DO if on the Big Island!
---
Incredibly amazing day. Our main guide Nick was absolutely fantastic, and BoBo our second guide and photographer kept us laughing and took some great shots for us. Would highly recommend this tour to anyone visiting as it is a beautiful look into the Hawaii landscape.