Keauhou Manta Ray Night Snorkel
---
---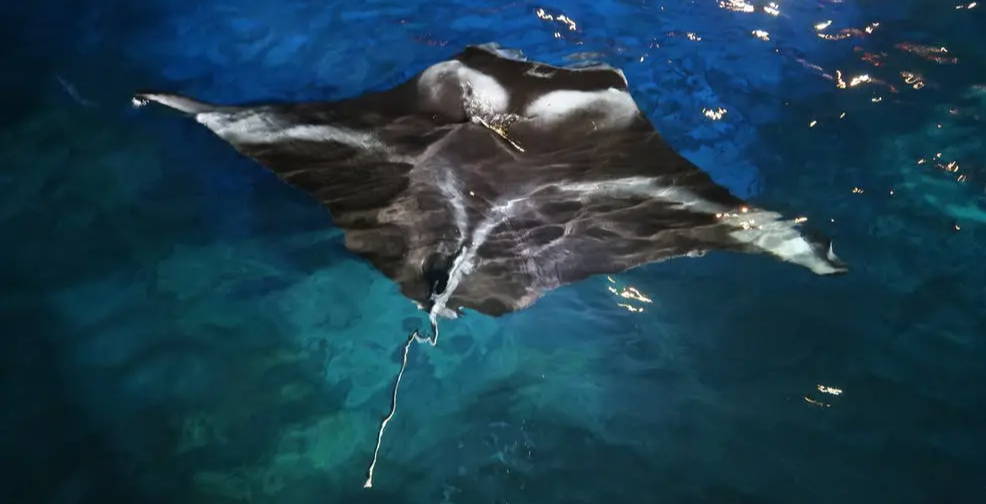 ---
Keauhou Manta Ray Night Snorkel
Duration 1.5 Hours
Adults ages: 13+ $99
Children 12 and under $89
Availability: 6pm-12am
---
---
Kailua-Kona is one of the only places in the world where you can experience a Manta Ray Night Snorkel. This is a must-do experience during your stay on the Big Island.
Experience Hawaii's most magnificent creatures up-close on our nighttime snorkel! With a maximum capacity of 6 persons per tour you are guaranteed the personal attention you deserve and amplified flexibility. Intimate encounters with Hawaii's underwater butterflies occur minutes from launch at Keauhou Bay.
At Hawaii Island and Ocean Tours, our goal is to get you as close to the Mantas as possible while keeping you safe and comfortable. Our professional guides help you get in the best possible viewing position to watch the Manta Rays dance around as you hang onto our custom-made light boards.
What's Included:
Snorkel and mask
Clean, Dry wetsuits to keep you warm
CPR, First Aid, and Red Cross Certified Lifeguard
Hot chocolate, coffee, tea, snacks and conversation following your tour

What to Bring:
Arrive Wearing Bathing suit
Towel
Camera, underwater action cameras are available for rent upon request
Sense of adventure.
We know you want to spend as much time as possible snorkeling with the Manta Rays— not sitting on a long, cold boat ride. Hawaii Island and Ocean Tours is conveniently located just five minutes from the snorkel site so you can get the most out of your tour. If you don't love boats or get motion sickness, our tour is perfect for you.
Cancellation Policy
We require a minimum of 48-hours notice for a full refund
Frequently asked questions
What if I have never snorkeled before?
If you have never snorkeled before we will teach you how. We will send a certified lifeguard to the location of your choice for a one hour private lesson to walk you through the basics of breathing through a snorkel. You can fit up to 6 people in your group. You can add a private lesson to your tour when you check out.
What should I bring with me on the boat?
All you need is your bathing suit, a towel and something warm to wear once you are out of the water. We provide you with a wetsuit, snorkel masks, and a pool noodle to stay afloat.
  We meet near the boat ramps at 78-7138 Kaleiopapa St. You will be sent detailed meeting information with your confirmation.
The boat is equipped with life vests and we would be willing to get you in the water if you are comfortable floating.
How long is the boat ride and tour?
The boat ride is less than 5 minutes from the dock. Spend the time you paid for in the water with the Mantas. Approximately 40 minutes in water.
Absolutely, but please no fins. You will be floating and don't want to risk kicking the Mantas.
 

Absolutely, but please no fins. You will be floating and don't want to risk kicking the Mantas.

 

 
 
 

 

Absolutely, but please no fins. You will be floating and don't want to risk kicking the Mantas.
What is your cancellation policy?
Reservations canceled with at least 48 hours notice prior to the start of the scheduled departure time will receive a full refund. Reservations canceled with less than 48 hours notice will be charged the full price unless we are able to fill the seat(s) on the boat. Hawaii Island and Ocean Tours will refund customers if we have to cancel the trip due to weather, unsafe ocean conditions or mechanical issues.
What if we don't see manta rays?
Since manta rays are wild animals their presence is affected by a variety of factors, and we don't have control over whether or not they grace us with their presence. Because your enjoyment on the trip is a high priority to us (second only to safety), we do everything we can to find mantas for you including making informed decisions on where to go to have the best opportunity to see them. On the rare occasion, we don't see any mantas, you can come back out with us on a standby seat for free.
I have young children, are they able to join?
We welcome children ages 4 and up. We do ask that they are comfortable in the water floating for up to 40 minutes.
Can I touch the Manta Ray's?
Absolutely not. It is important to remember they are wild animals their natural environment. We want to do everything possible to not disturb them and simply observe their majesty.
---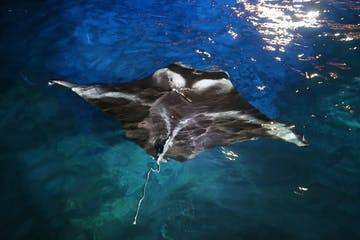 ---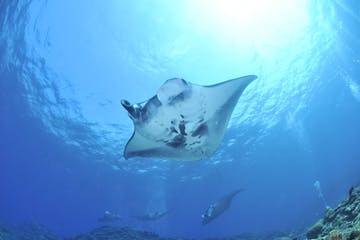 ---
Amazing!! Beautiful experience!!!
Amazing! We were provided wet suits and snorkeling masks. We had an amazing experience- we went on the 9:40 tour. We had 4 rays feeding at our surf board. One would feed so so close to us! Beautiful animals!! My 7 and 10 year old got a little too cold about 20 minutes into it, but that wasn't a problem because Captain Manu brought the boat closer to us so the kids could swim to the boat without having to swim in the dark water which would have been scary for them. Once we got them on the boat we were able to go back to look at the rays and the Captain was very kind to them and made them feel at ease. This experience could have easily been one of the coolest experience I have had. Our tour guy Dillon was kind and very knowledgeable about Rays and provided good information when asked. He didn't dominate the experience, he was there to answer questions. It was a good balance of experience and education.
---
Best small group manta ray night snorkeling at a great value
Our night snorkel trip with Hawaii Ocean and Island Tours was amazing. We arrived at the launch point at Keauhou Bay and were greeted by the wonderful staff around 7pm to get ready for the 7:40pm launch. Both my wife and I were provided well fitted wetsuits and we rented a GoPro Hero 9 underwater camera ($25 rental and got to keep the microSD card) with them. At launch time Captain Sam welcomed us onto her boat and quickly but pleasantly navigated us to the manta ray site for about a 2-3 minute boat ride. Once there, we were surrounded by the manta rays while we floated on the surface with the assistance of a floating board and pool floatation noodles. During the amazing 30 minute up close encounter (sometimes even being touched) with these gentle giants our water guide Eli showed courteousness and an expert familiarity with all of the manta that we were watching. The manta rays are attracted by the plankton which, in turn, are attracted by the lights from rigged on the floating board we held onto. This was truly a must do activity and we are extremely happy to have done it through Hawaii Ocean and Island Tours. They were reasonably priced, the boat ride was significantly shorter than many competitors and our group size (6 people) was much smaller which made for a better experience. Also, Groupon offers a voucher but we called and referenced Groupon. They honored the discounted price instead of us having to go through a third party which simplified the process for us and showed their commitment to providing a great experience at a fair value. I highly recommend others to consider using this organization for their next wild manta ray experience.
---