Kauai & Niihau Air Tour
---
---

---
90 minute Forbidden Island Air Tour
$ 259 *Free to Children 24 months and under
---
---
Two air tours in one!
Enjoy views of the Menehune Fish Pond, the Eucalyptus Tunnel of Trees, Waita Reservoir (the largest reservoir on Kauai), Captain Cook's Landing in Waimea Town, the breathtaking Waimea Canyon, the majestic Napali Coastline, Lumahai Beach (were the movie South Pacific was filmed), Hanalei Valley, cascading waterfalls, Kilauea Lighthouse (the largest Frigate bird sanctuary) and miles of beautiful coastline and beaches.
Stretching only some 18 miles long and about six miles wide, the arid island is located approximately 17 miles off the west coast of Kaua'i. What makes Ni'ihau so mystifying is that life here has remained mostly frozen in time.
Since it was purchased for $10,000 by the Sinclair family for ranching purposes in 1864, not much has changed. There are no paved roads, no commercial buildings, no hospitals, and few modern-day comforts. A small population of less than 200 live in a tiny village called Pu'uwai on the westside of the island and still communicate in the native tongue. Hunting and gathering are how sustenance is accrued and monetary work is nearly nonexistent except for a few jobs and artisan trades like selling Ni'ihau Jewelery–treasures made exclusively from shells plucked from the island's pristine beaches.
Frequently Asked Questions
What is your cancellation policy?
A 48-hour cancellation or change of tour notice is required for all airplane tours. If for any reason you decide to cancel or change your reservation, you must notify us 48-hours prior to the tour date/time. Cancellations, changes, or no-shows within 48-hours of the tour are not refundable and will be charged in full. Routes and flight patterns subject to change due to weather conditions.
Do you offer transportation?
Yes, we provide complimentary transportation for cruise ship passengers, to and from the ABC Store at Anchor Cove Mall, Harbor Mall and Lihue area upon request.
What if the weather is bad? Do we get a refund?
Should your flight be delayed or canceled due to inclement weather, we will make every effort to reschedule. In the event that rescheduling is not possible, you will receive a full refund.
Will I see everything in your tour desription?
Every attempt will be made by our pilots to cover each site described, weather permitting. Pilots will adjust their flight path for wind and weather and may include alternate sites. You will have the very best air tour of Kauai possible! However, your safety and comfort come first!
What is your safety record?
We have a perfect safety record with no accidents or incidents.
We recommend you wear comfortable clothing. If you are comfortable on the ground you will be equally comfortable in the helicopter or airplane.
Should we bring a camera?
Yes, we encourage passengers to bring their cameras. We can also mount your Go-Pro on the exterior of our helicopters or airplane for a fee of $25.00, should you desire it. We also provide phone lanyards for passengers flying in our helicopters.
How many people does our helicopter and airplane hold?
Our Helicopters holds 3 passengers and our airplane holds 4 passengers, everyone gets a window seat.
When should I do my tour?
We recommend doing your tour in the beginning of your stay. Reason being that if the weather is marginal we can reschedule your tour to another day, also your pilot will be giving you many unique and special places to visit during your stay which you will not want to miss out on.
---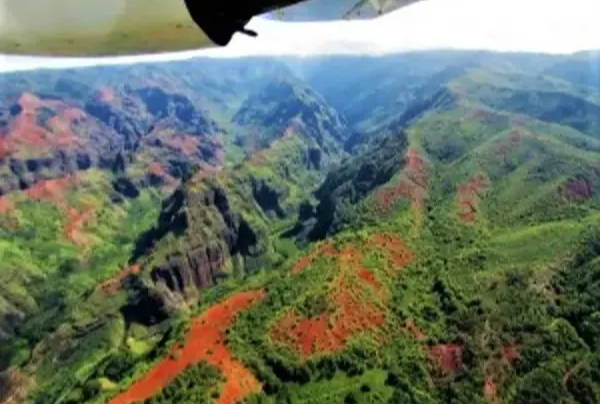 ---
---
We did their Kaua'i & Ni'ihau Air Tour
One of the best ways to get an introduction to the entire island and the forbidden island also!
Our pilot was very knowledgeable and was able to customize our experience to our taste, where he made loops or flew around places we want him to!
You dont get this same private experience on a helicopter crammed with 5 other people! definitely do this instead at a fraction of the price!!
We loved our island flight over Kauai!
The pilot was friendly, professional and very knowledgeable about the diverse Island landscape. They are a newer company on Kauai but the staff has extensive prior experience working with other tour providers. One of the owners currently flies for Delta. I must admit that I was a bit apprehensive about flying in such a small plane and I appreciated their obvious attention to detail with regard to safety as well as the fact that their planes are newer than most if not all of their competitors. That they operate a twin engine instead of single engine plane also afforded me a lot more peace of mind. I highly recommend taking at least one tour with Ali'i Kauai Air tours as it provides a broader context for hiking, snorkeling and other activities on the ground.
---