Kauai Island Tour
---
---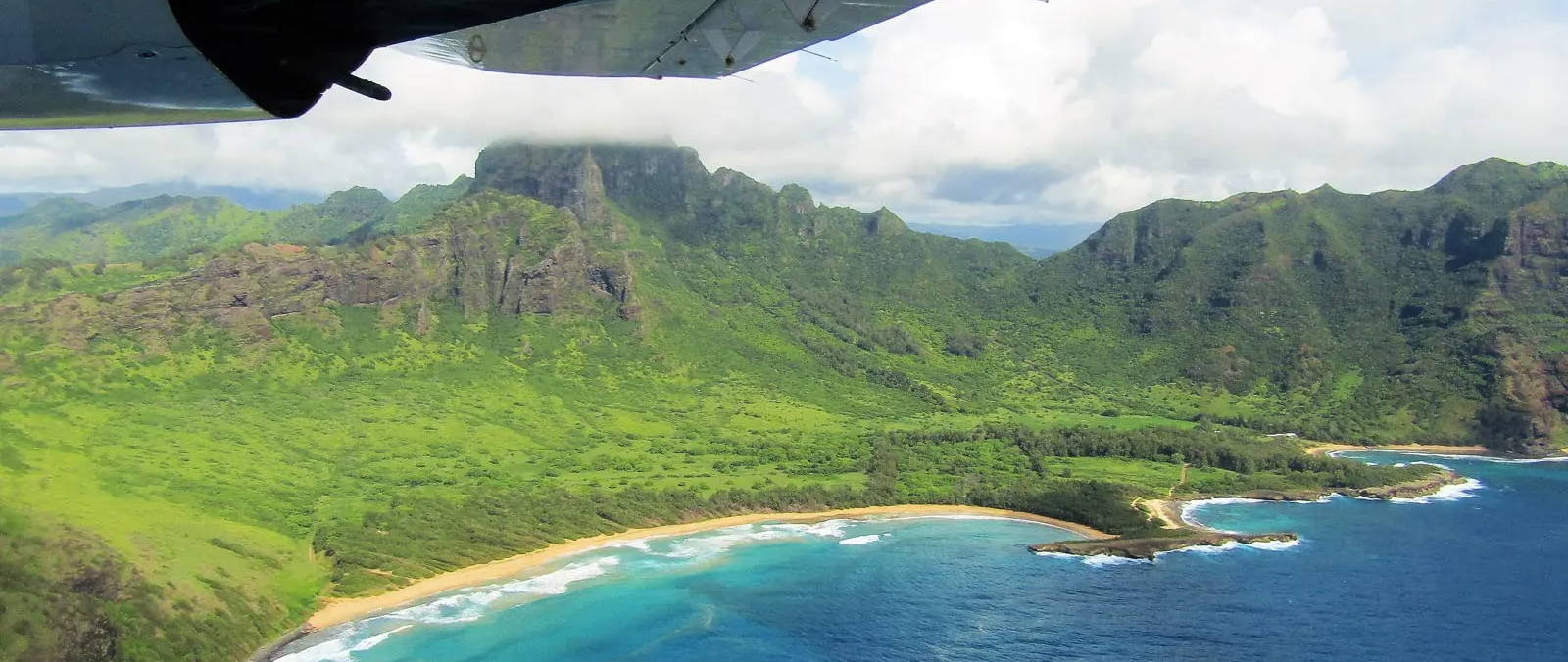 ---
Kauai Airplane Tour
60 minutes of beautiful views
$ 179 *Free to Children 24 months and under
---
---
Soar the skies above Kauai!
Nicknamed the "Garden Island," Kauai's stunning natural beauty includes the rugged Na Pali Coast and the massive Waimea Canyon, known as "The Grand Canyon of the Pacific." More rainbows and cascading waterfalls than you can count. We invite you to experience Kauai with our Ohana (Family).
80% of Kauai is inaccessible by automobile that is why doing an air tour is a must. From Lihue Airport you will fly clockwise around the island via the southsides sunny beaches, along the expansive "Kauai Coffee" fields in Kalaheo, up the green Hanapepe Valley to Jurassic Falls, over the rugged Olokele canyon and the vast Waimea Canyon, around the stunning sea cliffs off the Na Pali Coast, through the lush Hanalei Valley to Wai'ale'ale crater and back to the airport from Wailua Falls.
Our Airplane and Pilots
For our Kauai Airplane Tours we utilize a twin engine, high wing, Partenavia P68 with large windows for your viewing pleasure. This aircraft is perfect for the panoramic views you will experience. This airplane seats 5 passengers comfortably with every passenger having their own window seat. No other passengers will be on board your Private Kauai Air Tour. All tours are specially designed for you and your Ohana's (Family) comfort.
All of our Kauai air tours are flown and narrated by our highly experienced air tour pilots that are certified Hawaii air tour guides.
Some of the Mind-blowing sites
You will experience on your Kauai air tour:
Napali Coastline (4,000 ft seacliffs)
Waimea Canyon (the Grand Canyon of the Pacific)
Wai'ale'ale Crater (one of the wettest spots on earth)
Alakai Swamp (The highest swamp in North America)
Hanale'i Bay (famous surfing location)
Hanale'i Valley (with its numerous waterfalls)
Ke'e Beach (the end of the road)
Lumahai Beach (Movie "South Pacific" was filmed)
Queens Bath (tide pool where ancient queens bathed)
Kilauea Lighthouse (also a bird sanctuary)
Jurassic Falls (Manawaiopuna Waterfall)
and Much, Much more
Frequently Asked Questions
What is your cancellation policy?
A 48-hour cancellation or change of tour notice is required for all airplane tours. If for any reason you decide to cancel or change your reservation, you must notify us 48-hours prior to the tour date/time. Cancellations, changes, or no-shows within 48-hours of the tour are not refundable and will be charged in full. Routes and flight patterns subject to change due to weather conditions.
Do you offer transportation?
Yes, we provide complimentary transportation for cruise ship passengers, to and from the ABC Store at Anchor Cove Mall, Harbor Mall and Lihue area upon request.
What if the weather is bad? Do we get a refund?
Should your flight be delayed or canceled due to inclement weather, we will make every effort to reschedule. In the event that rescheduling is not possible, you will receive a full refund.
Will I see everything in your tour desription?
Every attempt will be made by our pilots to cover each site described, weather permitting. Pilots will adjust their flight path for wind and weather and may include alternate sites. You will have the very best air tour of Kauai possible! However, your safety and comfort come first!
What is your safety record?
We have a perfect safety record with no accidents or incidents.
We recommend you wear comfortable clothing. If you are comfortable on the ground you will be equally comfortable in the helicopter or airplane.
Should we bring a camera?
Yes, we encourage passengers to bring their cameras. We can also mount your Go-Pro on the exterior of our helicopters or airplane for a fee of $25.00, should you desire it. We also provide phone lanyards for passengers flying in our helicopters.
How many people does our helicopter and airplane hold?
Our Helicopters holds 3 passengers and our airplane holds 4 passengers, everyone gets a window seat.
When should I do my tour?
We recommend doing your tour in the beginning of your stay. Reason being that if the weather is marginal we can reschedule your tour to another day, also your pilot will be giving you many unique and special places to visit during your stay which you will not want to miss out on.
---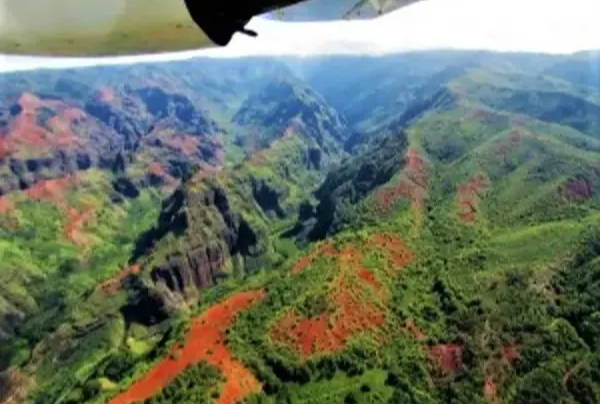 ---
---
Guy and his team are amazing. He is a veteran pilot who combined deep island knowledge with engaging conversation and attentiveness to our Q's. Above all, we felt (and were) safe and secure throughout. The views were incredible / breath-taking and surely enhanced by Guy's experience and intimate familiarity with the island. HIGHLY recommend
---
What an amazing experience. Absolutely the best part of our trip. Ingrid was very responsive and helpful to get us booked during the rainy season. And our pilot, Guy was awesome. He was very knowledgeable and made us feel safe. The entire experience was lovely. And the flight was private - just my mother and I. Such a beautiful island and we got to see so much more than we ever could have imagined. Wow! Thank you Ingrid and Guy
---