Insane Jetboat Ride
---
---

---
Insane Jetboat Ride
Duration 1 Hour
Passengers age 5+ $99 Per person
Minimum of 5 people to constitute a tour
---
---
A Whole New Wave of Adventure
A Whole New Wave of Adventure called "Insane," which is our exciting jet boat ride. Hop aboard our 1 hour thrilling wet and wild ride on our Whale safe "Insane" jet boat. Insane is our Eco-Friendly vessel that skips across the surface of the ocean, doing 360 spins, sharp turns, slides and dead stops, getting to the whales(during whale season) before everyone else safely but a little wet. Insane heads toward Lahaina, speeds up the coast to Kapalua's #1 famous Montage Resort, and goes into the cove at the Cliff House where we let you swim to and jump off the cliffs. We feature the Only Jet Boat in Maui County!
All Tours depart from Whaler's Village between Leilani's on the Beach Restaurant & the Westin Kaanapali Ocean Resort from the Beach.
Zodiac will shuttle our clients to either boats from shore.
Our Eco- Friendly Insane is the Vessel of Choice for Environmental Protection. see ABOUT.
Safety First and Foremost: Captain will always give a full descriptions of vessels, location of all life jackets, safety devises and equipment. Coast Guard Certified and all passengers must sign a waivers. Activity provider reserves the right to refuse activity to guests and guests with limited mobility, questionable medical, physical and or mental conditions which includes and not limited to height and or weight. No back injuries, recent surgeries, no pregnancies. Not responsible for any loss or misplaced items.
Participants must be at least 5 years old and accompanied by a parent. We do not suggest pregnant women or people with health concerns come on the trip. We reserve the right to refuse service based on health concerns. Mahalo
Bring: Go Pros, Water Proof Cameras, Sunglasses & Sunscreen For Your Protection.
US CG Certified for 25 Passenger -Maximum of 20 Passengers – Minimum of 5 People Constitute a Tour
Hop aboard for a 1 hour of Wet and Wild FUN!
This Eco-friendly vessel skips across the surface of the water doing 360 degree spins, sharp turns, slides and dead stops. One of a Kind on Maui County & the State of Hawaii.
---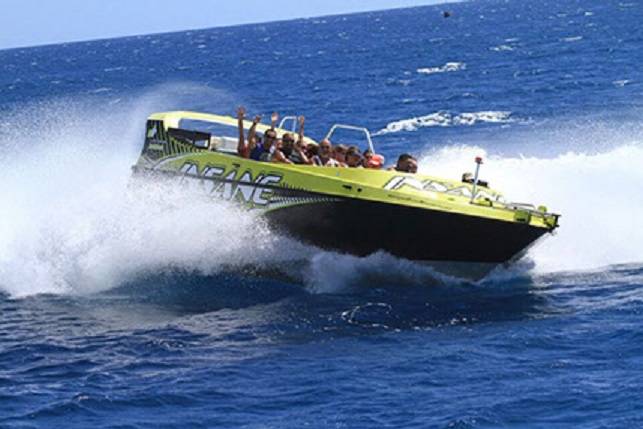 ---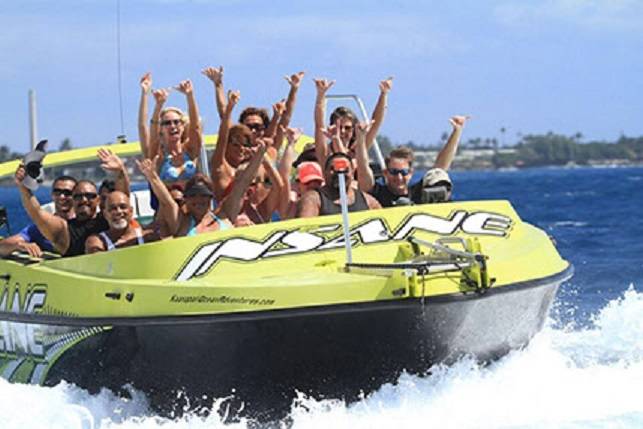 ---
Amazing experience on the

Insane

boat this morning. Dan was a great captain, and this was our favorite thing we have done on Maui so far. Here is why:
1) We were flying over the ocean at high speeds.
2) We still felt very safe. It is an exhilarating experience, but not an intimidating one. Perfectly fine family activity for children and adults.
3) It is only an hour or so - it does not take up your whole day.
4) Everything was very organized and instructions were easy to follow.
5) The price was great for the value we received.
6) We were amply prepared to get wet. No asking where is the best place on the boat to stay dry. We knew we were going to get wet and prepared accordingly.
7) We saw a baby and a mama humpback whale breaching crazy close to our boat and watched for about 20 minutes. I canceled a whale watching tour after we got off this boat because we had already seen what we believed was the very best.
Definitely sign up, seriously. It is so fun! I normally hate getting wet on boats, but I would do this over and over again without hesitation.
---
We did the

insane

boat ride. This guy is a master of his trade. Fun. Safe. Knowledgeable. Cannot say enough! Even got to see some whales!!!