Glass Bottom Reef Tour
---
---

---
Glass Bottom Reef Tour
Duration 1 Hours
Adult $50
Child $25
Private charters
All Ages Welcome!
$700
---
---
Cruise along the coastline of Kailua Bay hovering within inches of the coral reef.
Enjoy a lively narration by a knowledgeable marine naturalist as you take in the beauty above and below the ocean's surface. An eco-tour that is fun for all ages!
Join us aboard "Marian" Kona's glass bottom boat. This wooden boat was built by owner Capt. Ralph Jewell right here in Kona! Marian draws only 2 1/2 feet of water which means it can bring guests within inches of the coral reef.
We offer Reef Tours with an on-board naturalist or book the whole boat for a Special Charter.
Location
Where do the tours depart from?
All tours depart from the Kailua-Kona Pier, located in front of the King Kamehameha's Kona Beach Hotel. See map.
Where should we park?
You can park across the street from the pier at the King Kamehameha hotel GPS address: 75-5660 Palani Rd. Kailua-Kona, HI 96740. If any members of your party have difficulty walking, consider dropping them off at the entrance to the pier prior to parking at the hotel lot.

What should I wear? What should I bring?
Wear comfortable clothes and shoes. You might want to wear sunscreen, although all glass bottom viewing is covered. Don't forget your camera!
What will we see?
Our boat was designed to allow us access to very shallow water, sometimes just a few feet deep, where you will view more colors than in deeper water. You will see, close up and personal, a myriad of beautiful tropical fish, a wide variety of corals, and many other sea creatures that inhabit the reef and the bay. It is not unusual for us to find a friendly pod of the local Hawaiian Spinner Dolphins. If you have already been snorkeling, this is a great way to learn about what you saw and ask questions. Our narrators are knowledgeable and offer fascinating information about the coral reef ecosystem and other related subjects.
Are the tours appropriate for young children?
Yes, people of all ages will enjoy it. The boat is very safe for children. The vast majority of our younger passengers love the trip!
How long is the tour?
Just about an hour.
When are your regular departure times?
Our typical schedule is as follows: Monday: 11:00, Tuesday: 9:45 & 11:00, Wednesday: 12:30, Thursday: 9:45 & 11:00, Friday: 11:00, Saturday: 9:45 & 11:00. Click here to see our availability and book a tour. We also offer special charters, this schedule is quite flexible so give us a call if you would like to arrange a specific departure time and/or duration.
Will I get seasick?
Most passengers do not get sick, however as with any boat trip, the possibility is there. The beauty of our tour is that you are not stuck on a boat for an extended period if you should feel uncomfortable.
Can we charter your boat for private use?
Yes!! We are available for just about anything including sunsets, parties, memorials, dolphin viewing, seasonal whale watching…. we can arrange a caterer, or you can bring your own goodies. Our view boxes can convert to tables for dining or pupus. Check out our page on Special Charters.
Boat Info
How many passengers do you carry?
We limit our trips to 24 passengers. This insures that everyone has a great view while seated on our comfortable cushioned benches. Every seat is a "window" seat with a view of the glassbottom, and you are welcome to move around the boat as you please and can go up forward to the bow for sun and photography.
Are the tours wheelchair accessible?
We cannot accommodate wheelchair-confined guests. Our boarding ramp has one small step, and the ramp is about 4' long. Once you board our boat, there are 4 regular size steps with handrails, down to the deck. Guests using canes and walkers usually have no problem boarding. See photo gallery.
Do you have a restroom on board?
Yes, we do.
Private Charters
We are available for private charters. Planning a family reunion, wedding, or special occasion party? What better way than out at sea. You can bring your own food, or we can arrange catering. If you want alcoholic beverages you may bring your own, as we are not licensed to sell on board.
Some of the functions we have hosted include: Weddings, vow renewals, family reunions, memorial services, school groups, company parties, etc.  
School and Non-Profit Groups
Our tour is not just fun, but educational. We are a true eco-friendly tour. We work to foster a love of the ocean and the environment in our children. We offer very affordable rates for keiki groups. We take between 24 and 30 based on the age and number of adults attending.
---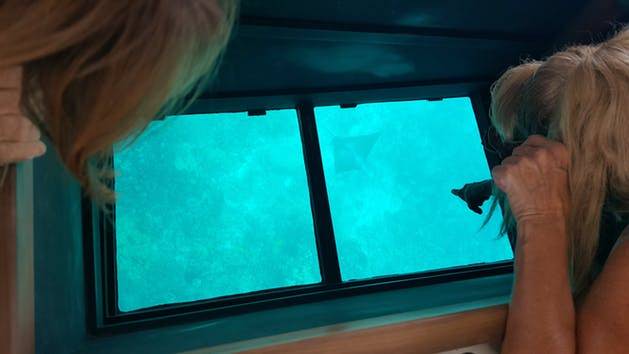 ---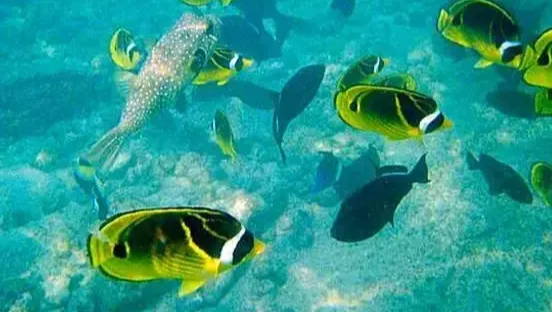 ---
What a great trip we had on the glassbottom boat! We were a group of 7 adults and 3 small children. Age range was 2 to 70!. This activity is a win! Duration of an hour was perfect for the kids, everyone can see, comfortable set up. We saw spinner dolphins in addition to all the coal, fish and anemonies we saw through the glass bottom. The naturalist gal was too notch.
Overall, a win for the whole family.
---
This is an ideal trip for groups and families. The boat is specially designed with everyone getting a good view under the boat. The crew are exceptionally friendly, professional and knowledgeable. It's almost as if they want us to know more about reefs instead of making a dollar. Parking was easier than anticipated too. Grab lunch afterwards in one of the many local restaurants, add a spot of shopping and you have a very good option for a family day out.
---