Dolphin Viewing & Turtle Snorkel
---
---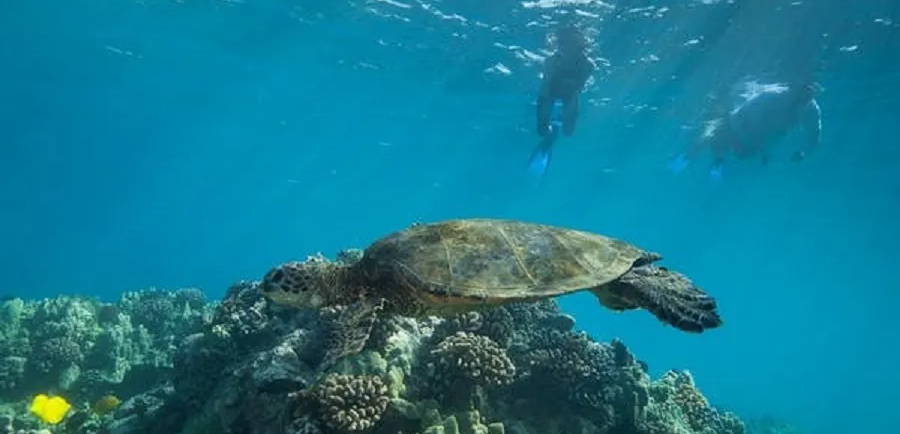 ---
Dolphin Viewing & Turtle Snorkel
Adult Ages 13+ $155
Child Ages 3 to 12 $155
Departs from Puakō Boat Ramp
Mauna Kea Area
---
---
Great for beginner swimmers!

This Dolphin Viewing and Turtle Snorkel is a beautiful way to experience the west side of the Big Island. We are very close to the Hilton, Marriot, Mauna Lani, Fairmont, Hapuna Westin, and Mauna Kea Beach hotel. Our intimate boat tour allows you to view our magical spinner dolphins from the boat. It's a great opportunity to take incredible pictures, and many times our dolphins love to put on a show in their spinning capabilities or riding the bow of our 30ft. Rigid Inflatable Boat.
After finding our dolphins, we will take guests to a beautiful snorkel location where we will snorkel with turtles, at our turtle cleaning stations (this is an area of the reef the turtles come to hoping to get cleaned by the black and yellow tang fish). All snorkel gear and flotation devices will be provided. Cold drinks and snacks will be served after the snorkel.
Please note that our company has chosen not to swim with dolphins as the laws have changed. It is illegal to purposefully swim with dolphins, and out of respect for the law and the animals, we want to offer a trip that is very respectful towards these amazing residential animals.
Please note that these are wild animals. We go to great lengths to find these animals, but as they are wild, none of the sightings are guaranteed.
We Stand Out Above the Rest

The Malaialena is a 30 ft Rigid Inflatable Boat, the type of boat that is considered one of the safest (hence why the coast guard uses them).
She is a fun and comfortable ride with padded seats, shade, an upper viewing deck that seats 4, AND a bathroom on board!
She has an 8 speaker sound system which is wonderful for playing the Hawaiian tunes and listening to humpback whale song during the whale season (note we have a great hydrophone on board).
There are 2 ladders in the back on the boat and when lowered, guests can easily climb back onto the boat after a fantastic snorkel experience. Oh, and did we mention we have a bathroom on the boat, that's a big deal!:)
We look forward to taking you out on an adventure of a lifetime!
Meet A HUI HOU, a RIB boat that operates from Puako Boat Ramp. In COVID season, she operates with no more than 10 pax, unless it's a private charter all from the same accommodations.
She is a 30 ft vessel with twin yamaha 250s. She is Coast Guard inspected annually, which means she is very very safe. She also will get to where the whale action is happening the quickest! She will operate morning whale watching (when available), afternoon whale watching and manta night snorkels and dives.
Location
Puakō Boat Ramp, Puako Beach Drive, Puako, Hawaii 96743, United States
Cancellation Policy
48 hours prior to your tour time
---
---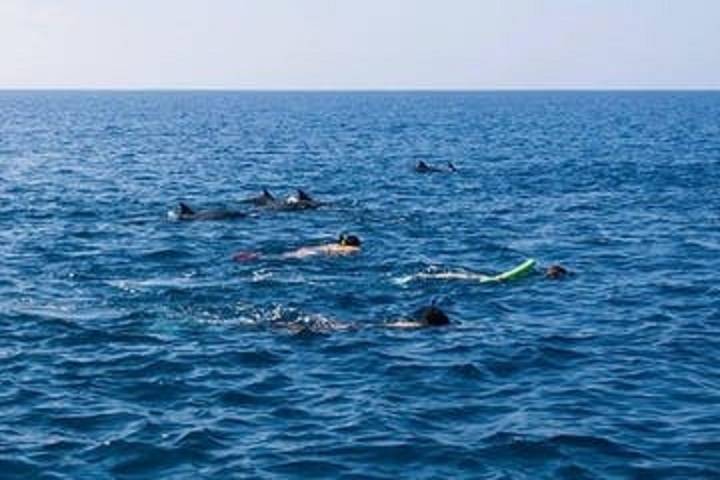 ---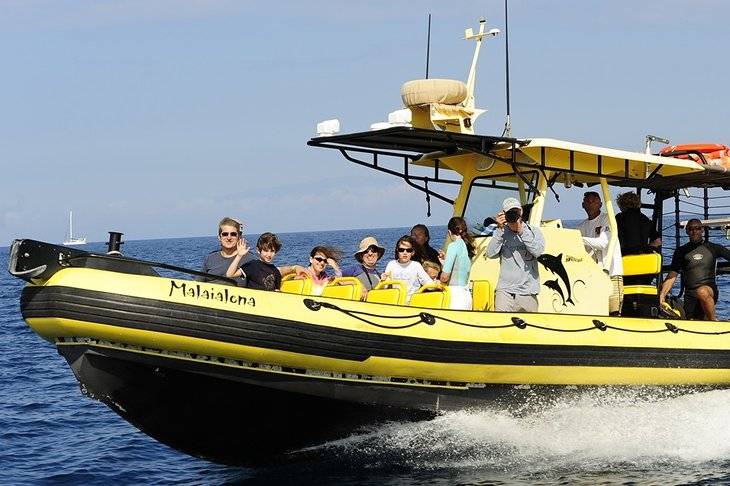 ---
We had an amazing time on the dolphin snorkeling trip. The crew was professional and hospitable. Everything about the experience was phenomenal. We dropped into the ocean three times to swim with the pod of dolphins as they ventured back to the shallow waters after a night of feeding. Then we snorkeled near a reef ledge with sea turtles and all kinds of tropical fish. We had a some extra time and decided to look for a humpback whale, but had no luck. The drinks and snacks were great. The boat was small but comfortable for the 20 passengers and 4 friendly crew. I strongly recommend this outfit, because they are very careful to protect the wild dolphins. For example, they stop swimming with dolphins after 10:30 am so as not to perturb them as they begin to go into sleep mode.
---