Dolphin & Turtle Snorkel & Swim
---
---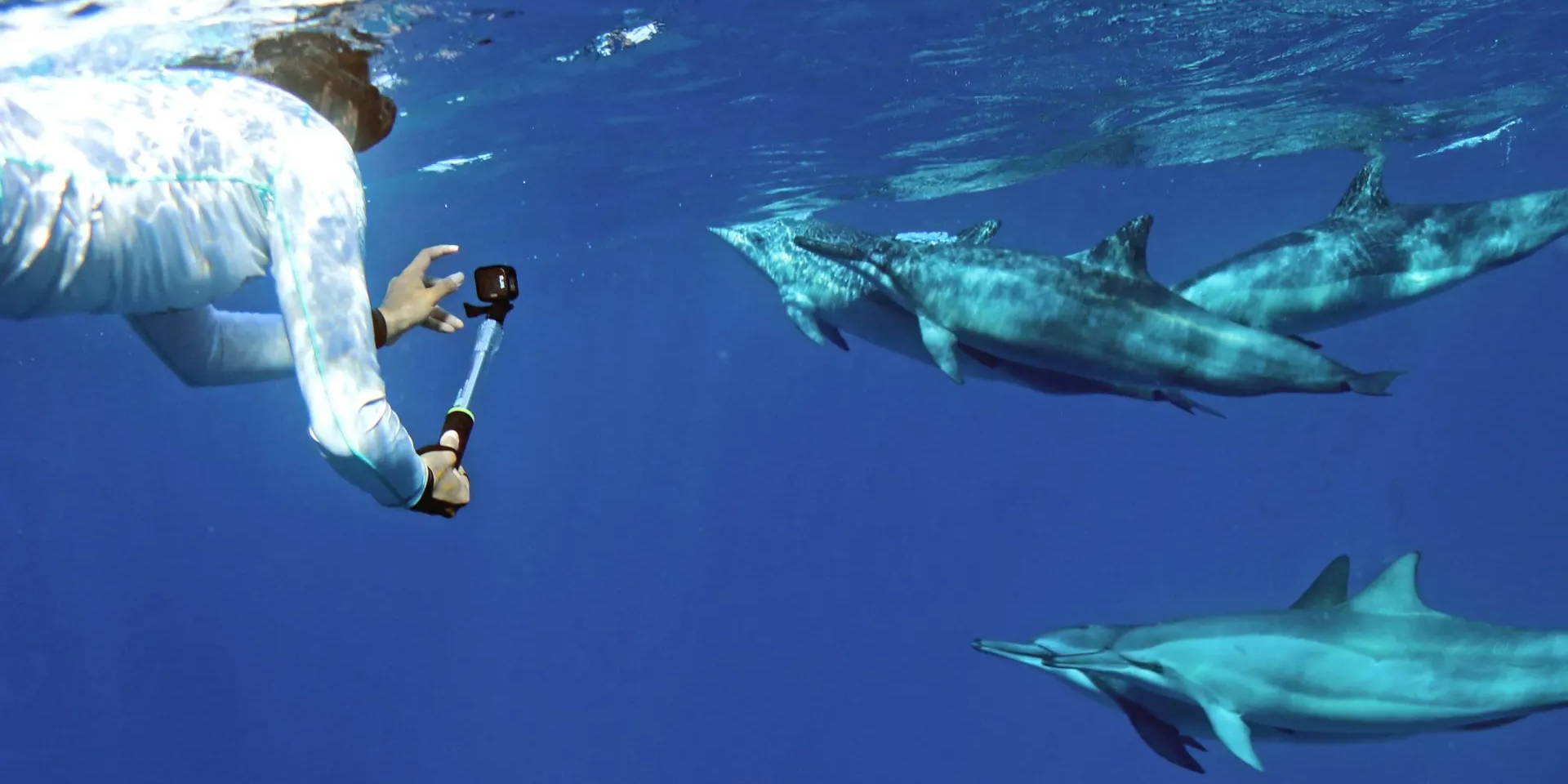 ---
Dolphin and Turtle Snorkel & Swim

Adults: $189
Kids (2-11): $146
Location
Oahu's West Side
Free Ko'Olina and Waikiki Pickup Available
---
Feel the Aloha Spirit
Begin the day with an authentic Hawaiian chant and a swim with dolphins in Oahu.
Then relax on the boat or enjoy ocean activities, like stand up paddle boarding. Our energetic crew will entertain you with hula and ukulele performances and share Aloha with complimentary snacks.
Discover what more than 300,000 people have experienced:
Swimming with dolphins in Hawaii with Dolphins and You is the memory of a lifetime.
In its 30 years of operation, the award-winning Dolphins and You tour has perfected sharing Hawaiian culture and natural adventures with guests. Let us show you how we live Aloha!
We will provide transportation to our double-decker boat, "The Ariya." After departing from the harbor, we'll perform a traditional Hawaiian chant to ask for good weather and time with the dolphins.
We will then cruise over to the home of the dolphins and jump in the water as they swim by. Following this incredible meeting, you'll enjoy hula entertainment from the crew, a second snorkel with ocean toys and a complimentary snack pack.
Frequently Asked Questions
We provide water on all cruises. You are also welcome to bring your own food and drinks (including adult beverages) on any of our cruises. We even have coolers with ice that you can use.
Expect to see local reef fish, turtles, eels, beautiful living reef formations, and the famous South Shore of Oahu. You get spectacular views of Waikiki, Diamond Head, and the cityscape of downtown Honolulu. Sharks, dolphins, and whales may also be seen depending on the season.
Passengers with mobility issues need to be able to take a step across from the dock to the boat in order to board, and then guests can then be immediately seated. Our crew can assist if needed — just make sure to arrive a little bit early! Once on board, there is plenty of space for all our guests. Walkers and collapsible wheelchairs can be brought on board. Motorized chairs or scooters are not allowed.
Snorkel mask and fins (sterilized equipment shall be provided on the tour)
*Camera
Expensive jewelry, technology or other valuable or unnecessary belongings. Dolphins and You is not responsible for lost, stolen or water-damaged items.
*While you can bring a waterproof camera, we do not recommend it. Our professional photographers can capture your entire tour with us for an additional $79 per group so you can fully be in the moment with the dolphins.
Bus transportation (up to 50% capacity) from and to 10 locations within Waikiki and Ko Olina free of cost. It is included in your trip price.
Alternatively, you may meet us at the Waianae Boat Harbor if you would like to provide your own transportation. There is no decreased rate for guests who opt out of transportation.
What time will I be picked up from my hotel?
Pickup times and availability may change. Detailed pickup information will be included in your tour confirmation email.
7 AM Tour
Aqua Palms Waikiki: 5:15 AM
Ala Moana Hotel: 5:20 AM
Prince Hotel: 5:25 AM
Ambassador hotel: 5:30 AM
DFS T. Galleria: 5:35 AM
Hyatt Regency: 5:40 AM
Waikiki Marriott: 5:45 AM
New Otani: 5:50 AM
Ko Olina Beach Club: 6:25 AM
Aulani Disney: 6:25 AM
Meet at Waianae Boat Harbor at 6:45 AM
11 AM Tour
Aqua Palms Waikiki: 9:15 AM
Ala Moana Hotel: 9:20 AM
Prince Hotel: 9:25 AM
Ambassador hotel: 9:30 AM
DFS T. Galleria: 9:35 AM
Hyatt Regency: 9:40 AM
Waikiki Marriott: 9:45 AM
New Otani: 9:50 AM
Ko Olina Beach Club: 10:25 AM
Aulani Disney: 10:25 AM
Meet at Waianae Boat Harbor at 10:45 AM
Tour timing can vary greatly due to the unpredictability of harbor traffic, dolphin behavior, ocean conditions, road traffic and more.
But the tour is usually around 5 hours, including transportation, with about 3.5 hours spent on the boat.
What if I can't swim well?
Our guides are great with guests of all abilities, and every guest is outfitted with a life vest to stay afloat. But we recommend some prior swimming and/or snorkeling for the best experience.
The process of getting into the water with the dolphins can sometimes be strenuous, because we are at the mercy of nature.
Those who can swim faster may have a better chance of seeing the moving dolphins in close range. It's best to let our guides know in advance if you would like extra attention or assistance while in the water.
Is there an age limit for swimming with the dolphins?
In the interest of safety, we are unable to take guests who are 2 years old and under at this time.
We recommend that only guests who are 2 years and older join our tours.
We have life vests for all ages. Small children should always be accompanied by a parent or guardian. The process of getting into the water with the dolphins can sometimes be strenuous, because we are at the mercy of nature. For the best experience, we recommend having snorkeled at least once prior.
There is no max age for the dolphin swim.
Am I guaranteed to see dolphins?
Hawaiian Spinner Dolphins are wild marine animals, so we cannot guarantee that we will encounter them. However, the vast majority of our tours (more than 90 percent) do see and swim with dolphins.
What is your cancellation policy?
Tour fees will be fully refunded if cancellation is made more than 24 hours prior to the start of the tour. Please note that the tour starts early in the morning (departing Waikiki at 6am HST and 9:30am HST). Fees will be refunded fully if a doctor's note is presented for cancellations made within 24 hours before the tour.
Can I touch the wild dolphins and turtles?
No. Touching marine life and coral is illegal by Hawaii state law. Contact with human skin can make dolphins and sea turtles more susceptible to disease and cause them stress.
But the animals often come close by our guests, and simply being in their presence is incredible.
I am pregnant. Can I go on your tour?
We allow pregnant women to take part in our tour, but advise that it may not be safe during later terms. Please be careful not to slip and fall on board.
If I don't want to swim with the dolphins, is there another price option?
Yes, simply select 'Dolphins Watching' while booking online.
Guests who purchase a dolphin watching pass will not be permitted to swim with the dolphins, but they can snorkel at our second spot with sea turtles and enjoy all other features of the tour!
I bought a media package. How do I receive my photos?
Your USB will be available for pick-up at our office in Waikiki the day of your tour from 2PM – 7PM if you took the early tour (7AM) or from 5PM – 7PM if you took the later tour (11AM). You may also pick up the USB any day after. Our office is located at 307 Lewers Street, Suite #401, Honolulu, HI, 96815.
Alternatively, we offer shipping within the US for an additional $5 or international for an additional $15. Call our office to inquire about shipping your USB: 808-696-4414.
You may also buy photos online! Use the date switcher to navigate to your tour date and view your photos.
Is there a restroom on the boat?
There is a public restroom in the harbor, and there are two full restrooms on board the boat. There is no restroom on the tour bus.
Can a person in a wheelchair participate?
Our boat is not wheelchair friendly, and wheelchairs are not permitted on our bus transportation. We have a ramp onto the boat, but it is only 19 inches wide and it does not have railings.
---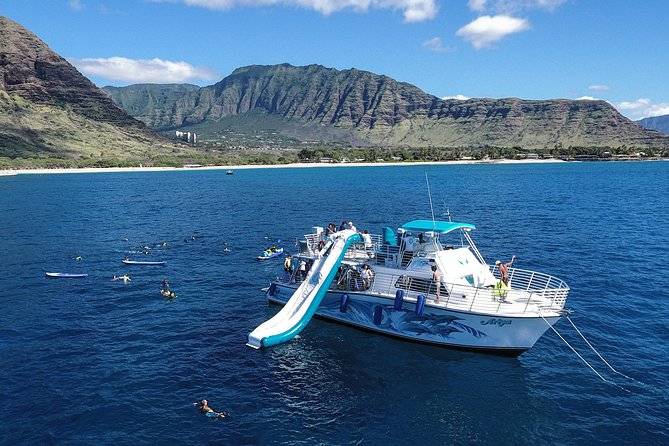 ---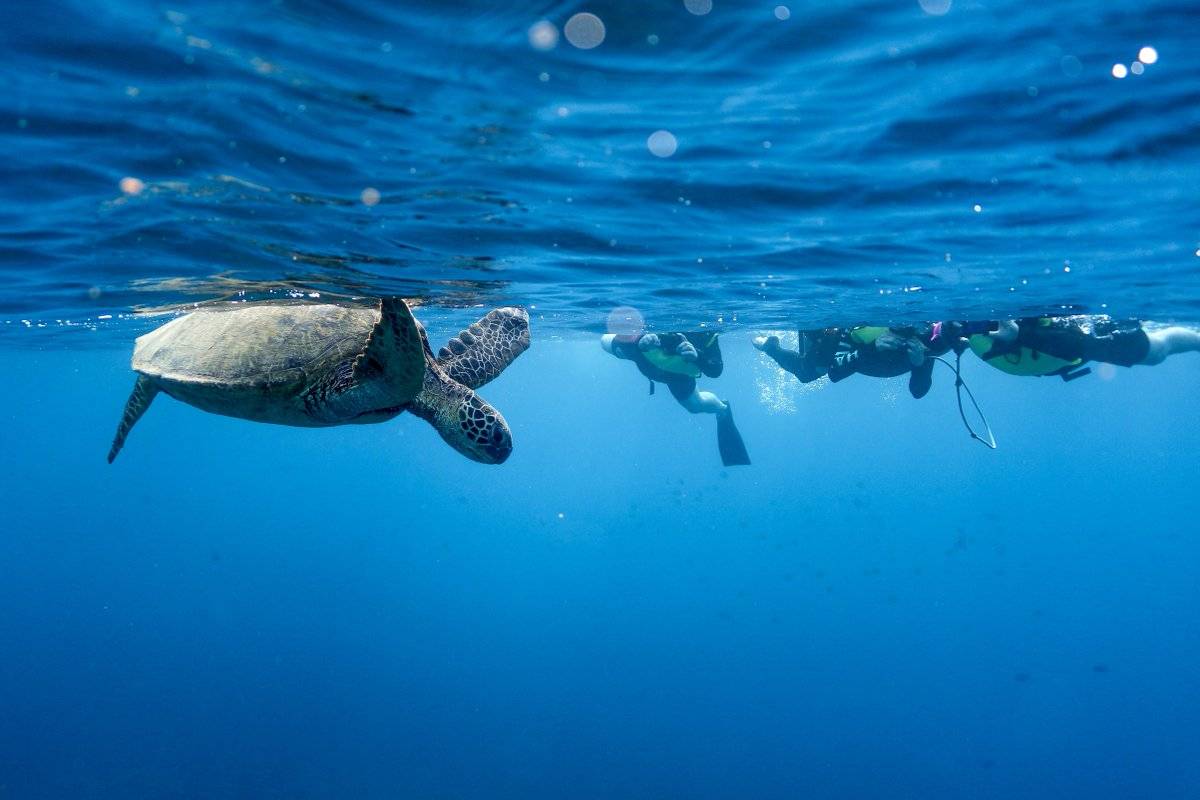 ---
This was money and time well spent. We chased dolphins, snorkeled and swam with a sea turtle! The crew were hilarious and very entertaining, you could tell they truly love their jobs. It was a perfect day.
---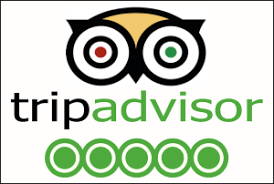 Aimee Elisabeth
wrote a review
This tour was amazing! The crew is so friendly and genuinely want you to have a great time! We saw dolphins, sea turtles, tropical fish, and even a humpback whale. It was one of the most amazing experiences I've ever had. I would absolutely do it again!
---