Discover Scuba Waikiki
---
---
Not a certified diver? No problem!

Have you always wondered what it's like to breathe underwater? If you want to try SCUBA diving, but aren't quite ready to take the plunge into a certification course, Discover Scuba Diving is for you.
While not a SCUBA certification course, Discover Scuba Diving is a quick and easy introduction to what it takes to explore the underwater world. To sign up for a PADI Discover Scuba Diving experience, you must be at least 10 years old. No prior experience with SCUBA diving is necessary, but you need to be in reasonable physical health.
You will learn the basic safety guidelines and skills needed to dive under hte direct supervision of a PADI Professional. Before you make an open water dive at depth, you'll practice a few more skills to prepare for your adventure. Get ready to:
Go over the SCUBA equipment you use to dive and how easy it is to move around underwater with your gear.
Find out what it's like to breathe underwater.
Learn key skills that you'll use during every SCUBA dive.
Have fun swimming around and exploring.

Hear about becoming a certified diver through the PADI Open Water Diver Course.
Join us aboard our private vessel, the "Diamond T," as we conduct daily SCUBA diving charters to explore the underwater world surrounding Honolulu! We lead dive tours in small groups of 4 divers or fewer, so you can dive with confidence and make a few new friends while you're at it!
Please arrive on time for our 15 minute orientation.
Duration
3 hours
All dive packages include:
PADI Professional to teach and guide you
Full gear rental
Equipment and skills training
One open water dive
Fresh water
Location
Ala Wai Boat Harbor which is Adjacent to Waikiki on Ala Moana Blvd. Slip #70 Honolulu, HI
We provide water on all cruises. You are also welcome to bring your own food and drinks (including adult beverages) on any of our cruises. We even have coolers with ice that you can use.
Expect to see local reef fish, turtles, eels, beautiful living reef formations, and the famous South Shore of Oahu. You get spectacular views of Waikiki, Diamond Head, and the cityscape of downtown Honolulu. Sharks, dolphins, and whales may also be seen depending on the season.
Passengers with mobility issues need to be able to take a step across from the dock to the boat in order to board, and then guests can then be immediately seated. Our crew can assist if needed — just make sure to arrive a little bit early! Once on board, there is plenty of space for all our guests. Walkers and collapsible wheelchairs can be brought on board. Motorized chairs or scooters are not allowed.
Cancellation Policy and other information
Cancellation Policy
Customers will receive credit in the form of a rain-check within 48 hours of a notice of cancellation. A rain-check is issued when a customer cancels due to extenuating circumstances or when weather inhibits our taking the boat out for a dive. Weather calls are made the day of the dive. Contact us by phone to cancel or inquire about a cancellation. No-shows will be charged the full price. All sales are final
Damaged Equipment
Intentional or deliberate misuse of equipment that results in damage to any rental equipment or the vessels will be charged at current fair market value.
Boat Etiquette
The reef is a living organism and home to many wonderful creatures and we wish to share the beauty with our guests for decades to come. So we kindly ask that you carefully consider what is brought aboard our vessels. We ask that non-biodegradable and/or single use items such as glass or plastic be left ashore in the best interest and safety of our beautiful wildlife.
Our team of divemasters, instructors and captains are are committed to ensuring your safety above and below the water while delivering a 5 star experience filled with Aloha to each and every guest regardless of experience level. They would appreciate your feedback whether it be with gratuities, comments and/or positive reviews on the internet. If you feel like your experience fell short of this commitment in any way please let us know immediately, as we strive to provide the absolute best diving experience on the island of Oahu.
Mahalo Nui Loa
---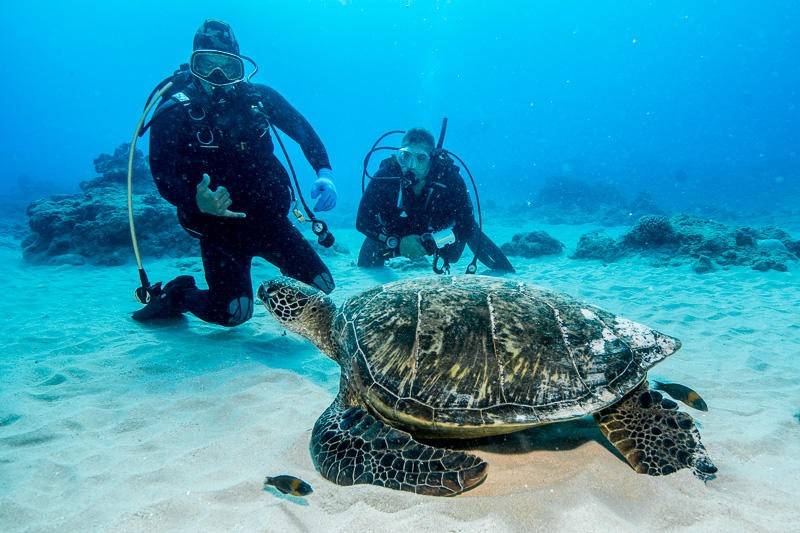 ---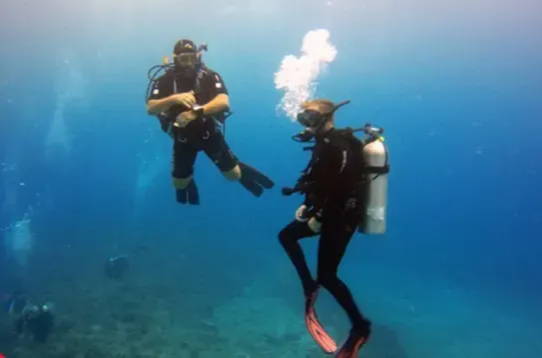 ---
I cannot adequately express what a fantastic PADI Instructor Dr. Ramadan is. He explained the process very well and made sure each diver understood the teaching targets thoroughly before we put equipment on. Hussein is very patient and catered to many learning styles. There were two of us who were very nervous and he made the experience pleasurable by being safety conscience at all times, has warm demeanor, and is very communicative. As one of the fellow divers put it "I have never felt so comfortable holding a strangers hand in my life!"
Justin was great as both a boat captain and handling our numerous internet course issues over the phone when we were doing the initial training (our hotels fault not theirs). Great company from store employees, boat captains, and instructors! Thanks for the great experience Aloha, its the ethos of this company to share their passion for all things diving! :)
---
We loved our experience with Aloha Scuba Diving Company! My sister and I were in Oahu for two weeks and decided to get our PADI open water certification while we were here. We had no prior diving experience. Our instructor Dr Hussein was incredibly patient, thorough, and knowledgeable and made us feel very safe in the water. They were also friendly with working with us when my sister and I got seasick during the first dive. Would highly recommend!
Pro tip: we had a little trouble locating the boat on the harbor since you can't plug in the dock number into Google maps. Easiest way to find it is to navigate to the Red Lobster!
---