Deluxe Afternoon Kayak & Snorkel Kealakekua Bay
---
---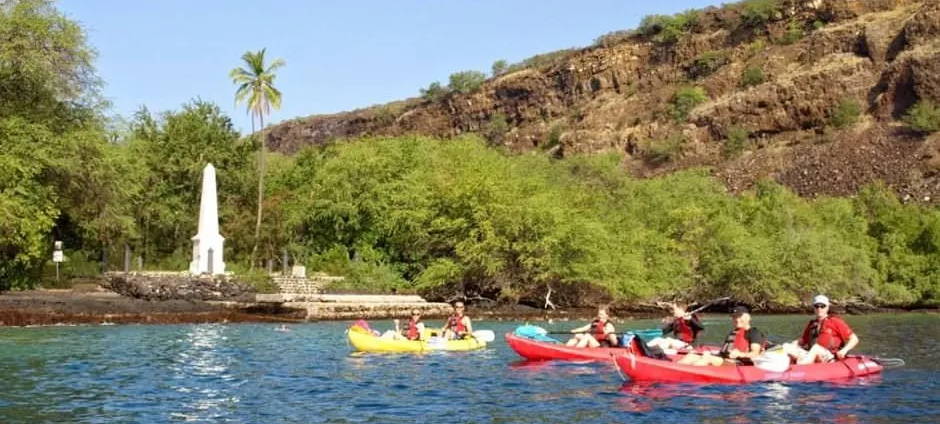 ---
Deluxe Afternoon Kayak & Snorkel Kealakekua Bay
Duration 3.5 Hours
(11:30 am Start time)
$99.95 per person | Ages 7+
---
---
Walk the path of famous circumnavigator & explorer James Cook & visit site of historic Ka`awaloa village and Hawaiian Royalty. No Experience Necessary Beginners and children Welcome.
This tour features a relaxed paddle across beautiful and protected Kealakekua Bay, amazing snorkeling in the calm waters of Captain Cook Monument and the chance of seeing wonderful Hawaiian spinner dolphins along the route.
Tours includes: Wide, stable, open-deck tandem kayaks are used and you'll appreciate our quality mask, snorkel, and fins. Bottled water and drinks and snacks are also included, so there's no need to bring a lunch.
Sightings of Marine Life: Hawaiian spinner dolphins are seen on over half our tours and humpback whales are seen in the winter. Green sea turtles are always a treat to watch and are frequent visitors to the area. The snorkeling at the Captain Cook monument is remarkable! Brightly colored tropical fish and coral gardens are the features most commonly enjoyed here.
State of Hawaii permits (included) are required to land and snorkel. We do not touch or engage the dolphins in the water and ensure that we do not disturb their fragile ecosystem.
Solo travelers Note: The booking calendar only accepts singles bookings after a tour date has at least 2 persons booked. The booking calendar will show a single booking to select when the minimum has already been met.
Meet location: Napoopoo Pier, Kealakekua Bay, Island of Hawaii
Frequently Asked Questions
What's Included on the trips?
All trips include snorkeling gear, drinks & snacks, life jackets, & instruction. Paddlers travel on tandem (two man) kayaks. (Single kayaks are not available for guests). Guests paddle about 30-40 minutes continuously to reach the snorkeling area. Snorkeling time is typically between 1 to 1.5 hours combined.
We use sit -on-top Tandem Kayaks which are about 13′ long and about 3′ wide. The maximum weight of each paddler is limited to 275 pounds with a combined weight not exceeding 450 pounds per kayaks." Exceeding our weight limitations will result in your kayak becoming much more difficult to balance and more likely to capsize. Capsizing is common on kayaks but it is again more difficult for a larger person to reenter the kayak after capsizing.
Are single kayaks available to paddle?
No. All paddlers will travel in tandem (2 person) kayaks. If groups have odd numbers they will be paired with other guests.
Yes. Each kayak paddler must be less than 275 pounds. Combined weight of both guests per tandem kayak cannot exceed 450 pounds. Exceeding our weight limitations will result in your kayak becoming much more difficult to balance and more likely to capsize.
Capsizing is common on kayaks but it is more difficult for a larger person to reenter the kayak after capsizing. If you exceed our weight limitations we do not recommend you take a kayak tour unless you are an experienced ocean paddler.
Do I need kayaking or snorkeling experience?
Kayak or snorkeling experience is not required. However, since this is a group tour all guests are expected to keep up with the guide while paddling. Some beginners do not understand how hard they must paddle to keep the kayak moving and not slow the progress of the groups arrival. Guides encourage and can give paddlers tips to improve, but it is the guests responsibility to adjust their effort to meet minimum paddling speed requirements."
Beginner paddling adults who are paddling with children will be paddling extra hard since their children generally do not paddle. "For any beginning paddlers by themselves or especially with children – who are uncertain whether they have the strength to keep up with a group of other paddlers, they should consider choosing our motorboat trip to the same snorkeling destination." We have an alternative activity that would be great for you – our 34′ RHIB power boat goes twice daily to the same snorkeling destination without the risks of multiple capsizing in a kayak.
Each direction is about 35 – 40 minutes of continuous paddling. It can be strenuous and a difficult paddle for the young, elderly and adults with less than average strength and endurance."
How strenuous is the trip?
Paddling 35-40 minutes continuously is not an easy physical activity. Those who feel they don't have at least average adult strength and endurance should be paired with someone in your group strong enough to paddle for themselves and you – We move along at a relaxed but constant speed and this can best be described as a moderate to difficult physical activity.
Those joining the kayak tour should both be able to paddle at a walking speed. People wishing to go at their own pace or slowly should NOT book this group tour since we are required by Hawaii State Parks to paddle together.
Beginning paddlers or those uncertain whether they are able to keep up a steady paddling pace of 3 mph (average walking speed), should consider the alternative to paddling – our motorboat trip that travels to the same snorkeling destination and at the same price." (Please consider joining our motorboat trip at Captain Cook Snorkeling Cruises.)
Is the trip handicapped accessible?
No. Due to the kayak tours launching guests into the kayaks with up to a 3′ drop/rise, and the landing area where guests walk ashore starting in 3-4′ of water, those without full mobility cannot readily join our trip.
What is your cancellation policy?
Once booked your seats are guaranteed – so we don't resell and we don't overbook the boat. For those reasons Captain Cook Cruises has a no cancellation /no refund policy since your seats are guaranteed until the day of your trip.
The person who books the reservation will be asked to agree to this no refund policy prior to completing the reservation.
Cancellation EXCEPTION: Due to the calm conditions found on the Kona coast, we rarely cancel trips but in the event of dangerous high winds or waves are present, our guide may cancel your trip. You will be given the option to reschedule, receive an online credit or receive a refund, if we cancel the trip for safety reasons.
We cannot give advance notice of cancellations since the weather conditions are not predictable the day ahead. Guests located more than an hour from our location should be aware their trip may, although not likely, be canceled when they arrive. Guests who must travel an hour or two to reach us may want to reconsider the trip in the event the trip is canceled. Again our trips operate about 95% of the time throughout the year, so it is unlikely your trip will be canceled.
Reservations
We recommend at least a week ahead or more. For wedding parties, large groups, etc. reserving a month or two ahead is best to insure you get the date and times you want.
Do I need special kayak training for this trip?
We provide basic kayak training which is sufficient for most trips but beginners may not be comfortable on all our trips due to surf or wind conditions. For those guests traveling with children, the elderly, overweight, or unskilled at ocean kayaking, we recommend taking the same trip but by our motorboat at Captain Cook Snorkeling Cruises.
Do you take unaccompanied children/minors on the trips?
No, our insurance policy requires that all parties have at least one member who is 18 years old or older.
Do I need to speak english?
Yes. All guests must speak english due to the importance of guests understanding the rules and following guide directions in a timely manner.
Do you recommend beginning kayakers, children or older Adults take the kayak and snorkel tour?
We welcome beginning to expert paddlers from 7 to 62 years of age. But kayaking is a sport and requires strength, endurance and ability to paddle successfully across Kealakekua Bay (about 1.2 miles each way). Children under age 7, adults over 60 and anyone without prior paddling experience could find the kayak trip across the bay too challenging. If you or anyone in your party fit those categories you may want to skip the kayak ride and take a motorboat cruise, which can get you to the Captain Cook Monument area for snorkeling without the risk of finding the kayak tour too challenging for you.
What ages can go on the kayak trip?
We recommend ages 6 to 76 with the understanding younger guests (6-10) typically are marginal paddlers and require a strong paddling adult in each kayak to paddle for both themselves and the child. Elderly guests must be in good physical condition and have the strength to keep up with the pace of the group and be paired with a stronger paddler".
If you are a beginning paddler with children we do not recommend this trip.
What should I bring aboard the kayak?
The trip is for about 4 hours: Wear a hat, sunglasses, long sleeve shirt or cover up is recommended, reef-safe sunscreen, reef or tennis shoes & swim suit. (Flip flop sandals are a poor choice since the landing area is rocky). Small towels are good to bring but there is not much room in the kayak storage bag and towels often get wet on the trip across.
Also, bring a waterproof camera and tip for the guide.
If you bring electronics (electronic keys or phone), we recommend bringing a waterproof bag or container (dry bag) – We do not provide waterproof bags or storage for your belongings during the trip. Our kayaks are designed for stability but it is common for kayakers of all experience levels to capsize.. Wet hands after snorkeling or swimming can also be a problem for electronics.
We provide snacks and drinks – We offer a selection of granola bars, chips and bottled water. Electronics should be left in your car unless they are waterproof or you have brought a waterproof bag to protect them. There is very limited storage in the bags we provide on board the kayaks and they are neither waterproof nor water resistant bags.
Yes, There are restrooms near the Napoopoo Pier, at the end of Puuhonua Road in the State Park that must be used before paddling and can be used after your trip's return. We also carry a self contained head or bucket for guest's emergency use while we are in Kealakekua Bay. While this is available we do not recommend reliance on the bucket, so all guests should take care to use the restrooms at Napoopoo Pier area before departing on their kayak trip.
Gratuity is not included in the tour price. As a guideline we have found the average tip to be $12 to $20 per person. Guides work hard for you during this trip and tips are appreciated and an important part of their compensation. Please bring cash and give to guides at the end of your trip.

Gratuity is not included in the tour price. As a guideline we have found the average tip to be $12 to $20 per person. Guides work hard for you during this trip and tips are appreciated and an important part of their compensation. Please bring cash and give to guides at the end of your trip.
Gratuity is not included in the tour price. As a guideline we have found the average tip to be $12 to $20 per person. Guides work hard for you during this trip and tips are appreciated and an important part of their compensation. Please bring cash and give to guides at the end of your trip.
Can we snorkel if we don't swim?
We provide life-jackets that must be worn when paddling and can be worn as flotation while snorkeling. While not required, we recommend all guests take the life-jackets snorkeling to protect the reef and for their safety while snorkeling. We know that ocean currents, unexpected wave action and simple accidents cause trouble for our guests nearly every day, so we advise all guests to take the precaution of wearing their life-jackets while snorkeling as well as when paddling on the kayaks.
We recommend Captain Cook Monument and Kealakekua Bay for all people who are new to snorkeling or swimming. Kealakekua Bay is a very well protected bay that offers calm pool like conditions year round. We provide snorkel instruction and tips to interested guests on every trip. We help many non-swimmers who want to join their family and friends on our kayak tours.
Directions & Meeting Locations
We meet at Napoopoo Pier, Corner of Napoopoo Road and Puuhonua Road, Captain Cook, HI 96704. From Highway 11 in either the cities of Captain Cook or Kealakekua turn down onto Napoopoo Road. Travel down Napoopoo Road about 10 minutes until the road dead-ends at the ocean. This is the corner of Napoopoo Road and Puuhonua Road and our meeting place. We meet across the street behind a closed yellow gate where you will find the Napoopoo Pier, ocean and a parking lot.
You can find parking by turning right, travel one block to where the road dead-ends and park near the public bathrooms at the end of the road. Please use the bathrooms before walking back the block to the yellow gate and interesection of Napoopoo Road and Puuhonua Road.
When we are present, there is a vehicle with kayaks. If there is no vehicle we are not there yet, but will arrive soon. On our 11:30 kayak trips we commonly can be seen returning from the earlier kayak trip on the ocean, and typically arrive to the pier by about 11:00am. The easiest way to find us is getting directions on your cell phone with "google maps". Enter "Napoopoo Pier" in the directions section. This will give you step by step instructions while driving or walking to find our tour meeting place.
It's rainy – windy – big surf - stormy etc. Is my trip going out tomorrow?
We operate on 98% of our reserved tour dates and we operate rain or shine. Days starting rainy and wet often turn sunny and warm allowing guests to enjoy kayaking and snorkeling even on days threatening rain the day before or the morning of the trip. We also operate in mild to moderate surf conditions. Since we cannot accurately predict surf conditions from day to day, or from area to area on the island, we make the decision to cancel a trip on site on the day of the trip, not the day before.
We are happy to report sunny skies and calm waters are common on the west side of the Big Island – so we cancel less than 20 tours a year due to bad weather. If the Tour Guide feels the weather will affect the safety of our guests, then they will cancel the tour and guests can reschedule their tour or receive a full refund. .. Tropical weather is known for quickly passing rain showers and changing weather conditions – because of this our Tour Guides address weather concerns on the day of the cruise, so even if there is light rain the tour will still go out. Please come to the tour site even if it is raining where you may be.
---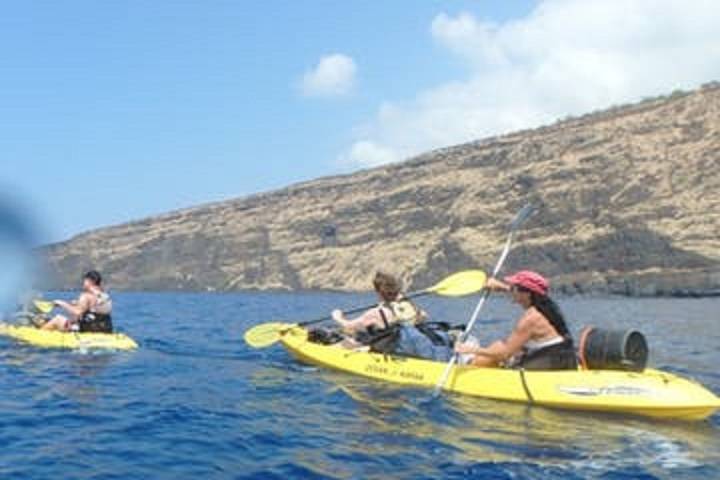 ---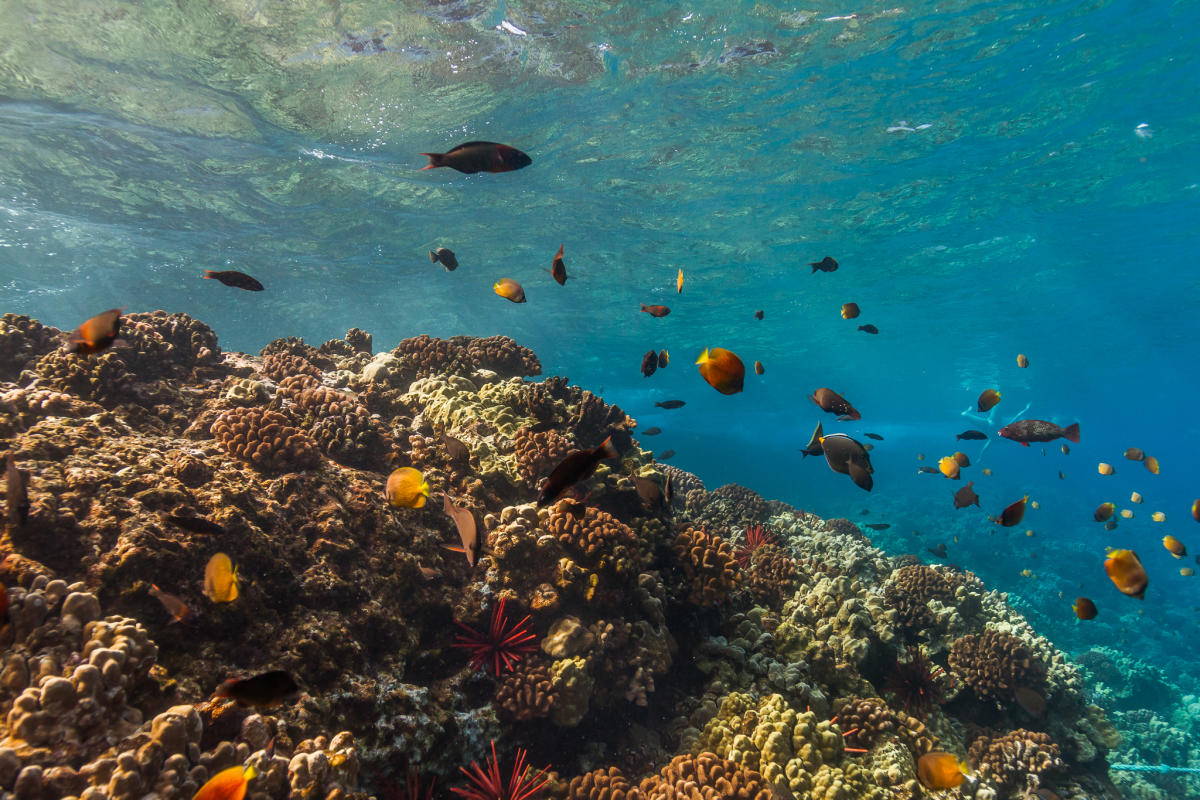 ---
By far my favorite excursion while on the Big Island. JC and Adam were both wonderful guides. We kayaked across the ocean as JC told us about the history of Captain Cook, HI. He is an intriguing story teller! Once we kayaked to the other side, we took a small hike to the snorkel spot! The snorkeling was the best I'd ever experienced! We swam with dolphins and over a cave with a sleeping shark. Plenty of ocean life! JC made sure that we didn't harm the coral reef and showed his appreciation for preserving nature! The amenities he offered were: the kayak & paddles, snorkeling gear (for the youngins too), life jackets, a rug to lay out so you don't slip on wet rocks, a bucket to go #2 in the woods if needed, and plenty of good vibes! I can't wait to go back! THANKS JC & ADAM!
---
We had a great tour with JC. There were dolphins and a turtle in the bay on the way to our snorkel adventure at Captain Cook. The kayaking was enjoyable (not hard) and snorkeling was very good but not great - we did see some sleeping reef sharks which was cool but otherwise it was similar to other spots we had snorkeled right off the beach. We brought our own equipment except we used their fins which were excellent quality. They also had snorkels and masks for you if you didn't have your own. JC was a lot of fun and gave us some great history of the bay and quality restaurant tips. Highly recommend!
---