Big Island Wildlife Excursion
---
---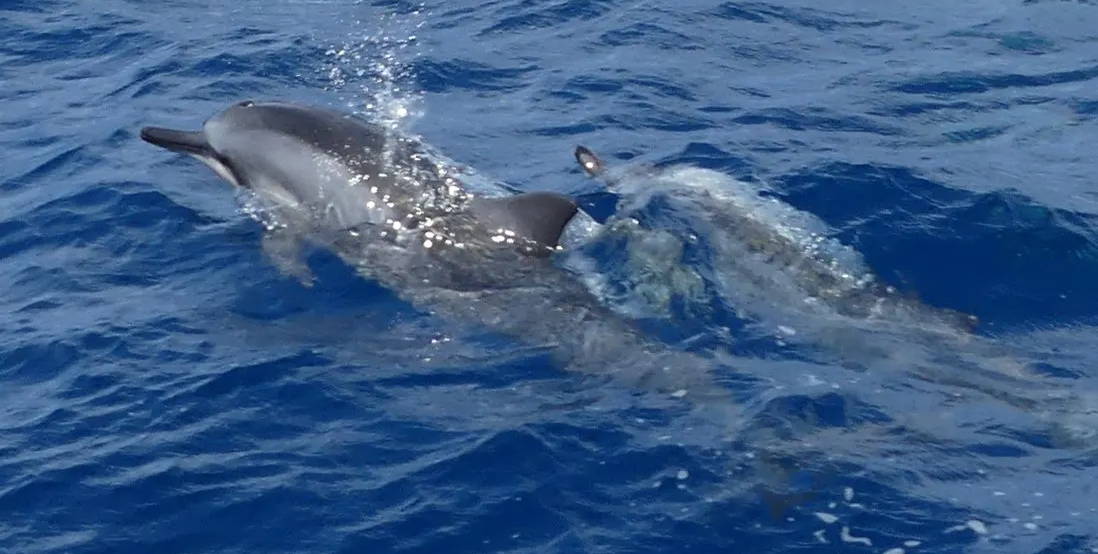 ---
Big Island Wildlife Excursion
Duration 4-5 Hours
Adult Ages 13+ $140

Child Ages 7-12 $105
---
---
Whale season is never over for Captain Zodiac. Join us for a unique experience of a lifetime where we venture into the unknown! Enjoy a morning wildlife watching tour with our experienced Naturalist captains and crew, who share a passion & respect for the ocean and its inhabitants. Kona is one of the few unique coastlines in the world with numerous species of wildlife year-round. We have the opportunity to encounter 17 different resident whale & dolphin species, turtles, sharks, Hawaiian Monk seals, various species of birds and much more. Experience our military grade Zodiac Hurricanes – the same boats used by Navy seals as we explore the diverse habitat provided by Hawaii's deep underwater geography, an ocean safari for the true adventure seeker!
We highly encourage our guests to bring cameras along not only for your own photographic experience but the opportunity to become a valuable contributor to citizen science along with Captain Zodiac. This is not a snorkeling excursion, however we recommend wearing swimsuits in case the opportunity arises to jump in the water. As this is a marine wildlife watching tour, we cannot guarantee encounters, however with the abundance of year round ocean residents, the chance of no sighting is low. There is a minimum of 6 passengers, if the minimum is not met on a specific day, we will move your reservation to another date. In the unlikely event that we are unable to run a trip due to weather conditions, minimum not met and inability to re-schedule, you will be fully refunded.

Check-In Time: 15 Min. Prior to Departure
Frequently Asked Questions
Where do you depart from?
Most days we depart from Honokohau Harbor. However, it is a good idea to call when you arrive on the island to reconfirm your reservation and check-in location.
I'm pregnant. Can I go on the tours? I've had back and neck problems in the past. Can I go?
Due to the sometimes bouncy nature of our ride, people with bad backs, older people who are frail, and children under 5 years old are not to take our tour. Also, we do not allow pregnant women on our tours.
Can I bring a good camera?
Absolutely! The ride is generally dry though occasionally we will have some light spray. We will instruct you to keep good cameras covered and you do bring them at your own risk.
How does weather affect the trips?
We are fortunate to be on the Kona Coast of the Big Island. Our side of the island is protected from wind and weather by three volcanoes so we are rarely affected by bad weather. If it does happen you may cancel or reschedule without penalty.
No, because that takes away from the "raft" experience! Wear sunscreen and a hat and you will be loving it! We also are able to get under the sea caves BECAUSE we do not have a covered raft! (We now have one boat that has a small cover on it. Please us know if that is your preference.)
Will there be bottled water on the boat?
No, but you are welcome to bring your own reusable water bottle. We have filling stations in the office and on the boat. We also have reusable water bottles available for purchase before your trip that will be filled with cold water waiting for you. There are reusable water bottles available for purchase during check-in.
Do you provide transportation from my hotel or condo?
While staying on the island, you will probably find it cheaper and more convenient to rent a car. Otherwise, there are a number of taxi companies and Uber that can assist you.
What is your cancellation policy?
We have a strict 48-hour cancellation policy. For parties of 6 or more, we have a 72-hour cancellation policy. No refunds within that time frame.
I have never snorkeled before; is it hard to do? What if I'm not a strong swimmer?
No, snorkeling is one of the easiest water activities you will ever do! Our patient captains are experts in teaching our guests. We have several different flotation devices on each boat and we have special vests that you can wear while snorkeling.
---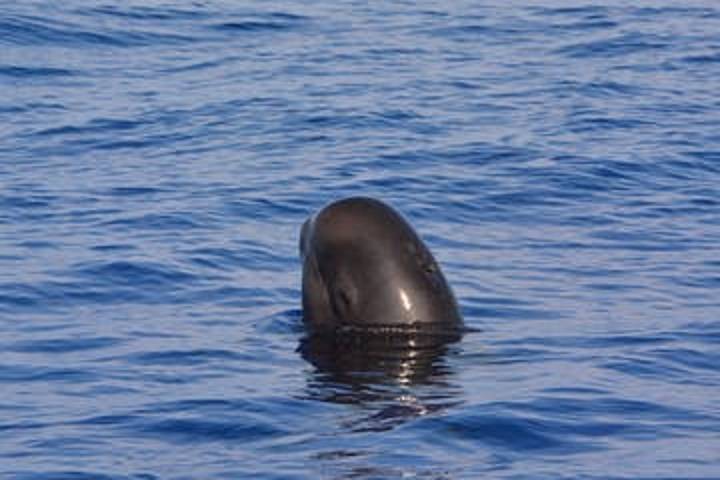 ---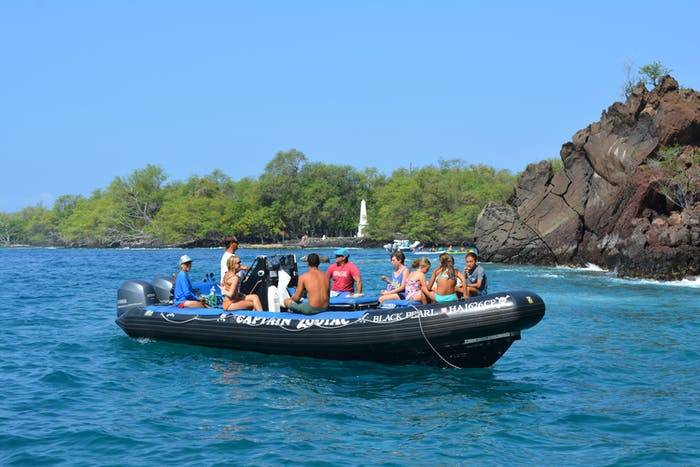 ---
What a fantastic tour. The two person crew was great and knowledgeable. The tour size was small so it felt very safe and there was move to room around - no bad seats on the zodiac. We saw at least six whales, over a hundred bottle nosed and spotted dolphins, and a turtle so that was pretty awesome, especially so early in the season. If you're looking for a small boat tour, this is a great option. I've done the whale watching tours on larger boats and definitely prefer this option. It is bumpy- which I love - but may not be someone's cup of tea if they get sea sick pretty easily.
---
Colin and his wonderful team at Captain Zodiac showed us a truly unique and amazing time while we were visiting Kona! Their zodiacs are super fast and comfy, and they brought us out to the open blue and quickly spotted some really cool wildlife. We saw a fisherman catch a mahi-mahi, a pod of curious pilot whales, and those who wanted even got to swim with some oceanic white tip sharks! The Captain Zodiac team really made us feel safe and gave us a great experience!
---