Private Adventure Boat Tour
---
---

ESCAPE THE CROWDS

Join us on private cruise you won't soon forget. Based on Oahu's south shore, we go faster and farther than anyone else in town, offering spectacular coastal sightseeing, incredible sea life (turtles, fish, dolphins, and whales—in season), and snorkeling. Unlike crowded tour boats, we exclusively offer private charters. This means that you are the focus and get the full attention of our crew for a truly personalized experience both on and in the water.
The adventure is up to you! When you book, please let us know what type of activities you'd like to do:
Snorkeling/Swimming
Wildlife watching (dolphins, turtles, etc.)
Coastal sightseeing
Fast thrill ride
Think of something else? Ask us!
Incudes
Soft drinks and water provided. Feel free to bring any other food or drink. Bring swimwear, towels, sunscreen and be ready for adventure!
OUR BOATS
This is not a "raft"
Renowned for their speed, stability, and versatility, RHIBs (Rigid Hulled Inflatable Boats) are great for adventuring. Similar to what the Coast Guard and Navy Seals use, our Zodiacs are 30 feet long and unstoppable. Not only can these boats really get around, they are the perfect platform for swimming, diving, exploring the coast, and getting up close for viewing wildlife.
Although we only carry small private groups along with a captain and crew, they can safely accommodate as many 20 people. This allows for maximum fun without ever feeling crowded. With a boat capable of speeds over 45 knots and a range of 250 miles, where will your adventure take you?
OUR CREW
Knowledge, skills, and jokes for days. We do this because we love it and we're all stoked that we get to share it with you. Our captains and crew are focused on safety and on your experience, ensuring that your adventure with us will be something you remember for years. Got a question? Just ask! Years of experience have given us a wealth of local knowledge about the islands and the wildlife we find here.
Originally from a small town on the North Shore of Oahu, Captain Chris has spent most of his life either on or in the water. Growing up surfing, diving, and boating, he developed a passion for the ocean that has persisted throughout his life. After a decade traveling the world while serving as a naval officer, he returned home to Hawaii to continue working on the water. The Adventure Boat is the result of years of driving yachts and leading boat tours. We took all the best parts and got rid of the stuff nobody likes to deliver our guests the ultimate experience on the ocean.
We provide water on all cruises. You are also welcome to bring your own food and drinks (including adult beverages) on any of our cruises. We even have coolers with ice that you can use.

Expect to see local reef fish, turtles, eels, beautiful living reef formations, and the famous South Shore of Oahu. You get spectacular views of Waikiki, Diamond Head, and the cityscape of downtown Honolulu. Sharks, dolphins, and whales may also be seen depending on the season.

Passengers with mobility issues need to be able to take a step across from the dock to the boat in order to board, and then guests can then be immediately seated. Our crew can assist if needed — just make sure to arrive a little bit early! Once on board, there is plenty of space for all our guests. Walkers and collapsible wheelchairs can be brought on board. Motorized chairs or scooters are not allowed.
---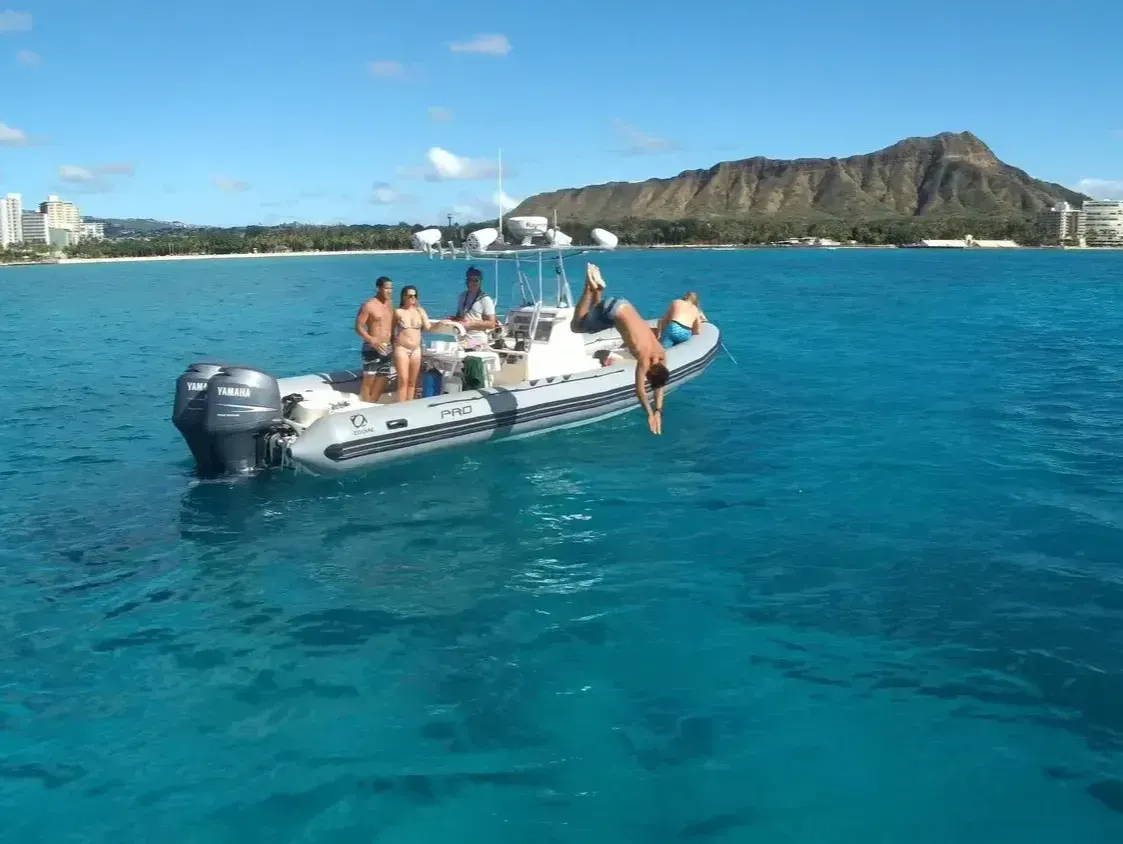 ---
---
We arrived at the Marina, which was walking distance from our room at the Hilton Hawaiian Village. The crew had just returned from their morning trip and quickly prepared the boat for our party of six, which included two children ages 4 and 10. We spent the extra money for an additional hour on the boat. EVERYTHING about this boat, the crew and the day were amazing. We were able to see whales, dolphins, incredible scenery and snorkeling too. If you want an activity while on vacation that is not crowded (6 maximum), reasonably priced, customized to what and where you go and see and fun....book this trip and you will not regret it.
---