Zipline-5 Line Premiere Tour
---
---
---
Our premier 5 Line Zip Tour will have you smiling for days!
You will soar high above the Ranch, zipping down a 1420-foot line to the base of Piiholo Hill. From there, a Ranch vehicle is waiting to take you to the top where you'll enjoy breathtaking 360-degree views of Maui. your final zip is an exhilarating grand finale: Maui's longest side-by-side zipline that is more than half a mile long and at times 600 feet high!
Don't wish to zip but want in on the fun? Join your family and friends on tour as a walk-along for $25 per person plus tax.
Since its opening in December 2008, Piiholo Ranch Zipline has quickly become one of the premier zipline adventures in the United States. Designed to showcase its beautiful setting, the course crosses deep gulches and tall trees, and offers stunning vistas from mountain to sea. It also includes the longest side-by-side zipline in Maui, Hawaii — over a half-mile long!
You are welcome to bring your own GoPro! However, please be aware our older helmet mounts may not be compatible with the mounts on newer camera models. Bring your head straps!
Please note: Final authorization to use any outside equipment rests with the tour guides.
Age and weight restrictions
Minimum age of 6 years old for Hiking Tours.
There is no maximum age limit as long as you can physically handle all aspects of the tours.
Guests under 15 years old must be accompanied by a parent, guardian, or chaperon on tour. (Chaperon form required.)
Guests between 16 and 17 years old must have a parent or guardian present at check-in and sign waiver to participate.
Weight Restrictions:
Zipline Tours: 75 lbs to 275 lbs
Treetop Zip Tours: 50 lbs to 250 lbs
All guests must be capable of moderate to advanced physical activity, carry a 12 pound trolley, grip handlebars, walk over uneven/muddy terrain, as well as ascend stairs and ramps.
Please no guests with neck, back, shoulder, knee, ankle injuries, heart conditions, or recent surgeries.
Pregnant women are not allowed to zipline.
Guests must be physically and mentally capable of following instructions given by Piiholo Ranch Zipline staff.
There is no smoking, alcohol, or drug use allowed on the premises. Any guest judged by our staff to be unwilling and/or incapable of following instructions, or to cause or potentially cause a safety issue due to intoxication, drug use or any other reason, will be removed from the premises and no refund shall be given.
What to wear
Closed-toe shoes are required. Please no Croc-style, walking sandals with open toes, Vibram FiveFingers, water shoes, or flip-flops.
We recommend to dress comfortably for variable outdoor weather (such as pants or longer shorts) and to bring a hat, sunscreen, and a light cover-up.
Don't forget your camera! Make sure it has a strap for safety. Anything dropped on tour is gone for good.
Don't bring purses, backpacks, or large fanny packs; they won't fit with your harness and we have no place to store such items.
We do provide a storage box for your keys.
Location
799 Piiholo Road |
This is where you will check in for all of our tours. Go-Pros available for rent, small selection of t-shirts and hoodies for purchase, porta-potties.
Who will NOT be allowed on tours?
Pregnant women
People with any type of recent surgeries
People with neck, shoulder or back problems
People with knee or ankle problems
People with any other medical condition which may be aggravated by this activity
What about adverse weather conditions?
All our tours operate RAIN OR SHINE. We do not refund for inclement weather, however, we do provide rain jackets when needed.
We will cancel tours in the event of lightning or thunder; we will reschedule your tour or refund up to 100% of the tour price if this occurs. Refund amount may be based on proportion of tour completed.
In high winds or other adverse conditions, Piiholo Ranch Zipline reserves the right to cancel or reschedule tours, based on management's assessment of conditions. We will reschedule your tour or refund up to 100% of the tour price if this occurs. Refund amount may be based on proportion of tour completed.
What can I do while my family/friend is on a tour?
We offer a walk-along tour that accompanies the 4 Line Zip Tour, 5 Line Zip Tour, and Zip/Waterfall Hike Combo Tour. The walk-along tour covers less than a half-mile over gently rolling, unpaved terrain, and puts you ground-side as the zippers fly by overhead. It offers great photo opportunities as well as time to relax and enjoy the views among the tall trees! All guests on tour enjoy a break together with light snacks and beverages at our Tree House.
While we do not, at this time, offer a walk-along tour on the Treetop Zipline course, you are welcome to sit and enjoy some quiet-time at the picnic tables of the treetop launch area, or take a hike at the nearby Makawao Forest Reserve (ask the guides for directions.) The nearby small town of Makawao offers a variety of galleries, stores and restaurants to keep you entertained for hours.
If you have kids under the age of 8, there is unfortunately little to do at the zipline except sit at a picnic table. There are horseback lessons at nearby Piiholo Ranch (minimum age is 3) or a nice park about 4-1/2 miles away, it's officially called the 4th Marine Division Memorial Park. It has a large grassy field and picnic tables.
---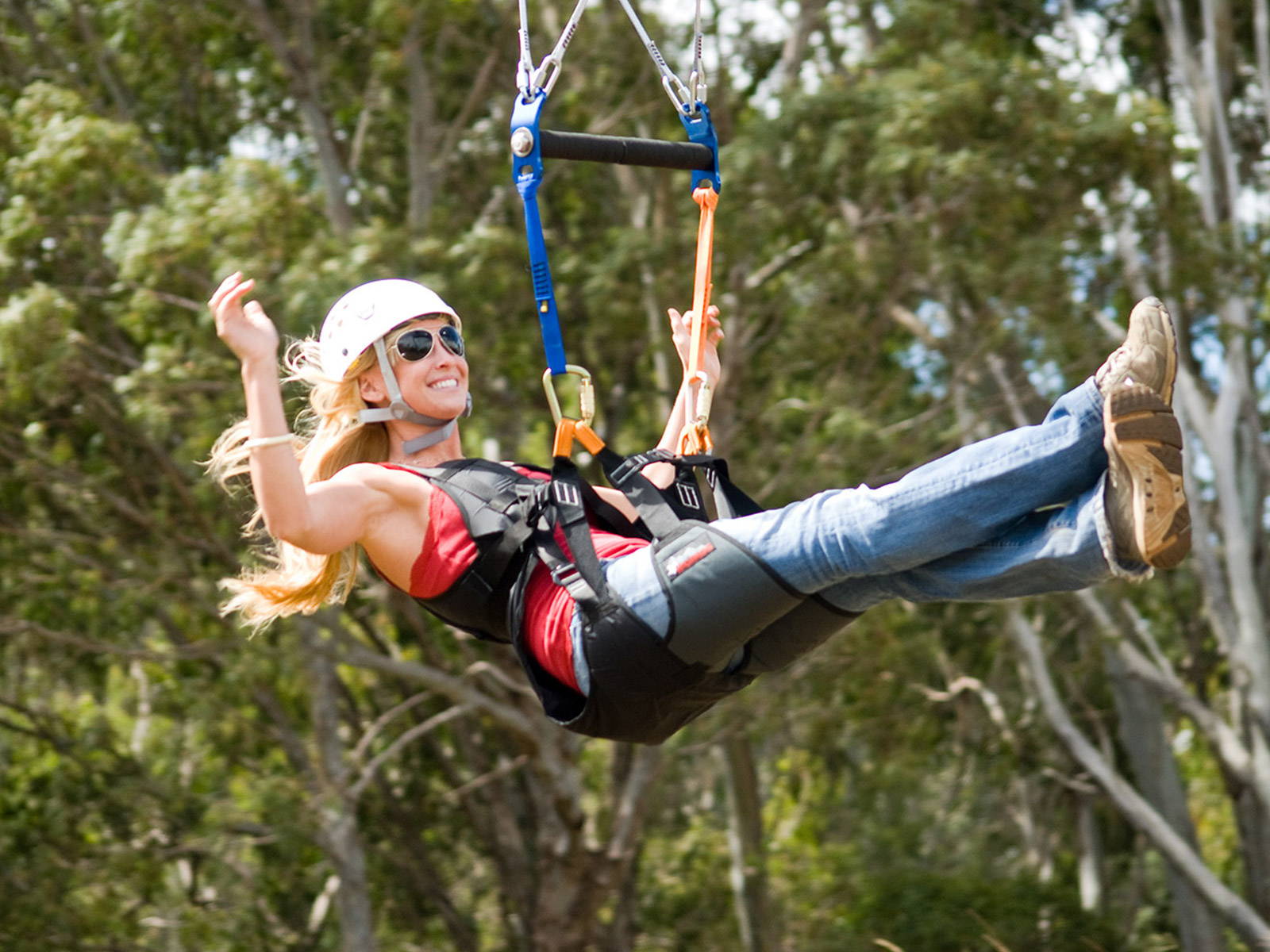 ---
---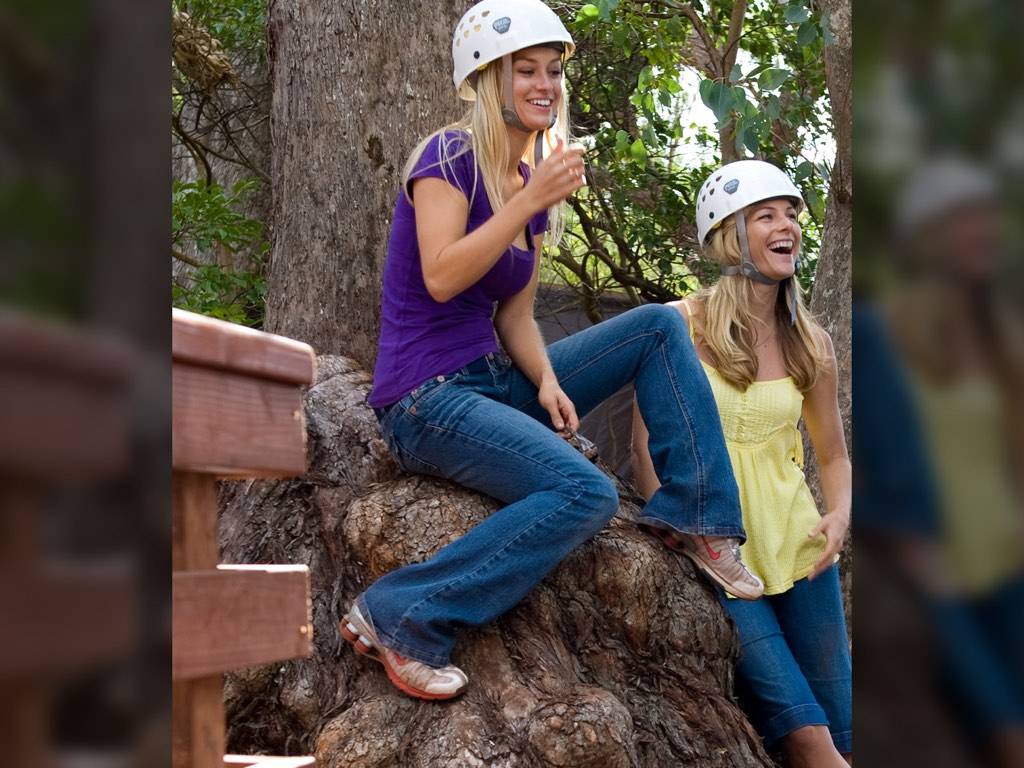 ---
---
The

5

zip line tour was great for our family of 6 kids! With the free humor provided by Nate and Skyler, the zip line toursmen, we were all kept thoroughly entertained. Thanks for making it special for everyone. They hardly noticed the rain.
---
We thoroughly enjoyed our

5

line zip line tour. We took our 4 kids aged 9-16 and all had an incredible time. The zips were breathtaking and the guides were helpful and fun! Wouldn't hesitate to do again.